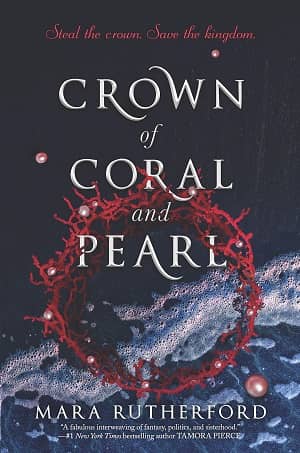 Twins Nor (coral) and Zadie (pearl) live in Varenia, a world built on stilts above the ocean. The floating village makes a living diving for and collecting rare pearls that have healing capabilities and trading them to Ilara, a distant kingdom.
In addition to pearls, Ilara also barters for queens. Once every generation, the most beautiful woman in Varenia is sent to land to become Ilara's next lady sovereign.
Nor and Zadie have been preparing their entire lives to become royalty: protecting their skin and hair with ointments and treatments; not playing too hard to avoid accidents that might mar their complexions; and learning the etiquette expected of queens. Unfortunately, accidents aren't entirely avoidable, and Nor's cheek is ultimately scarred for life in a struggle with a fishing net while diving. After the accident any hope of being chosen as queen is smashed. Ironically, Nor is the more adventurous of the twins, and she has always yearned for more than what her tiny village can offer. Zadie is content in her small, floating world, in love with a local boy Sami and happy to live a life of the familiar.
However, a grave and tragic encounter with a sea jelly leaves Zadie unable to make the journey even after she's chosen as the royal successor. In a dangerous plot, Nor disguises her scar and takes her twin's place. The king doesn't take kindly to imposters, and Nor is aware that Varenia's entire fresh water supply was once cut off when a different woman was sent in place of the chosen one due to illness. Knowing the risk, Nor sets off on an adventure full of intrigue, politics and romance.
I could not put this book down and finished it in about a day. Rutherford has created a really interesting setting, and the world building is polished and sure. The floating world of Varenia is described incredibly well, and you're immediately immersed in the salty sea breezes and vibrant colors of Nor and Zadie's world — and, in contrast, the cold and dark of New Castle, where Nor settles into her new life on land. Nor is a fantastic protagonist with a very well-developed character – she's everything you want a fierce female to be, yet with a soft and complex relationship with her sister. I enjoyed Nor's story arc immensely.
---