Some Tales from Night's Plutonian Shore: My Favorite Edgar Allan Poe Stories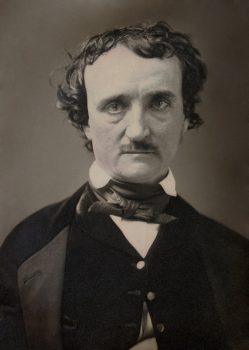 I do not have a precise memory of when I first read one of Edgar Allan Poe's tales. Perhaps it was a bowdlerized version of "The Fall of the House of Usher," perhaps "Some Words With a Mummy" in one of my grandmother's Reader's Digest omnibuses. It might have been the Classic Comics version of "The Pit and the Pendulum." I definitely saw most of the Roger Corman movie adaptations with Vincent Price on the 4:30 Movie on ABC. I know I picked up a copy of Scholastic Book's collection, Eight Tales of Terror, at a used book sale at Our Lady of Good Counsel. The important thing is, Edgar Allan Poe's creations have been with me as a reader of the weird and the fantastic from my earliest days.
It's been a very long time since I've actually read any of Poe's stories, so, as the Halloween season is upon us, it seems the proper time to return to them. I had no doubt I would still enjoy them, but I really had no idea just how good and groundbreaking they really are. Lovecraft, in his seminal essay, "Supernatural Horror in Literature" stated that by focusing on the psychological and not the Gothic, "Poe's spectres thus acquired a convincing malignity possessed by none of their predecessors, and established a new standard of realism in the annals of literary horror." I don't think it's an overstatement. There are few boogeymen or vampires here; instead, it's mostly warped and broken minds, the sadism of the vengeful, and the nightmares of the delirious.
Edgar Allan Poe (1809-1849) is credited with creating the detective story (he didn't), the modern short story (he was one of the earliest American practitioners of the form), and contemporary horror fiction (he helped). His life was plagued by misfortune and missteps and to this day, his death at the unfortunate young age of forty remains a mystery, though it has been attributed to alcoholism, drug addiction, syphilis, and even murder. Whatever the circumstances of his life, his work remains one of the pinnacles of American writing, of Romanticism, and of weird fiction.