July/August Magazine of Fantasy & Science Fiction Now on Sale
July/August Magazine of Fantasy & Science Fiction Now on Sale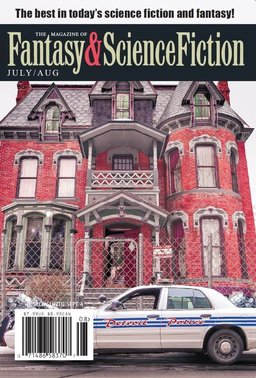 The July/August F&SF features fiction by Gardner Dozois, William Ledbetter, Marissa Lingen, and many others. Here's Victoria Silverwolf from Tangent Online with the lowdown.
Leading off the magazine is its only pure SF story, "In a Wide Sky, Hidden" by William Ledbetter. Human beings have explored many worlds throughout the galaxy by transmitting their minds into artificial bodies created at the point of arrival. The protagonist is one such explorer. As a child, his older sister, who designed vast, technologically sophisticated works of art, disappeared with a promise that she was going to create her masterpiece, and a request that her brother find her. Many years later, after journeying to multiple planets, he discovers what became of her. This a fine story, written with grace, clarity, and imagination. It balances sense of wonder with empathy for its characters.

Readers familiar with classic science fiction will recognize a tribute to Robert A. Heinlein's 1941 story "—And He Built a Crooked House—" in "There Was a Crooked Man, He Flipped a Crooked House" by David Erik Nelson. Not only are the title and the theme of the story similar, but a minor character, mentioned only in passing, has the same name as a major character in Heinlein's story. In modern Detroit two men who work for a fellow who buys abandoned properties in order to sell them at a vast profit are sent to examine his latest acquisition. It turns out to be a beautiful old mansion in immaculate condition, despite the fact that it is located in one of the worst places in the city. The moment the narrator enters the front door he winds up in the back yard. Other dimensional paradoxes abound. Once a way into the house is discovered, things take a darker turn…
Read Victoria's complete review here.
Here's the complete Table of Contents.
NOVELLAS
"There Was a Crooked Man, He Flipped a Crooked House" – David Erik Nelson
NOVELETS
"The Masochist's Assistant" – Auston Habershaw
"The Bride in Sea-Green Velvet" – Robin Furth
"I Am Not I" – G.V. Anderson
"Afiya's Song" – Justin C. Key
SHORT STORIES
"In a Wide Sky, Hidden" – William Ledbetter
"A Dog's Story" – Gardner Dozois
"An Obstruction to Delivery" – Sean Adams
"An Unearned Death" – Marissa Lingen
POEM
Northwest Cruise – Sophie M. White
DEPARTMENTS
Books to Look For – Charles de Lint
Musing on Books – Michelle West
Science: With the Best of Intentions – Pat Murphy and Paul Doherty
Films: Ghoulies Ghosties, Beasties – David J. Skal
Coming Attractions
Curiosities – Paul Di Filippo
CARTOONS
The cover this issue is by Nicholas Grunas For "There Was A Crooked Man, He Flipped A Crooked House."
The Magazine of Fantasy and Science Fiction is edited by C.C. Finlay, and published by Gordon van Gelder. The cover price is $7.99 for a thick 258 pages. Check out the complete TOC and additional free content at the F&SF website.
This issue is on sale until September 4. We last covered F&SF with the May/June issue.
Our July Fantasy Magazine Rack is here, and all of our recent magazine coverage here.