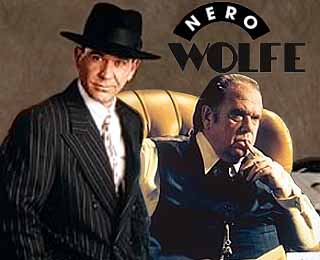 We're back this week with the second installment in our three-part adaptation of The Careworn Cuff, from the old Nero Wolfe radio show staring Sidney Greenstreet. If you missed Part One, you really need to read it first. It might not make Part Two any better, but at least it will make sense!
The Careworn Cuff – Part Two (of Three)
Chapter Three
I found four Dorothy Spencers listed in the phone book; any of which might be our non-client. Wednesday morning, while Wolfe was upstairs for his morning session with the orchids, I eliminated three of them. I couldn't get a hold of the fourth, so she was still a possibility. I had just made another unsuccessful attempt when I heard the elevator, struggling under Wolfe's seventh of a ton. If I worked as hard as that elevator, I would definitely demand a raise.
"Good morning Archie. Did you sleep well?"
It's the same greeting, every day, even if we had already talked that morning. He went to his desk, carrying the day's orchid. I had already changed the water in the vase on his desk. That's one of my daily duties. He must have finished the Van Doren book in his room this morning. He had a new one tucked under his arm as he entered.
Sitting at my desk, I had watched him cross the room, returning his greeting as he reached his own oversized one. I was silent until he was settled in his chair, the book placed on the desk. I now saw that it was The Age of Reason, by Thomas Paine. I had a pretty good idea that the discussion at lunch was going to involve Colonial America. History was not one of my favorite subjects as a boy, so I would mostly be listening.
---