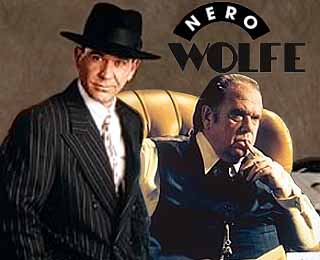 Assuming you're one of the eight people (three of whom are not related to me) who regularly read my posts here at Black Gate, you know that my favorite series of all is Rex Stout's Nero Wolfe. I love John D. MacDonald and Robert E. Howard and harboiled and Solar Pons and Glen Cook and a LOT more: but Wolfe and Archie Goodwin are number one.
When Ohio issued its 'Stay at Home' order, it got me to thinking about how Archie and Wolfe would do under New York's order, which had been issued a day or two earlier. Now, all of the Wolfe fiction I'd written had been set somewhere between the thirties and the sixties. Modern-day Wolfe, with cell phones and whatnot, just doesn't interest me. But I thought that it made sense to be contemporary, for the lockdown. For the characters, and for us to relate to them. So, here we go!
I'm posting these over on Facebook at The Wolfe Pack's group page. If you're on FB, and you like Nero Wolfe, you really should join this group. I'm going to combine two at a time and run them as posts here at Black Gate. Hopefully folks will find something to smile about. And maybe you'll even become a new Wolfe fan. They're really great books.
I've decided to daily update my notebook with thoughts on Stay at Home (henceforward, SaH). We'll see which happens first: life returns to normal, or I kill Nero Wolfe in his office.
DAY ONE – 2020 Stay at Home
I don't think Wolfe even noticed that SaH has begun. Newspaper and mail delivery continued, so his morning routine was unchanged. While special deliveries of some ingredients that Fritz uses to do his magic are going to impact the variety of offerings, the larder is loaded, as it were. The groceries and markets are still open, so Fritz will be able to resupply for at least a while. I may go with him to get supplies as a way to not be stuck here in the brownstone.
---