A (Black) Gat in the Hand: Back Porch Pulp #1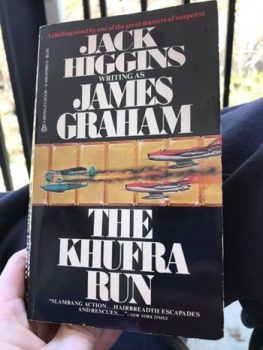 "You're the second guy I've met within hours who seems to think a gat in the hand means a world by the tail." – Phillip Marlowe in Raymond Chandler's The Big Sleep
(Gat — Prohibition Era term for a gun. Shortened version of Gatling Gun)
I did six Back Deck Pulp installments. If you don't know what that was – I had a great back deck at my former house. I would sit out there and read a lot. Mostly pulp stuff, but other things too. And I would take a pic of the book/or rarely, on my Kindle); trying to include some of my yard, or deck, and my leg or knee (hey – it was just a thing). And I'd talk about what I was reading. Usually sharing info about the author.
They were fun little things to share what I liked reading. And often it was a plug for an upcoming A (Black) Gat in the Hand post. I'm in an apartment now, with a small concrete slab back porch. With winter, and then the brutal heat of June, now behind us, I'm getting out there to read a little more. So, Back Porch Pulp makes its debut as Back Deck Pulp's successor. Enjoy!
JACK HIGGINS
Back Deck Pulp has been re-branded. Back Porch Pulp. I read a $1.99 Jack Higgins ebook, "Comes the Dark Stranger."
I have 49 Higgins books on the shelves: I'm a fan. That one was 'meh.' Predictable and not that exciting.
I'm a big fan of his WW II historical fiction stuff. And the first dozen Sean Dillon books.