Nero Wolfe's Brownstone: 2020 Stay at Home – Days 8, 9, and 10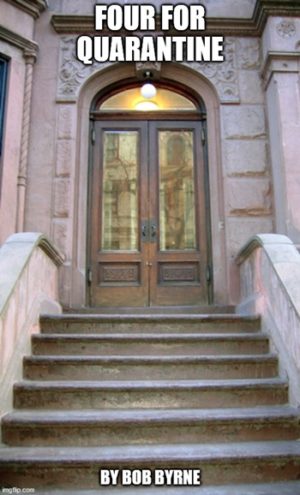 Hopefully you read posts one , two, and three this series. Over at The Wolfe Pack Facebook Group page, I am doing daily entries from Archie's notebooks, as he endures Stay at Home with Nero Wolfe in these pandemic days. I'm well over thirty thousand words so far.
DAY EIGHT – 2020 Stay at Home
Sunday is the day things have changed the most here at the brownstone. Normally, Theodore would go to visit his sister, and Wolfe would putter around in the plant rooms, but not the usual nine to eleven and four to six. Fritz would sometimes run errands, including shopping for food. When he stayed in, he usually spent time in his room in the basement, listening to music and reading cookbooks. He had more of those than anyone I've ever met. We were all at loose ends on Sunday. But I couldn't go to a game at the Garden or at the ballpark now, of course, which would have taken care of several hours. In other words, except for Wolfe, the day changed for the rest of us. Which meant all four of us were home together, without our normal routines. That's a recipe for tension.
Wolfe and I didn't even make it to lunch. I've decided to type up a couple cases from my notes. People seem to like reading them, and they've got some spare time at home, so I figured, 'Why not'? I've mentioned before, that when he's reading, Wolfe doesn't like what he deems to be unnecessary typing. Granted, it's not as bad as when I excessively sharpen my pencils, but he prefers quiet. Knowing we don't have any clients, he would prefer me to do my typing when he's not in the office. Well, since I'm stuck at home, and he isn't giving me any work to do, I feel I can be a little more 'comfortable' during this lock down. And that includes typing when I want to.