Bob's Books: "Fast, Loose Money" by John D. MacDonald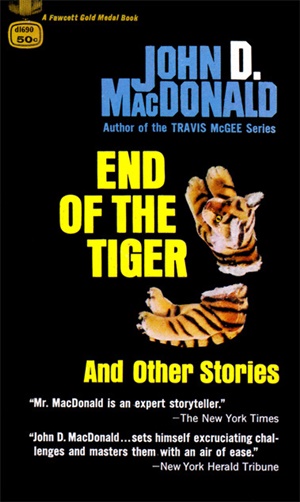 John D. MacDonald broke in near the end of the Pulp Era, writing for science fiction and mystery magazines. He appeared in Dime Detective his first year of writing, and made it into Black Mask the next. Joe 'Cap' Shaw became his agent after the legendary editor left the magazine. He quickly became a staple for Fawcett Gold Medal's paperback origscoinal novels, while still writing short stories, including for slicks like Redbook and Cosmopolitan. With seven stories in 1958 (the same as in 1957), Macdonald effectively ended his run as a short story writer and shifted almost completely to novelist.  He would only write that many short stories in a year twice more for the rest of his life.
The last story published in 1958 was "The Fast, Loose Money," in the July issue of Cosmopolitan. It was included in the 1966 collection, End of the Tiger and Other Stories. One of the fourteen other stories in that book is "The Trap of Solid Gold," which I think is one of his best; and which Steve Scott used to name his blog – the best John D. MacDonald site on the web. You can read Steve's two-part essay on MacDonald's Park Falkner, here.
At eleven pages of tightly spaced small print, it's a little longer than almost every other story in the book.
During World War II, MacDonald was an ordnance officer in the India-China-Burma Theater, working in procurement. He was initially assigned to New Delhi, and he did not like India, writing over forty years later, that it "was a sorry country, full of sorry people."
He was transferred to the Office of Strategic Services (OSS), which became the CIA. He worked out of Ceylon (Sri Lanka), Burma, and China. MacDonald would use his experiences and knowledge of his wartime service in the Far East, in several of his short stories. 1958's "Taint of the Tiger" was expanded into a Fawcett Gold Medal paperback, Soft Touch. Another 'war-roots' story from that year is "Fast, Loose Money."
Something has gone very wrong in Jerry Thompson's day. Jerry owns three parking lots in a nearby city. He and his wife Marie live well enough off of them, but as he says, "If you play by the rules, you're a sucker." So, Jerry had been using a duplicate ticket scheme to grab some off-the-book income, totaling about $26,000, which he kept at home in a wall safe, and spent low-key, to avoid the danger of getting caught.