A (Black) Gat in the Hand: Back Porch Pulp #1
A (Black) Gat in the Hand: Back Porch Pulp #1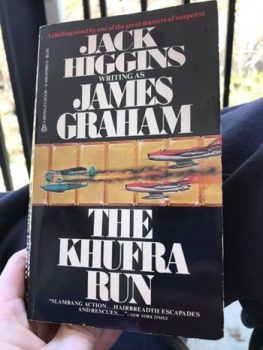 "You're the second guy I've met within hours who seems to think a gat in the hand means a world by the tail." – Phillip Marlowe in Raymond Chandler's The Big Sleep
(Gat — Prohibition Era term for a gun. Shortened version of Gatling Gun)
I did six Back Deck Pulp installments. If you don't know what that was – I had a great back deck at my former house. I would sit out there and read a lot. Mostly pulp stuff, but other things too. And I would take a pic of the book/or rarely, on my Kindle); trying to include some of my yard, or deck, and my leg or knee (hey – it was just a thing). And I'd talk about what I was reading. Usually sharing info about the author.
They were fun little things to share what I liked reading. And often it was a plug for an upcoming A (Black) Gat in the Hand post. I'm in an apartment now, with a small concrete slab back porch. With winter, and then the brutal heat of June, now behind us, I'm getting out there to read a little more. So, Back Porch Pulp makes its debut as Back Deck Pulp's successor. Enjoy!
JACK HIGGINS
Back Deck Pulp has been re-branded. Back Porch Pulp. I read a $1.99 Jack Higgins ebook, "Comes the Dark Stranger."
I have 49 Higgins books on the shelves: I'm a fan. That one was 'meh.' Predictable and not that exciting.
I'm a big fan of his WW II historical fiction stuff. And the first dozen Sean Dillon books.
I decided to go to one of his potboilers – the men's adventure stuff he wrote before making it big.
I picked one I hadn't got around to yet. "The Khufra Run" is one of three books he put out in 1971. This one under the name James Graham.
It's an action thriller featuring a seaplane pilot in the Mediterranean. It's a fun, easy read. Just what I was looking for.
I really liked the Sean Dillon books. But they started to all feel the same, so I quit the series. But I went back and re-read the first four or five, and they are still very good!
And "The Eagle has Landed" may be the finest historical fiction thriller in the genre. The sequel isn't bad, but that first book is simply terrific. It is also one of the best movie adaptations of a great book, I have ever seen. HIGHLY recommended. I talked about Higgins – and specifically that novel – in a Black Gate essay.
JOHN EHRLICHMAN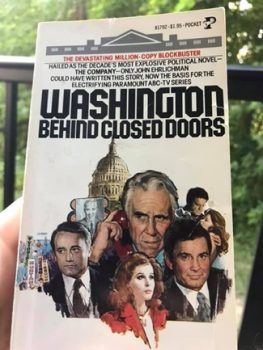 Maintaining a non-pulp direction, here's a name you weren't expecting. Yeah, THAT guy.
I've been reading various Watergate-related books – or chapters from said books. With about a hundred tomes in my library, there are quite a few choices.
But Back Porch Pulp wanted something fiction. Staying in the neighborhood, this novel of political intrigue was called The Company, and it's by John Ehrlichman..
Ehrlichman, along with Bob Haldeman, made up Richard Nixon's Palace Guard. Well, Nixon threw him to the wolves, and he went to jail and lost his law license. His The Ends of Power is an interesting, if self-serving, look into the Nixon world.
He also wrote three political thrillers that utilized his experience as the President's left hand man. The China Card, a Ludlum-esque take on the opening of China (Nixon's greatest accomplishment), was pretty good.
This one takes a seamy look at the White House, CIA, and FBI. It was quickly adapted into a successful miniseries with Jason Robards, Stefanie Powers, Robert Vaughan, and Cliff Robertson. As you can see by the cover, the name was changed.
Never read this one, so we'll see how it goes.
T T FLYNN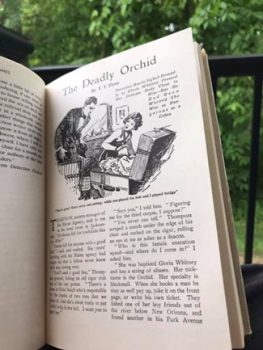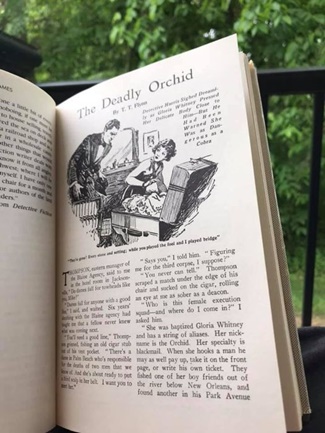 Okay. We'll actually talk about some pulp-related stuff now! Duane Spurlock wrote a Westerns entry on T.T. Flynn. Flynn had success in the mystery pulps before going on to a solid career in Westerns. If you've seen Jimmy Stewart in 'The Man from Laramie,' that was Flynn's.
"Brother Murder" is from a series in Detective Fiction Weekly, about a cult in Southern California. That 'spiritualist leader' thing is almost a sub-genre in the hardboiled genre. Raymond Chandler used it in one of his novels.
Back Porch Pulp owns three of Flynn's Trixie Meehan and Mike Harris stories (there were thirteen) and I'm working on all of them this weekend for a future Steeger Books introduction.
Unlike Carrie Cashin, Meehan wasn't the center of the stories. But she more than carried her own weight, and the tales indicate she had her own cases. She wasn't just a sidekick op, which is kind of what Frederick Nebel's Pat Seaward (Cardigan) seems to be.
'The Deadly Orchid' was the first story,
RAOUL WHITFIELD
Working from home today. Sun chased the rain, and it's a cool 62 outside. So, Back Porch Pulp makes its first appearance of the year (during lunch). And back to one of my favorite Hardboiled books.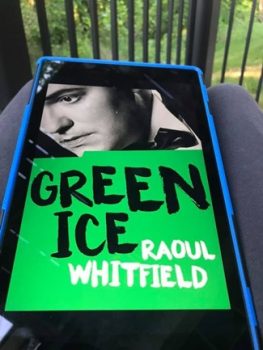 The second entry in A (Black) Gat in the Hand (and it didn't even have that name yet!) was about a Raoul Whitfield short story. I've started a long essay on his Jo Gar stories. Maybe this year it makes A (Black) Gat in the Hand (it didn't. But I'm still working on it). This is just about my favorite pulp collection. Love these stories.
Would be a tremendous period streaming show, set in the Philippines. Highly recommended collection from Steeger Books.
Back Porch Pulp returns with Raul Whitfield's first novel. As was The Maltese Falcon, and The Glass Key, Green Ice was originally a serial, appearing over five issues of Black Mask (December 1929 to April 1930). Whitfield and Hammett were friends, and Dash introduced Raoul to Blanche Knopf in 1929. Green Ice came out in book form a year later.
Death in A Bowl (about a murder at The Hollywood Bowl) is his best-known work, and The Virgin Kills, and Green Ice, were serials that became novels. One of his air stories, The Laughing Death, was recently put out by Steeger Books.
C M KORNBLUTH
Here's a leftover from 'the house days.' Back Deck Pulp is (for now) Front Porch Pulp. C.M. Kornbluth, who received a Bronze Star for service in The Battle of the Bulge, was a star in the science fiction field. This in spite of dying of a heart attack at only age 34.
Kornbluth appeared twice in Black Mask in 1946, with tough PI Tim Skeat. He wrote a total of 16 mystery stories: no others appearing in Black Mask.
Steven H Silver and I did a combined essay, covering two of his stories, in different genres.
HARD BOILED OMNIBUS
Tomorrow's A (Black) Gat in the Hand looks at one of the best issues of Black Mask (as declared so by me. Hey – it's my column!).
It included stories by three writers who Cap Shaw included in his The Hardboiled Omnibus. Though not any of those specific stories. Two are from the same series.
Back Porch Pulp got its copy off the shelf for this morning's coffee read.
There are plenty of pulp anthologies out there; new, and used. I've written about some of my favorites. But that wasn't always the case. The Hard Boiled Omnibus was a rare gem when it came out. I have hopes an expanded version might be issued some day. And that's more viable than my dream of Arthur Wontner's Lost Sherlock Holmes film suddenly being found!
NORBERT DAVIS
Back Porch Pulp is re-reading for Monday's A (Black) Gat in the Hand. If it's summer, I must be talking about Norbert Davis.
This is 'The Gin Monkey,' his first story in Dime Detective.
Davis was in The Hard Boiled Omnibus, though Joe Shaw's unused intro to the story wasn't exactly flattering. Davis wrote different types of hardboiled, but being the best at the screwball comedy version, hung like a millstone about his neck. Still does. But he's the third face carved on my Hardboiled Mt. Rushmore. Love his stuff.
KIRBY O'DONNELL
It's a Back Porch Pulp sighting!!!! Today, A (Black) Gat in the Hand talks about a Kirby O'Donnell story, and the Adventure Pulps. Howard took Western gunslingers and moved them to the East.
His El Borak rivals Conan as my favorite character. They are terrific adventure stories. He created El Borak as a teen, but couldn't get him into print until just a few years before his death.
This collection has his early efforts in that area. Borak became a much more complete character. But these are interesting to check out. And he has a few other characters having similar adventures.
Stop by Black Gate and check out my essay!
REX SACKLER
Back Porch Pulp is relaxing in the cool air (your jealousy is palpable) with this gem from Steeger Books.
Rex Sackler is a blast. He's the closest to a Norbert Davis character I've found. D. L. champion wrote lots of pulp – including The Phantom Detective. This is his fun series, with a Penny-pinching PI who makes Ebeneezer Scrooge look like a philanthropist.
I like Sackler so much, I wrote a Black Gate essay on him, based on the only story I had ever ready about him, up to that time.
This has the first eight stories from this Black Mask series, and they are a joy. Hope there's a volume 2 soon
JESS NEVINS
Back Deck Pulp is back in business this Spring. Can a new run of A (Black) Gat in the Hand be far behind??????
I just discovered this gem from Jess Nevins. He's a reference librarian who has written several books on pulp history. This one, with a unique approach, looks at the pulp industry year-by-year. I'm learning some neat stuff. And it's free with Kindle Unlimited.
So is his 2,090 page(!) Encyclopedia of Pulp Heroes. Sitting on the back deck with some pulp. Back Deck Pulp is glad to be out of the winter hibernation.
Fascinating looking at the ebb and flow of different pulp genres, year-to-year. Really cool reference book.
Prior posts in A (Black) Gat in the Hand – 2022 Series (8)
Asimov – Sci Fi Meets the Police Procedural
The Adventures of Christopher London
Weird Menace from Robert E. Howard
Spicy Adventures from Robert E. Howard
Thrilling Adventures from Robert E. Howard
Norbert Davis' "The Gin Monkey"
Tracer Bullet
Shovel's Painful Predicament
Prior posts in A (Black) Gat in the Hand – 2021 Series (8)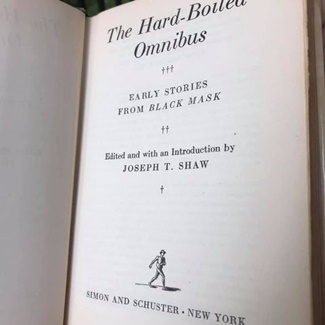 The Forgotten Black Masker – Norbert Davis
Appaloosa
A (Black) Gat in the Hand is Back!
Black Mask – March, 1932
Three Gun Terry Mack & Carroll John Daly
Bounty Hunters & Bail Bondsmen
Norbert Davis in Black Mask – Volume 1
Prior posts in A (Black) Gat in the Hand – 2020 Series (19)
Hardboiled May on TCM
Some Hardboiled streaming options
Johnny O'Clock (Dick Powell)
Hardboiled June on TCM
Bullets or Ballots (Humphrey Bogart)
Phililp Marlowe – Private Eye (Powers Boothe)
Cool and Lam
All Through the Night (Bogart)
Dick Powell as Yours Truly, Johnny Dollar
Hardboiled July on TCM
YTJD – The Emily Braddock Matter (John Lund)
Richard Diamond – The Betty Moran Case (Dick Powell)
Bold Venture (Bogart & Bacall)
Hardboiled August on TCM
Norbert Davis – 'Have one on the House'
with Steven H Silver: C.M. Kornbluth's Pulp
Norbert Davis – 'Don't You Cry for Me'
Talking About Philip Marlowe
Steven H Silver Asks you to Name This Movie
Cajun Hardboiled – Dave Robicheaux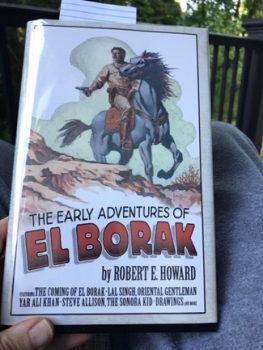 More Cool & Lam from Hard Case Crime
A (Black) Gat in the Hand – 2019 Series (15)
Back Deck Pulp Returns
A (Black) Gat in the Hand Returns
Will Murray on Doc Savage
Hugh B. Cave's Peter Kane
Paul Bishop on Lance Spearman
A Man Called Spade
Hard Boiled Holmes
Duane Spurlock on T.T. Flynn
Andrew Salmon on Montreal Noir
Frank Schildiner on The Bad Guys of Pulp
Steve Scott on John D. MacDonald's 'Park Falkner'
William Patrick Murray on The Spider
John D. MacDonald & Mickey Spillane
Norbert Davis goes West(ern)
Bill Crider on The Brass Cupcake
A (Black) Gat in the Hand – 2018 Series (32)
George Harmon Coxe
Raoul Whitfield
Some Hard Boiled Anthologies
Frederick Nebel's Donahue
Thomas Walsh
Black Mask – January, 1935
Norbert Davis' Ben Shaley
D.L. Champion's Rex Sackler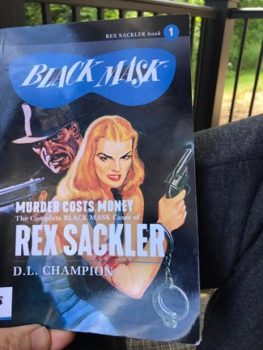 Dime Detective – August, 1939
Back Deck Pulp #1
W.T. Ballard's Bill Lennox
Day Keene
Black Mask – October, 1933
Back Deck Pulp #2
Black Mask – Spring, 2017
'Max Allen Collins & The Hard Boiled Hero'
A (Black) Gat in the Hand: William Campbell Gault
A (Black) Gat in the Hand: More Cool & Lam From Hard Case Crime
MORE Cool & Lam!!!!
Thomas Parker's 'They Shoot Horses, Don't They?'
Joe Bonadonna's 'Hardboiled Film Noir' (Part One)
Joe Bonadonna's 'Hardboiled Film Noir' (Part Two)
William Patrick Maynard's 'The Yellow Peril'
Andrew P Salmon's 'Frederick C. Davis'
Rory Gallagher's 'Continental Op'
Back Deck Pulp #3
Back Deck Pulp #4
Back Deck Pulp #5
Joe 'Cap' Shaw on Writing
Back Deck Pulp #6
The Black Mask Dinner
---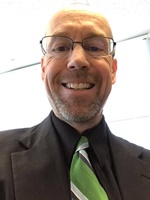 Bob Byrne's 'A (Black) Gat in the Hand' made its Black Gate debut in 2018 and has returned every summer since.

His 'The Public Life of Sherlock Holmes' column ran every Monday morning at Black Gate from March, 2014 through March, 2017. And he irregularly posts on Rex Stout's gargantuan detective in 'Nero Wolfe's Brownstone.' He is a member of the Praed Street Irregulars, founded www.SolarPons.com (the only website dedicated to the 'Sherlock Holmes of Praed Street') and blogs about Holmes and other mystery matters at Almost Holmes.
He organized Black Gate's award-nominated 'Discovering Robert E. Howard' series, as well as the award-winning 'Hither Came Conan' series.
He has contributed stories to The MX Book of New Sherlock Holmes Stories – Parts III, IV, V, VI and XXI.
He has written introductions for Steeger Books, and appeared in several magazines, including Black Mask, Sherlock Holmes Mystery Magazine, The Strand Magazine, and Sherlock Magazine.