A (Black) Gat in the Hand: Back Deck Pulp #5
A (Black) Gat in the Hand: Back Deck Pulp #5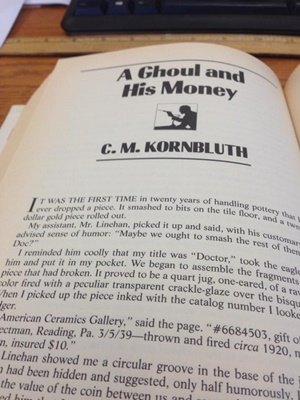 "You're the second guy I've met within hours who seems to think a gat in the hand means a world by the tail." – Phillip Marlowe in Raymond Chandler's The Big Sleep
(Gat — Prohibition Era term for a gun. Shortened version of Gatling Gun)
Hopefully, by now, you're aware of the Back Deck Pulp series of posts I ran over on Facebook. Since this is the fifth collection of them I've run for A (Black) Gat in the Hand!  I've got enough for one more, and this column will run for four more weeks, so there might be another one. You can read the first four Back Deck Pulp posts by clicking the links at the end of this one.
CM KORNBLUTH
Cyril M. Kornbluth was a science fiction author who died of a heart attack, running to catch a train, at the age of 34. Frederick Pohl cowrote several stories with the author and finished some of Kornbluth's stories after the latter died, He said that Kornbluth refused to brush his teeth and educated himself by reading the encyclopedia from A to Z. An interesting individual.
It's Office Desk Pulp! I'm going to have to research C.M. Kornbluth (Apparently, he was known for his science fiction stories). '"A Ghoul and His Money" appeared in the September, 1946 Dime Detective. His protagonist, who is the good guy, is completely annoying and I was hoping something non-fatal would happen to him. It's an interesting take on a hero and I think I'd like to tinker with the concept Fun, short read. Another story from the excellent anthology, Hard-Boiled Detectives.
RAYMOND CHANDLER
If A (Black) Gat in the Hand makes a limited-run return in 2019, I'll probably do a post on Chandler, though it took me a long time to warm up to him. Maybe something about how he cannibalized several short stories for his novels. Or, more likely, a look at the excellent Powers Boothe tv series, in which he played Philip Marlowe.
It's Father's Day here at Back Deck Pulp, so we'll look at Anton Dravec – sort of a father figure… Raymond Chandler's "Killer in the Rain" appeared in the January, 1935 Black Mask, which is the subject of tomorrow's A (Black) Gat in the Hand. A significant part of this story was incorporated into The Big Sleep, with Carmen Dravec becoming Carmen Sternwood (played memorably by Martha Vickers in the Bogart movie). I think this is a very strong novella all on its own and an action-packed story.
W.T. BALLARD/BILL LENNOX
After Raoul Whitfield's Jo Gar, I think that Ballard's Hollywood trouble-shooter, was my favorite discovery in writing this column. Ballard was Rex Stout's cousin. Stout, of course, created my favorite mystery series, the Nero Wolfe tales. I highly recommend the Lennox stories.
It's a Little muggy outside, so we moved inside for a bonus Back Deck Pulp. W(illiam) T(odhunter) Ballard was Nero Wolfe creator Rex Stout's first cousin. Thus, the shared unusual middle name.
Ballard wrote nearly a hundred novels and over a thousand short stories. I only discovered his movie studio 'fixer' Bill Lennox this week. And I love him!
Looking forward to checking out the four Lennox novels and whatever stories I can find. Absolutely With a (Black) Gat material. (Yep: that was this column's original name!)
Completed my With a (Black) Gat essay on the October, 1933 Black Mask and moving on to my new favorite pulp series, about W.T. Ballard's Hollywood troubleshooter, Bill Lennox.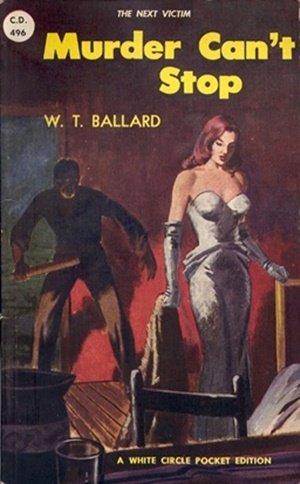 The woman on the cover clearly survived this encounter, as she went on to co-star in 'Who Framed Roger Rabbit.'
Since I started digging into the pulpsters for With a (Black) Gat, two writers have really won me over.
I knew Raoul Whitfield, but I hadn't paid attention to the couple of Joe Gar stories I'd read. They are EXCELLENT and I've ordered Altus' Press' complete collection, West of Guam.
I'd heard of W.T. Ballard, but didn't remember anything from the few anthology stories I'd read of his. But I paid attention to his Hollywood 'fixer,' Bill Lennox, and I've got a new favorite!
I've read two short stories and started the first Lennox novel, Say Yes to Murder. Ballard had worked for Warner Brothers and Columbia Pictures. At the latter studio, he wrote scripts, directed and produced and even moved scenery for several low budget films. His experiences gave the Lennox stories authenticity.
Ballard was Rex Stout's first cousin (you know, the Nero Wolfe guy!). Which is the reason they shared the unusual middle name of Todhunter.
I'm thoroughly enjoying my discovery of Ballard, who you'll be reading about in
A month or two over at BlackGate.com. You can get a couple Lennox stories cheap in ebook format.
A great interview of Ballard by Steven Mertz.
Well: what do you do on Wednesday afternoon? You take Back Deck Pulp into the office with a Nook! I continue to squeeze in W.T. Ballard's Hollywood trouble shooter Bill Lennox when I can. I really like the character and the stories. I get an Alan Ladd in his Box 13 radio show vibe out of Lennox. I think Dealing out Death, which takes place in Las Vegas, is the second Lennox novel. Fun stuff!
As evidenced by my four Back Deck Pulp posts about W.T. Ballard and his Hollywood trouble-shooter Bill Lennox, I'm loving this series. Working on a A (Black) Gat in the Hand (yep – we've rebranded: more on that later), post and I love the story of how Ballard came to create the character.
A surprise encounter with fellow ex-Clevelander (Major) Harry Warner, Ricardo Cortez' The Maltese Falcon and Black Mask all fall in the mix. Check it out: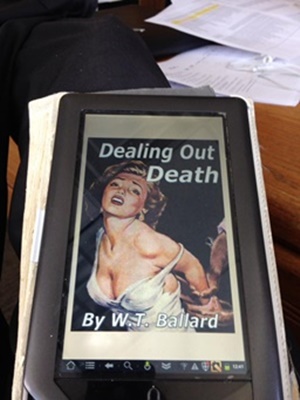 W.T. Ballard, who wandered out west when the Depression hit, had been trying to sell to the New York pulps with minimal success. He saw a Detective Dragnet Magazine with one of his stories in a Hollywood store window (December, 1930). As he walked away, a man called out his name: it was Harry Warner, who he had known a bit back in Cleveland, where the family had been making movie trailers for local organizations.
Warner asked what Ballard was doing in Hollywood. Embarrassed, the latter exaggerated a bit, bought that magazine in the window and gave it to Warner, saying he was a freelance writer.
Warner and his brothers had just taken over First National Studios, and Harry, impressed with Ballard, hired him as a screenwriter at a good salary. That gig lasted eight months until Ballard made a crack about Warner, not knowing the man was standing behind him. Fired!
Ballard was picked up by Columbia Pictures, who hired him to produce B-films for $10,000 each. To hit that target, Ballard had to write the script, direct and produce, and even move scenery for shoots. He endured this exhausting assignment for six months – but the two studio jobs gave him an invaluable inside knowledge of the industry.
In 1931, Ballard was trying struggling trying to write and sell to Detective Story Magazine, which favored Agatha Christie/Mary Roberts Rinehart types of mysteries. Then he heard a radio ad for The Maltese Falcon, a movie starring Ricardo Cortez (Bogart hit gold in the third adaptation). He went to see the movie.
As Ballard said in an excellent interview conducted by Stephen Mertz: "Hammett's ear for words sounded the way I thought criminals and detectives should talk. It rang true, the way I wanted mine to do."
The radio ad had mentioned Black Mask, which Ballard was unfamiliar with. After the movie he went around the corner, bought the latest issue and read it on the streetcar ride home. He was hooked.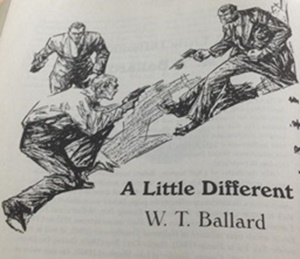 Ballard didn't want to write about the typical newspaper reporter. His friend Jim Lawson worked at Universal Studios and was often called on to get stars out of trouble. Ballard liked the idea, knowing he had the studio experience to write realistically.
Using the phone book to help with names, that very night, about midnight, he started writing. About five in the morning, he had a 10,000-word story featuring Bill Lennox. He mailed the manuscript and went to bed.
He was out of work, supporting some relatives and getting paid a quarter of a cent to one cent per word for the 'lesser' detective pulps. Within a week, Joe 'Cap' Shaw, famed editor of Black Mask, had asked for a few changes (including to carry a gun), but also sent a check, buying the story. Bill Lennox, troubleshooter for General-Consolidated Studios, was born.
 Tonight, I finally finished a A (Black) Gat in the Hand post on W.T. Ballard's Hollywood trouble-shooter, Bill Lennox. It will run in July (I'm actually writing way ahead of deadline for a change. Will wonders never cease!).
Along with Raoul Whitfield's Jo Gar, Lennox has been my favorite discovery in reading….err, researching, for the new column.
I really like the Lennox stories and have read two of the five novels.
I'd like to read Murder Picked the Jury, a novel he cowrote with one of my favorite pulpsters, Norbert Davis under the name Harrison Hunt).
BLACK MASK/OCTOBER, 1933
I included a semi-regular feature for this column. I examined an issue of Black Mask, or Dime Detective, and talked about each story and its author. I'll be doing more of those every so often, just because it was fun
Us pulpsters (well…dweebs who write about real pulpsters!) just keep cranking out the words. Tonight, it's an essay on the October, 1933 issue of Black Mask.
Carroll John Daly was less than a year from being done at the Mask, but he had his forty-second Race Williams story in this issue.
W.T. Ballard's third tale about Hollywood trouble shooter Bill Lennox (a new favorite of mine) was included. It also had an Ed Jenkins tale from Erle Stanley Gardner, reliable Raoul Whitfield's second and final Dion Davies story and one from the fast-paced Roger Torrey.
Twenty cents? You bet!
And if you haven't been over to BlackGate.com to check out my new hardboiled column, With a (Black) Gat go take a look. There's a new essay every Monday morning. Up next: one of my top five hardboiled authors – Frederick Nebel. I look at his Donahue series from Black Mask.
H. BEDFORD JONES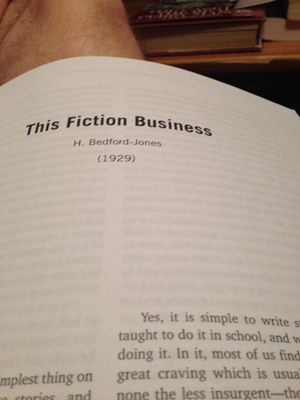 Largely forgotten today, H. Bedford Jones was very prolific and successful pulpster. Altus Press has brought a great deal of his work back into print. His book on writing, This Fiction Business, was a great influence on Erle Stanley Gardner, and a good read.
It's Library Desk Pulp tonight. I know of H. Bedford-Jones, though I've not read any of his stories
However, I am quite enjoying his book on writing, This Fiction Business. Interesting stuff, and he has a GREAT sense of humor! I'll be giving his fiction a try.
Back Deck Pulp looks at a neat book on how pulpsters such as Norvell Page, H Bedford Jones, Lester Dent and Joseph 'Cap' Shaw share words of wisdom. Cool!
This tome has the entirety of H. Bedford-Jones' book, This Fiction Business. Add in another 140ish pages of pulpsters talking about their craft and I can pretty much guarantee this thing is worth well more than its $24.95 price!
It can be found in this book from Ed Hulse. Recommended.
Back Deck Pulp is thoroughly enjoying the entertaining and instructive This Fiction Business by the prolific pulpster, H. Bedford Jones. It originally appeared in 1922.
It's included in Blood 'N' Thunder's The Penny-a-Word Brigade collection. The essay anthology includes several entries on Pulp writing from the twenties, thirties and forties.
This Fiction Business was actually a book and reads as a very long essay. Highly recommended for Pulp fans and writers.
Previous entries in the series:
With a (Black) Gat: George Harmon Coxe
With a (Black) Gat: Raoul Whitfield
With a (Black) Gat: Some Hard Boiled Anthologies
With a (Black) Gat: Frederick Nebel's Donahue
A (Black) Gat in the Hand: Thomas Walsh
A (Black) Gat in the Hand: Black Mask – January, 1935
A (Black) Gat in the hand: Norbert Davis' Ben Shaley
A (Black) Gat in the Hand: D.L. Champion's Rex Sackler
A (Black) Gat in the Hand: Dime Detective – August, 1939
A (Black) Gat in the Hand: Back Deck Pulp #1
A (Black) Gat in the Hand: W.T. Ballard's Bill Lennox
A (Black) Gat in the Hand: Day Keene
A (Black) Gat in the Hand: Black Mask – October, 1933
A (Black) Gat in the Hand: Back Deck Pulp #2
A (Black) Gat in the Hand: Black Mask – Spring, 2017
A (Black) Gat in the Hand: Frank Schildiner's 'Max Allen Collins & The Hard Boiled Hero'
A (Black) Gat in the Hand: William Campbell Gault
A (Black) Gat in the Hand: More Cool & Lam From Hard Case Crime
A (Black) Gat in the Hand: MORE Cool & Lam!!!!
A (Black) Gat in the Hand: Thomas Parker's 'They Shoot Horses, Don't They?'
A (Black) Gat in the Hand: Joe Bonadonna's 'Hardboiled Film Noir' (Part One)
A (Black) Gat in the Hand: Joe Bonadonna's 'Hardboiled Film Noir' (Part Two)
A (Black) Gat in the Hand: William Patrick Maynard's 'The Yellow Peril'
A (Black) Gat in the Hand: Andrew P Salmon's 'Frederick C. Davis'
A (Black) Gat in the Hand: Rory Gallagher's 'Continental Op'
A (Black) Gat in the Hand: Back Deck Pulp #3
A (Black) Gat in the Hand: Back Deck Pulp #4
A (Black) Gat in the Hand will run through Tuesday, January 1st. A new Robert E. Howard-centric column will take its spot on January 8th. Hey – we are a World Fantasy Award-winning website, you know!
---
Bob Byrne's A (Black) Gat in the Hand appears weekly every Monday morning at Bla ck Gate.
His 'The Public Life of Sherlock Holmes' column ran every Monday morning at Black Gate  from March 2014 through March 2017 (still making an occasional return appearance!). He also organized Black Gate's award-nominated 'Discovering Robert E. Howard' series.
He is a member of the Praed Street Irregulars, founded www.SolarPons.com (the only website dedicated to the 'Sherlock Holmes of Praed Street') and blogs about Holmes and other mystery matters at Almost Holmes.
He has contributed stories to The MX Book of New Sherlock Holmes Stories – Parts III, IV,  V and VI.