Take a Bite From The Poison Apple: Interviews from Black Gate Magazine by Elizabeth Crowens
Take a Bite From The Poison Apple: Interviews from Black Gate Magazine by Elizabeth Crowens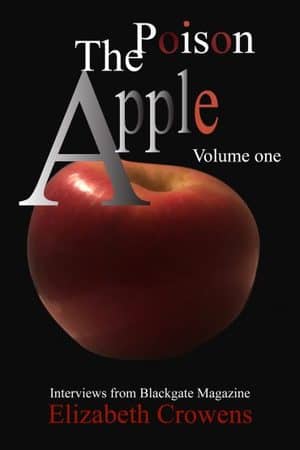 Over the past two years, since December 13, 2016, Elizabeth Crowens has become one of the most consistently popular contributors to Black Gate magazine. She's accomplished this with a surprisingly small number of articles — scarcely a dozen so far, over 24 months.
Each, however, has been a fascinating and in-depth discussion with a prominent individual in the genre. Her interviews have included a cross section of talents, including stunt doubles, TV stage managers, fantasy illustrators, bestselling authors, editors, and even Black Gate contributors. All of her interviews have been popular, and more than a few — such as her dual interview with Delia Sherman and Ellen Kushner in June 2017 — have been among the most widely-read pieces we've published in the past few years.
Earlier this month Elizabeth released The Poison Apple, Volume One: Interviews from Black Gate Magazine, a collection of her earliest interviews. It includes lengthy discussions with:
Teel James Glenn
Steven Van Patten
Lissanne Lake
Martin Page
Gail Carriger
Delia Sherman and Ellen Kushner
The book includes the complete contents of each interview, including all the questions and responses, and even the color images.
ELizabeth tells us that she plans to follow up with Volume Two next year, which includes conversations with Charlaine Harris, Heather Graham Pozzessere, Jennifer Brozek, Nancy Kilpatrick , Nancy Holder and Leslie Klinger.
Get all the details at Elizabeth's website here, and be sure to sign up for new Newsletter for details on her upcoming projects and special offers. While you're waiting for the next issue of the newsletter, read all of her recent Poison Apple columns at Black Gate here.