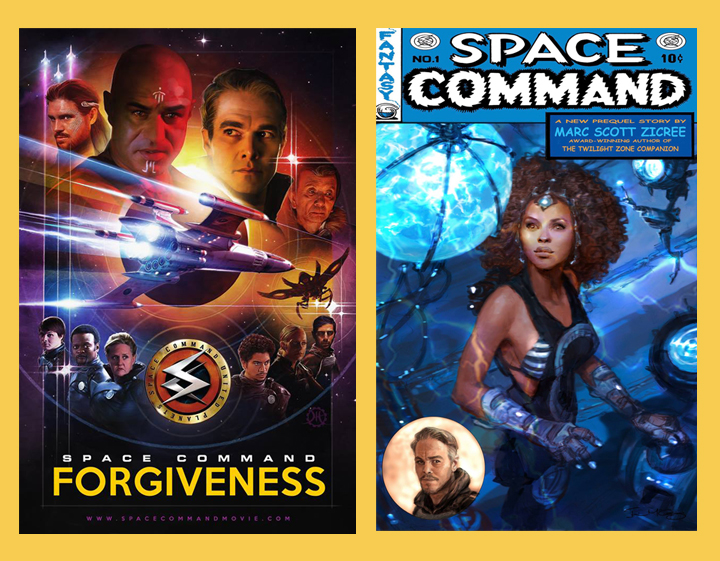 Crowens: I wanted to interview someone whose focus was not only the entertainment industry but also science fiction. Previously, almost everyone I've interviewed has been involved in fantasy or horror. After following you on Facebook I really wanted to interview you. Right away, I've been able to pick up on your "contagious enthusiasm" and high energy.
Zicree: Glad I could do it.
What was your very first job in the entertainment industry, and how did you get your foot in the door?
I grew up reading in the genre watching the original versions of Star Trek, The Twilight Zone and The Outer Limits, and I started going to science fiction conventions when I was a teenager growing up here in LA. My heroes were the writers. There was a lot of crossover from the stories I read and the writers from those three shows: Richard Mathieson, Theodore Sturgeon, Ray Bradbury, George Clayton Johnson, Harlan Ellison… they were all doing books and TV shows. When I was ten, I heard Ray Bradbury speak at a local library — a huge influence, and I became a big fan. When I was around fifteen or sixteen-years-old I started going to conventions and meeting them, and from there they became mentors.
There was also a radio show on KPFK in Los Angeles called Hour 25, and they interviewed all the great science fiction writers. Around 1973 when I was eighteen, I wrote a half hour radio play that was a satire of science fiction conventions, TV shows and movies called Lobotomy. So, I wrote, directed and acted in it with three of my friends and it aired on KPFK. On that same show, I heard Harlan Ellison talking about the Clarion Writer's Workshop. When I was nineteen and an art student at UCLA, I attended Clarion that summer. It was at Michigan State University. The students included people like Kim Stanley Robinson and Robert Crais, who became well-known science fiction and mystery novelists, respectively. Our teachers were Gene Wolfe, Roger Zelazny, Samuel R. Delaney, Kate Wilhelm, Damon Knight and Joe Haldeman – all very famous and accomplished science fiction writers. It was a great lineup.
---