A (Black) Gat in The Hand: Saying Goodbye with a Black Mask Dinner
A (Black) Gat in The Hand: Saying Goodbye with a Black Mask Dinner
"You're the second guy I've met within hours who seems to think a gat in the hand means a world by the tail." – Phillip Marlowe in Raymond Chandler's The Big Sleep
(Gat — Prohibition Era term for a gun. Shortened version of Gatling Gun)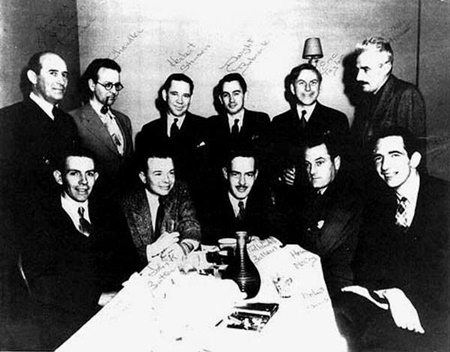 This is a pretty famous photograph in hardboiled/pulp lore. It's of the attendees of the 1936 West Coast Black Mask Writers dinner. And it's the only known meeting of Raymond Chandler and Dashiell Hammett. But there was a lot more writing talent present!
From back left: Raymond Moffat, Raymond Chandler, Herbert Stinson, Dwight Babcock, Eric Taylor, and Dashiell Hammett.
From front left: Arthur Barnes, John K. Butler, W.T. Ballard, Horace McCoy, and Norbert Davis.
This post is going to focus on the man who was primarily responsible for making this gathering happen.
Dwight Babcock sent his first very first story to Underworld Magazine. They promptly lost it! He retitled it "At the Bottom of Every Mess," and sent it to Black Mask, figuring he'd get a nice rejection letter. Instead, he got an acceptance letter and a $100 check. When most pulps were paying a quarter to a half cent a word, Babcock got a penny and a quarter cent per word for his first effort!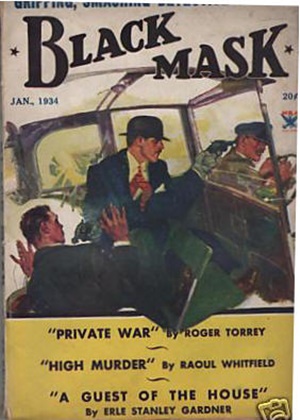 Underworld did find their copy of the story and returned it to Babcock: five months after it had appeared in the January, 1934 Black Mask.
Babcock broke into Dime Detective in August of 1934 and regularly appeared in the detective pulps for the next few years. Legendary Black Mask editor Joseph 'Cap' Shaw mistakenly identified a Babcock submission as having been written by W.T. Ballard (who you read about HERE). The two writers became lifelong friends through this mix up.
In late 1935, Shaw sent a letter to Babcock, discussing "more appealing characters, more appealing plots and situations."
Shaw said, "We don't mind the brutal characters in a story…We don't mind the hard action; we want it; but we do want…a man that is a hero; a girl…that is every way likable and appealing – a man and a girl that the reader feels just must come through."
Shaw wanted to take a little bit of the tough edge off of Black Mask. Babcock responded with G Man Chuck Thompson, who become a popular character.
James Cagney's movie, G-Man, had been a big hit and that mini-genre was hot. Shaw wrote to Babcock, "…if you can wrangle out a sure-fire story each month for some months to come…"
Black Mask writers were expected to produce not only high quality, but high volume (the latter a requirement for survival as a pulpster).
Shaw added, "Let me know what you think and how soon you can deliver some red-hot ones. That shouldn't be so hard, one a month, but they gotta be good."
Babcock wrote eight Chuck Thompson stories, seven of which appeared in Black Mask.
Babcock was very much one of Shaw's 'Black Mask Boys,' and the editor helped guide him to agent Jane Hardy (the widow of Robert Hardy, she hadn't fallen out yet with client Erle Stanley Gardner).
Shaw resigned as editor of Black Mask in September of 1936 after battling with the owner. He became an agent, and Babcock switched to him. Fanny Ellsworth, who succeeded Shaw as editor, didn't seem to have as much interest in the writer. He had two stories in the Mask in 1937 (one of which Shaw had bought), and three each in 1938 and 1939.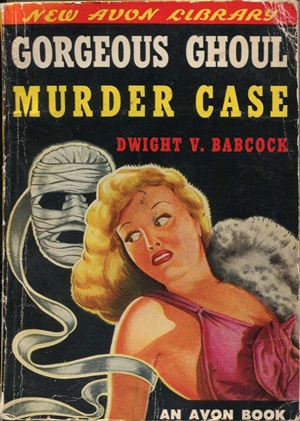 Ellsworth wasn't interested in Thompson, only using one of those tales. Babcock had decided to write a novel, and he would effectively leave the pulps, writing three novels starring 'Homicide Hannah, the Gorgeous Ghoul.' She's a beautiful, hardboiled writer and photographer for True Crime Cases magazine.
That book, along with The Gorgeous Ghoul, and Hannah Says Foul Play, are considered to be among the best in the comedic hardboiled school. Norbert Davis is perhaps the best-known practitioner in that field, and he and Babcock were west coast friends.
Babcock went to Hollywood in 1944 and became a successful screenwriter, with a multitude of horror movies to his credit. He also wrote for television. He would write one more novel, with Day Keene (who I wrote about here), Chatauqua. It became the Elvis Presley movie, The Trouble With Girls.
Shaw had tried to sell a collection of Babcock's short stories, but was unsuccessful. That's an effort still worth somebody's time and energy. "Murder on the Gayway," from the October, 1939 Black Mask, was reprinted in the Fall, 2017 issue.
I'm curious as to why Shaw didn't include Babcock in his Hard Boiled Omnibus. There may be a story behind that which I'm not aware of.
Anywhoo…to the picture.
With some encouragement from Shaw, Babcock worked hard to bring together various Black Mask writers who lived on the west coast. Along with those in the picture, it's believed that Babcock reached out to H. Bedford Jones, Roger Torrey, Paul Cain, and Whitman Chambers – none of whom attended the dinner.
On January 11th, with Shaw cabling his regrets at not being able to attend, eleven Black Maksers gathered at the Nickabob Café. The photo provides evidence of the only known meeting between hardboiled giants Hammett and Chandler.  The attendees:
Raymond Moffatt – I know less than nothing about this guy. Literally.
Raymond Chandler – The only name unarguably placed alongside Hammett's in the hardboiled pantheon.
Herbert Stinson – Stinson, police reporter for an LA newspaper, was a Black Mask regular, and his Ken O'Hara, a tough guy for The Los Angeles Times, appeared in over a dozen stories.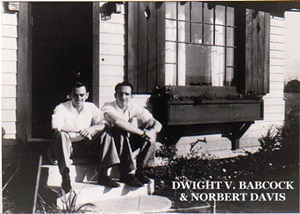 Dwight Babcock – See above…
Eric Taylor – Taylor appeared frequently in the popular, second tier pulp magazine, Clues. He managed a couple Black Mask sales.
Dashiell Hammett – Not much needs said about the greatest hardboiled writer of them all.
Arthur Barnes – Barnes is best known for his science fiction stories, and I haven't found any Black Mask appearances by him. Hmm…
John K. Butler – Altus Press has brought Butlers' hardboiled cab driver, Steven Midnight, back into print. Yay! Butler went on to write dozens of B-movie scripts – specializing in westerns.
W.T. Ballard – You can read about Ballard: especially his Hollywood troubleshooter, Bill Lennox, here.
Horace McCoy – Thomas Parker wrote about McCoy's novel, They Shoot Horses, Don't They?, for this column.
Norbert Davis – I wanted to write more about one of my favorite writers, but I did manage to do a post on his lawyer, Ben Shaley.
I don't know of any other Black Mask gatherings. And I haven't run across an account of this one. But there's some pretty good writers in that picture.
And so, A (Black) Gat in the Hand comes to an end.
I thoroughly enjoyed reading well over a hundred short stories and novels for the column. And I had a lot of fun with the Back Deck Pulp posts over at Facebook.
There were topics I intended to write about, and researched, but never got down on the keyboard: like Joe Gores' DKA novels, more Norbert Davis, and a Jo Gar post. And other topics that never got past the thought stage, like: Dashiell Hammett, the Powers Boothe Philip Marlowe tv show, and Robert E. Howard's Steve Harrison (who I've written about before).
It's possible I could bring the column back for a limited run in the future, though I'd have to immerse myself in a pulp/hardboiled mood again. And I think I'm covered for a little while. It will be Conan for the next half year. And Nero Wolfe is always calling to me.
Thanks to Frank Schildiner, Thomas Parker, Joe Bonadonna, William Patrick Maynard, and Andrew P. Salmon for contributing great essays. Heaven knows, I need all the help I can get!
BlackGate.com is a World Fantasy Award-winning website. And rightfully so. But there's a mystery corner here as well. And it's certainly not just me. A bunch of BlackGaters are fans of the genre. So, from time to time, you'll find some mystery-related posts of note.
I hope the readers enjoyed this 'toe in the pool' look at a fantastic genre. There is some simply outstanding storytelling and writing in those old pulp stories. Especially, the hardboiled school – though by no means limited to that area.
So, this hardboiled keyboard shuts down.
For now…
Previous entries in the series:
With a (Black) Gat: George Harmon Coxe
With a (Black) Gat: Raoul Whitfield
With a (Black) Gat: Some Hard Boiled Anthologies
With a (Black) Gat: Frederick Nebel's Donahue
A (Black) Gat in the Hand: Thomas Walsh
A (Black) Gat in the Hand: Black Mask – January, 1935
A (Black) Gat in the hand: Norbert Davis' Ben Shaley
A (Black) Gat in the Hand: D.L. Champion's Rex Sackler
A (Black) Gat in the Hand: Dime Detective – August, 1939
A (Black) Gat in the Hand: Back Deck Pulp #1
A (Black) Gat in the Hand: W.T. Ballard's Bill Lennox
A (Black) Gat in the Hand: Day Keene
A (Black) Gat in the Hand: Black Mask – October, 1933
A (Black) Gat in the Hand: Back Deck Pulp #2
A (Black) Gat in the Hand: Black Mask – Spring, 2017
A (Black) Gat in the Hand: Frank Schildiner's 'Max Allen Collins & The Hard Boiled Hero'
A (Black) Gat in the Hand: William Campbell Gault
A (Black) Gat in the Hand: More Cool & Lam From Hard Case Crime
A (Black) Gat in the Hand: MORE Cool & Lam!!!!
A (Black) Gat in the Hand: Thomas Parker's 'They Shoot Horses, Don't They?'
A (Black) Gat in the Hand: Joe Bonadonna's 'Hardboiled Film Noir' (Part One)
A (Black) Gat in the Hand: Joe Bonadonna's 'Hardboiled Film Noir' (Part Two)
A (Black) Gat in the Hand: William Patrick Maynard's 'The Yellow Peril'
A (Black) Gat in the Hand: Andrew P Salmon's 'Frederick C. Davis'
A (Black) Gat in the Hand: Rory Gallagher's 'Continental Op'
A (Black) Gat in the Hand: Back Deck Pulp #3
A (Black) Gat in the Hand: Back Deck Pulp #4
A (Black) Gat in the Hand: Back Deck Pulp #5
A (Black) Gat in the Hand: Joe 'Cap' Shaw on Writing
A (Black) Gat in Hand: Back Deck Pulp #6
Next Monday, Hither Came Conan, a new Robert E. Howard-centric column, takes over this slot.
---
Bob Byrne's A (Black) Gat in the Hand appeared weekly every Monday morning at Black Gate in the Fall and Winter of 2018.
His 'The Public Life of Sherlock Holmes' column ran every Monday morning at Black Gate  from March 2014 through March 2017 (still making an occasional return appearance!). He also organized Black Gate's award-nominated 'Discovering Robert E. Howard' series.
He is a member of the Praed Street Irregulars, founded www.SolarPons.com (the only website dedicated to the 'Sherlock Holmes of Praed Street') and blogs about Holmes and other mystery matters at Almost Holmes.
He has contributed stories to The MX Book of New Sherlock Holmes Stories – Parts III, IV,  V and VI.
And he will be in the upcoming anthology of new Solar Pons stories!