The Public Life of Sherlock Holmes – Holmes Shelfies (#1)
The Public Life of Sherlock Holmes – Holmes Shelfies (#1)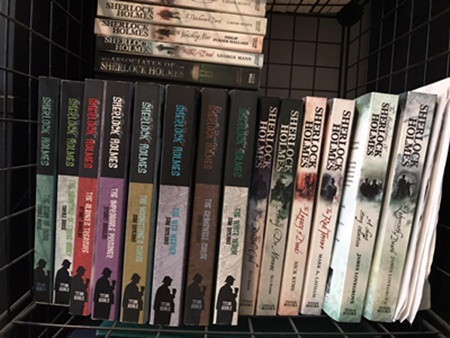 So…I found a kinda cool group over on Reddit. And it wasn't LotR_on_Prime – yeesh. R/bookshelf is a subreddit where people post their shelfies. With over 2,000 books on 90-ish shelves/cubes, that appealed to me!
I started with my Jack Higgins shelf, and then my Clive Cussler one. I've done a couple fantasy shelves, but mostly I've been sharing pics of my over-500 Sherlock Holmes and Arthur Conan Doyle books. And I've been adding a comment, talking about some of those pictured. Its' been neat.
So, I thought for this week's entry, I'd bring back The Public Life of Sherlock Holmes again, and share the shelfies and comments. So far, anyways.
Holmes Shelfie #1
Titan Books has two lines of Holmes pastiches. The colorful ones on the left, are traditional stories in the Doyle style. They were originally reissues of hard-to-find volumes by folks like Philip Jose Farmer, Fred Saberhagen, Manly Wade Wellman, and David Stuart Davies (my editor at Sherlock Magazine). Then they started adding new novels by Davies and a few other authors.
The other line, with the covers like the ones on the right, are all new novels, and horror-ish / steampunk / gothic. Not traditional Doyle. They continued this line through the Pandemic. If you want some horror-ish Holmes, this is a good place to go. I like James Lovegrove quite a bit. And I think Caravan Scott was pretty good.
I have 38 of the Titan books, I think. Here's a review I wrote of a couple of the early ones from George Mann.
Holmes Shelfie #2
I essentially have 17 shelves like this of Sherlock Holmes/Arthur Conan Doyle books. So, I'll just highlight some on each for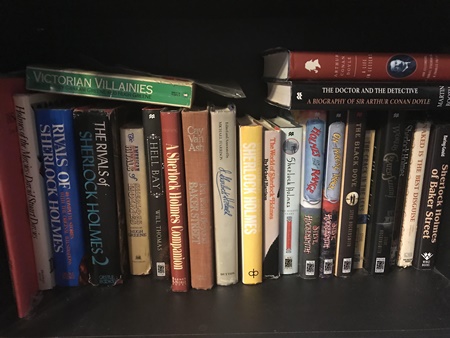 those interested in the Baker Street sleuth.
Sherlock Holmes of Baker Street, I, Sherlock Holmes, In the Footsteps of Sherlock Holmes, and The World of Sherlock Holmes, dig into Holmes' life and life in the locales of his cases, written by experts in Sherlockiana.
The Steve Hockensmith books are ongoing, and a lot of fun. They are about a pair of cowboy brothers, Big Red and Old Red. Old Red uses Sherlock Holmes methods (fresh from the pages of the Strand Magazine) to solve crimes in the Old West. I quite enjoy these books – plus the collection of short stories. I wrote a blog post on that series, if you wanna know more.
If you are interested in stories of other detectives from Holmes' time, those two 'Rivals' books are excellent. And they're reprinted like facsimiles of a magazine of the time.
I'll mention Will Thomas' terrific Barker and Llewelyn series on another shelf. And the two books laying down on the top are pretty good reference tomes.
Holmes Shelfie #3
Top shelf of my main Holmes/Doyle bookshelf. Front row. This has some of my favorites.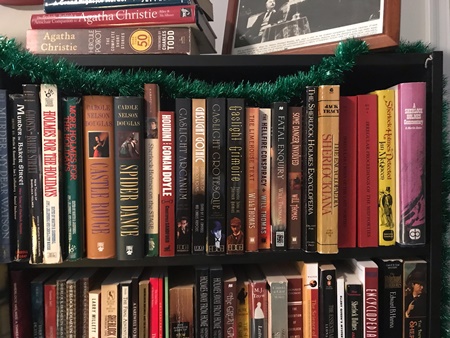 A Sherlock Holmes Commentary, on the far right, is THE best commentary book on the stories I've found. D. Martin Dakin covers all 60. Great Book. Sherlock Holmes Detected, next to it, is also good – it covers the four novels.
Jack Tracy's Encyclopedia Sherlockiana remains probably the best Holmes reference book ever written. Groundbreaking at the pre-Internet time, I still use it.
You might remember Holmes' reference to Barker, his hated rival on the Surrey Shore (do you remember the story?). Will Thomas is still adding to a terrific series featuring Barker and his Watson, Llewellyn. His Barker is more Robert Downey Jr. Holmes, and kinda off-the-wall, but I've liked every book. Fun Victorian PI series.
The four Gaslight books are horror/macabre anthologies from my Canadian buddy, Charles Prepolec. A fifth kick-started not too long ago. If you like darker Holmes, this series will give you all you want.
Holmes for the Holidays – my favorite anthology. And the follow-up isn't bad. The three to the left are part of the same anthology series. But I read at least one story from Holmes for the Holidays every year.
Holmes Shelfie #4
I have to double shelf some of my books because I have so many. These are actually the ones behind the books from Shelfie #3.
I was in a couple issues of Sherlock Mystery Magazine – including issue five, third from the right, there.
Barry Day's Sherlock Holmes in his Own Words is one of my favorite books of them all. It's about the character, with quotes from the stories. I have the Philip Marlowe version he did as well. I got asked to write a jacket blurb for the Holmes one, but they didn't use it. Grr… It's a GREAT read, though.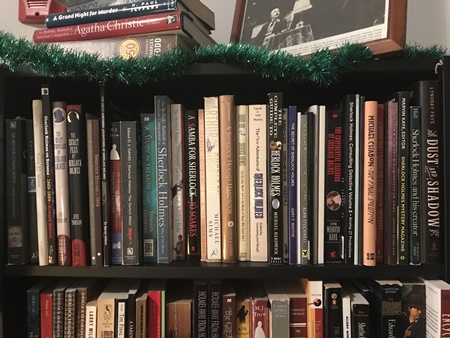 I have a couple more Lestrade books, from MJ Trow. They used to be pretty hard to find. I think they're ebooks now. Lestrade is not the buffoon Doyle made him. They're good, Victorian-Era police procedurals.
June Thomson – Back before everybody was publishing Holmes pastiches; and they were uncommon in bookstores, She was writing authentic Holmes stories. They can move along a little slowly, but I'm a big fan of hers. They reissued just about all of them, and I recommend checking her out. She sounds like Doyle, more than most people do.
Nova 57 Minor – Rare book, but the fascinating story behind "The Man Who Was Wanted." I don't think much of Doyle's sons, or the Estate. They were spoiled, rich kids cashing in on their dad's talent and hard work. And they were asses to anybody who dared enter the Holmes world (They tried to shut down August Derleth's Solar Pons).
Well, they tried to pass this story off, written by Arthur Whitaker, as an original from their father. They never did admit ACD didn't write it – after they declared it official. This is a cool book. Also includes that pastiche, which is a pretty decent one. I wrote an essay about the whole thing.
I'm not as keen on the higher profile books by Lyndsay Faye and Michael Chabon, as other folks are, which is fine.
Sherlock Holmes – 1894, is by Hugh Ashton. He gets my vote as the best Holmes writer of the past fifty years.
Memories and Adventures, on the far left, is Doyle's own autobiography. A good read for any Homes fan.
Holmes Shelfie #5
I'm a Jack the Ripper buff – two shelfies coming. Edward Hanna's' The Whitechapel Horrors is a good mystery. And solid on Ripper lore. But it's told in the third-person. Not from Watson's perspective. I have a couple like that on the shelves, and they always jar a bit. It's just not the same, when you're not hearing Watson's voice. Of course, Doyle himself did that a couple times;but still…
I have mixed feelings about Donald Thomas. He writes in Doyle's voice, very well. His books absolutely feel like quality Holmes. But his novels read slowly. They don't flow along like some authors. I think I've read all his books, but I don't re-read him much.
I do like him, though. I mentioned June Thomson in a prior shelfie – I'm a fan. There's another one from her.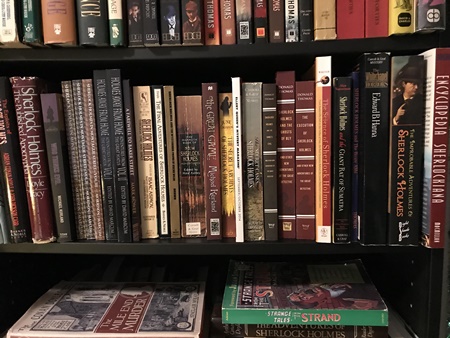 My buddy David Marcum writes Holmes stories; edits Holmes anthologies; and writes and edits Solar Pons (more on Pons soon). He took Arthur Morrison's Martin Hewitt stories (one of my favorite Victorian detective series') and rewrote them as pre-Watson Holmes adventures. Neat. All three are in this picture.
Before you could find any Holmes book or story on Amazon, or in digital format, Jack Tracy's The Published Apocrypha was one of the MUST HAVE Holmes books. Hard (even impossible) to find Holmes-related stuff; like Doyle's play version of The Speckled Band. I think this is still are required item for any true Holmes library. Between this and his Encyclopedia Sherlockiana, Jack Tracy is one of the most important scholars in Sherlockiana That's Matthew Bunsen's Encyclopedia Sherlockiana on that shelf. Not as good.
Peter Haining's The Final Adventures of Sherlock Holmes (towards the left) is a similar, slimmer book. Includes a couple items of note, not in Tracy's book. Was a Barnes and Noble imprint – nice little book.
On the far left is Adrian Conan Doyle's short story collection. He co-wrote half of them with mystery best-seller (and ACD biographer) John Dickson Carr. Adrian (who was an ass) sat at wrote them at his father's own desk and self-decreed them excellent emulations of his father's stories.
To be fair, they're not bad. But it was more flexing of the Doyle family muscle, to keep interlopers away from the Holmes world. The stories were run in Colliers, and Good Housekeeping. Robert Fawcett did some of the BEST Holmes watercolors for these stories. Absolutely terrific!!
Here's a bit of info on how the Doyle sons treated August Derleth when he wanted to publish Solar Pons. The Ellery Queen duo stood up to the Doyle Estate.
Shelfie #6
When it's -32 wind chill and your car doors are frozen shut, you stay home. Might as well do another Holmes shelfie.
I'm a fan of John Taylor's The Unopened Casebook of Sherlock Holmes. Supernatural-ish stories, it came out a while ago. Good Halloween reading. More recently, his Sherlock Holmes: The Rediscovered Railway Mysteries was read by Benedict Cumberbatch. Folks are more familiar with that one.
I rank Denis O.Smithh right up with Hugh Ashton as the best Holmes writer since Doyle (we'll talk about August Derleth and Solar Pons on a separate shelf). Smith writes as well as anyone. He wrote pastiches for decades, and the Mammoth line (which I'm a big fan of) put out two collections. If you want some good Holmes, go get his books.
I just realized one of my Case Files snuck away from the others – I'll have to put it back where it belongs.
I really like Nicholas Meyer's book with Holmes and the Phantom of the Opera. This one, with George Bernard Shaw, not so much.
I like Sherlock Holmes radio plays, and this book of some Rathbone and Bruce ones, written into short story format, is fun.
My area of expertise for quite a while was Holmes on screen. I've got several books on the subject, and this one by Alan Barnes is simply invaluable.
Shadows over Baker Street was pretty hit-and-miss, but it does have Neil Gaiman's "A Study in Emerald," which is a pretty popular modern Holmes short story.
Sherlock Holmes By Gas-Lamp: Essays from the First Fifty Years of the Baker Street Journal, is a must-have resource on the topic. I used it many times during the three-plus years I wrote The Public Life of Sherlock Holmes column at BlackGate.com.
I still blog there – including mystery stuff – just not with that column. For a student of Sherlockiana, it's got so much to mine.
Holmes Shelfie #7
Most of my Holmes books are larger than mass market paperbacks. There weren't a plethora of pastiches before the digital explosion, and most books – fiction and non – were, and often still are, in larger format.
This is the front of my double-shelved regular paperback shelf.
On the far right are Otto Penzler's reprints of classics in Sherlockiana. I've written essays on several of them. The Private Life of Sherlock Holmes remains THE classic.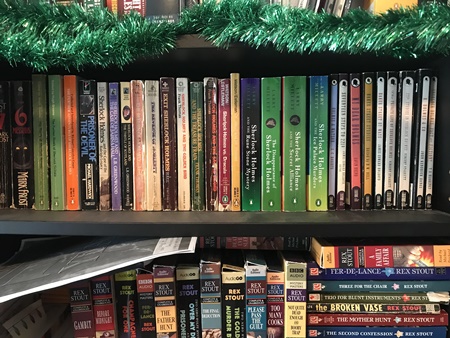 A couple are shelved elsewhere, but I really like Larry Millett's adventures of Minnesotan Shadwell Rafferty. He is aided by Holmes and Watson. It's a fun series. After the first several (which I recommend), he wanted to write a Rafferty book without Holmes. His publisher declined. So he quit the series (he is a Minnesota newspaper man and architectural expert).
He did end up writing more – including the final installment, earlier this year. Check out the first: Sherlock Holmes and The Red Demon. It's a decent start, and the second is better.
Loren Estleman, author of the hardboiled Amos Walker private eye series, is a big Holmes fan. He had the great detective deal with Dracula, and also Dr. Jeckyll.
Frank Thomas was one of my favorite 'early' Holmes writers. You could find a couple of his at the local bookstore, which wasn't usually the case.
I actually wrote a pilot episode and pitched a TV series based on John Gardner's Moriarty books. Obviously, big fan. He completed his long-delayed trilogy a few months before he died.
More people seem to know Michael Hardwick's Revenge of the Hound, but I much prefer his account of the Dreyfuss Affair, Prisoner of the Devil. He has also written some of the best non-fiction Holmes books.
Mark Frost – yes, the Twin Peaks guy. He wrote two novels featuring Arthur Conan Doyle and a Sherlock Holmes-like super spy. The first is a terrific thriller (the second is good, but not as good). I wrote about them at Black Gate. I really liked The List of Seven – great fun and highly recommended.
Those two 'Rivals' books share the same names with two hardbacks I had on an earlier shelf, but are different volumes. Lots of stories from Holmes' contemporaries.
And that's the Nero Wolfe shelf down below. I'm a huge Wolfe fan: gargantuan, even (inside joke).
---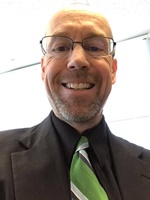 Bob Byrne's 'A (Black) Gat in the Hand' made its Black Gate debut in 2018 and has returned every summer since.

His 'The Public Life of Sherlock Holmes' column ran every Monday morning at Black Gate from March, 2014 through March, 2017. And he irregularly posts on Rex Stout's gargantuan detective in 'Nero Wolfe's Brownstone.' He is a member of the Praed Street Irregulars, founded www.SolarPons.com (the only website dedicated to the 'Sherlock Holmes of Praed Street') and blogs about Holmes and other mystery matters at Almost Holmes.
He organized Black Gate's award-nominated 'Discovering Robert E. Howard' series, as well as the award-winning 'Hither Came Conan' series.
He has contributed stories to The MX Book of New Sherlock Holmes Stories – Parts III, IV, V, VI and XXI.
He has written introductions for Steeger Books, and appeared in several magazines, including Black Mask, Sherlock Holmes Mystery Magazine, The Strand Magazine, and Sherlock Magazine.