The Public Life of Sherlock Holmes: Mysteries at Hallmark
The Public Life of Sherlock Holmes: Mysteries at Hallmark
My wife and I enjoy watching murder mystery movies on Hallmark. More accurately, the Hallmark Movies and Mystery Channel (HMMC). Many of them had previously run on the Hallmark Channel that most folks are more familiar with. My previous cable provider didn't provide HMMC at the tier I purchased, and many of my friends don't have it either. It's out there, but it's not a low-tier feature in many systems.
Which is a shame, because there's a lot of viewing for mystery fans. They air reruns of shows such as Hart to Hart, Matlock, Diagnosis Murder, Murder She Wrote and Perry Mason. And a staple of the schedule is Columbo. I haven't seen every episode, but I've seen many of them several times and I never get tired of watching Peter Falk do his thing. "Uh, say, just one more thing…"
I also like a couple of old Hallmark franchises that have come to rest at HMMC.
Most folks knew Kellie Martin first as cute little Beckie (Becca) Thatcher in Life Goes On (a poignant, well done series) and later on as nurse Lucy Knight in ER. But from 2003 through 2007, she made eleven Mystery Woman movies for Hallmark. She played bookstore owner Samantha Kinsey, who constantly found herself involved in murders (that's going to be a common theme in this post).
Clarence Williams III ('Linc' in The Mod Squad) was a former spy who worked in the store and could help out in tough situations. And her best friend, Cassie, was with the District Attorney's Office. Of course, police chief Connors was constantly annoyed with her meddling. He was played by Casey Sanders, who had a brief but significant appearance in Justified as the evidence room officer. He was last seen driving a convertible to Mexico.
The series stopped shortly after Martin had her first child and she still pops up in new Hallmark movies every so often. Mystery Woman is a fun, well-done amateur sleuth series and well worth watching.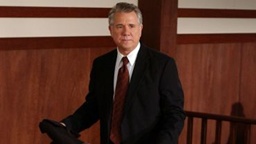 John Laroquette became a household star as ethically-challenged lawyer Dan Fielding in Night Court. A decade-plus later, he appeared in nine Hallmark movies, playing Mike McBride, a former police officer who is now an attorney. He's a thoughtful, nice guy who tosses out the occasional quip, but it's a low-key thing. We get a pensive, dry humored Laroquette.
One neat feature was that as a key scene was being recreated in conversation, they would show it on the screen, in muted color, with McBride himself in it, commenting. It's hard to describe adequately, but it worked as a mechanism for the protagonist to speculate – rather than just relying on exposition. The police chief, played by Marta DuBois, was a former flame who still liked him, so his relationship with the authorities wasn't adversarial, as in Mystery Woman. DuBois was Princess Koji in the fun, cheesy, Tales of the Gold Monkey series.
As Columbo fans know, it's fun to watch these types of movies to see familiar actors in guest roles. The villain's henchman in the most recent McBride I watched was a young Seamus Dever. He would become recognizable as detective Kevin Ryan on Castle.
The McBride movies can feel a bit dull, but they're still worth a watch.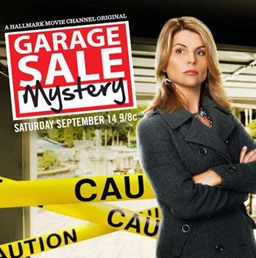 HMMC currently has a couple ongoing movie series running. Lori Loughlin (Becky in Full House) is co-starring in Hallmark's original frontier saga, When Calls the Heart. And she makes a Hallmark Christmas movie every couple of years. Over the last few years, she's also made six movies in the Garage Sale Mystery series.
She is Jennifer Shannon, co-owner of an antiques shop who can't help getting involved in murders. Yes, this definitely a common theme to the amateur sleuth genre. The latest, The Novel Murders (which inspired this post), just aired a week ago. Someone is re-creating fictional murders in real life. The first is from an Agatha Christie novel. The second involves the word "Rache" scrawled on a wall. I'll let you figure out the story. And if you don't know the reference, you need to read more about the guy this column is named after! Along with a Vincent Starrett mention, John Dickson Carr was discussed. Most cool.
Shannon has a good relationship with the chief homicide detective and usually, he grudgingly allows her to be involved in the case: though her husband is constantly trying to get her to stay out of them. Of course, she often finds herself in deadly peril.
Aside from the fact that I have a crush on Lori Loughlin, this is another fun series. Her daughter in these movies is played by the same actress who plays her daughter in law in When Calls the Heart. There's a lot of cross-Hallmark pollination in movies and shows.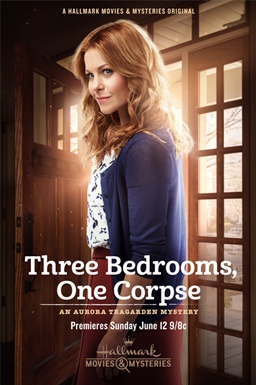 Her Full House co-star, Candace Cameron Bure, is another regular in Hallmark Christmas movies. This past weekend, her third Aurora Teagarden Mystery aired. The title's namesake is a librarian who heads up the local true crimes club. And of course, she keeps getting involved in murders. Bure's character is more hyper than Loughlin's.
She is assisted by her best friend, a reporter. And her ex-boyfriend is a police officer who lives directly across the street with his fellow-officer, pregnant wife. Who does not like Bure. The interplay between the two women is amusing. Her mother on the show is Marilu Henner of Taxi fame. The second movie, Real Murders, had a similar plot to The Novel Murders mentioned above (Bure's came first). Someone is recreating real murders this time, instead of fictional ones.
Can you believe that Brooke Shields of The Blue Lagoon fame is 51? She's starring in a HMMC series: Flower Shop Mysteries. She's a florist who constantly….I'll let you guess. I haven't seen any of these, so I can't comment on them. She did guest star last year in Loughlin's When Calls the Heart – more Hallmarking.
The fifth Murder She Baked mystery airs this month. Allison Sweeney, who you may have seen on Days of Our Lives or The Biggest Loser (I haven't) is a bakery/café owner who solves murders on the side. I haven't seen any of these, either.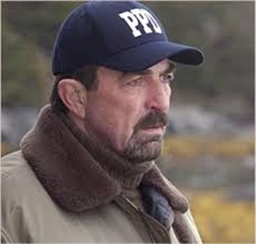 Hallmark has also become the home of the Jesse Stone franchise, which will be the subject of its own post someday. Tom Selleck starred as the brooding, alcoholic police chief, originally based on Robert Parker's excellent novels. Selleck starred and put the movies together, which aired on CBS. They were quality productions and always did well in the ratings.
So, CBS dropped the series after the eighth movie. Hallmark had been rebroadcasting them for several years when it signed a two-movie deal with Selleck to revive the franchise. Lost in Paradise aired last October. While I am a huge fan of this series, I have to admit it was dull. I'm hoping the second movie (not yet filmed) reinvigorates and extends the franchise.
The Stone movies are gritty and not the usual lighter Hallmark mystery movie fare, so it isn't like the others I've mentioned in this post. But on the whole, it is excellent, and it's a Hallmark cop series, so it gets a mention.
---
You can read Bob Byrne's 'The Public Life of Sherlock Holmes' column here at Black Gate every Monday morning.
He founded www.SolarPons.com, the only website dedicated to the 'Sherlock Holmes of Praed Street' and blogs about Holmes and other mystery matters at Almost Holmes.
His "The Adventure of the Parson's Son" is included in the largest collection of new Sherlock Holmes stories ever published. Surprisingly, they even let him back in for Volume IV!