Win the Complete Ring-Sworn Trilogy by Howard Andrew Jones!
Win the Complete Ring-Sworn Trilogy by Howard Andrew Jones!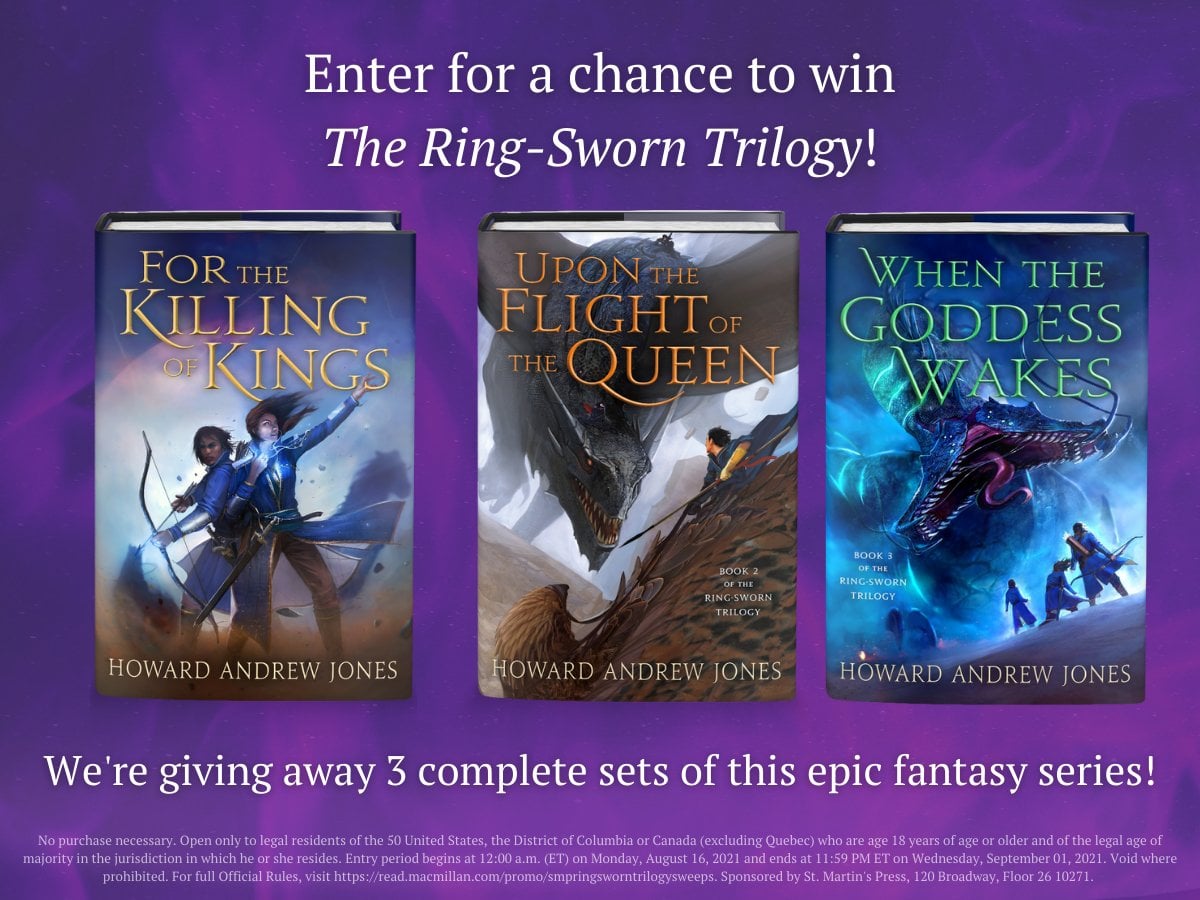 The third and final book in Howard Andrew Jones' epic Ring-Sworn fantasy trilogy, When the Goddess Wakes, drops a week from today. And not only is the Kindle version of the first book on sale for $2.99 all through August, but St. Martin's Press is also giving away a complete set of the trilogy to three lucky winners.
How do you enter? Just hand over your deets at the St. Martin's website here, and then wait in breathless anticipation for good news.
We're big fans of Howard Andrew Jones here at Black Gate, and we happen to think this is his best work yet, full of action, intrigue, and fantastic world building. When a young squire of the Allied Realms learns that a fabled sword is an elaborate forgery, she and a colleague are framed for murder and pursued by the elite members of a warrior's order just as an ancient enemy invades. The queen, meanwhile, works behind the scenes toward goals that may well mean the dissolution of their entire world.
Praise for For the Killing of Kings
"It moves at an astounding pace, each chapter ratcheting up the suspense and the danger until everything seems ready to spin out of control. This is exciting storytelling from one of the best and most knowledgeable writers of heroic fantasy around. If you haven't yet read Jones, this is an awesome place to start." — Fletcher Vredenburgh, Black Gate

"For the Killing of Kings is a fast-paced adventure combined with an engrossing mystery, all set in a unique and original fantasy world. I can't wait to find out what happens next!" —Martha Wells, Hugo-award winning author of The Murderbot Diaries

"Jones writes well, strong prose giving a good sense of setting and able to stir emotions without ever getting itself noticed…. but the real strength of the book is simply that it is fun to read." ―Mark Lawrence, author of the Book of the Ancestor series
Praise for Upon the Flight of the Queen
"The pacing is reminiscent of Zelazny… Twice I was completely floored by plot twists, and the last third kept me from going to sleep. I haven't had that much fun reading a book in a long time… Upon the Flight of the Queen delivers on all the tension brewed in For the Killing of Kings, and you'll still be left hungry for a third installment." — Seth Lindberg, Black Gate

Upon the Flight of the Queen is just as thrilling and immersive as the first book. War and espionage, magic and dragons, and compelling characters fill this epic fantasy, which will fully satisfy fans of the first book and leave them eagerly waiting for book three." —San Francisco Book Review

"This powerful epic fantasy is a heart-racing, action-packed thrill." – Publisher's Weekly
Praise for When the Goddess Wakes
"Filled with action and surprises, this emotional roller coaster brings the trilogy to a bittersweet but worthy conclusion." —Publishers Weekly (starred review)

"The three books in The Ring-Sworn Trilogy add up to a winning equation, and I think the series is criminally under-read. Jones has gifted me with one of my favorite casts of characters of the last few years and I am very much excited to see what he does next. If you like sword and sorcery fantasy, you are doing yourself a great disservice if you don't check these out – especially now that the third and final book is out." – Quill to Live
Howard was our first Managing Editor at Black Gate, and his previous books include the widely acclaimed Dabir & Asim novels, The Desert of Souls and The Bones of the Old Ones. He's currently the editor of the excellent magazine Tales From the Magician's Skull, published by Goodman Games. See our previous discussions of his work here.