Win One of Ten Copies of Todd McAulty's The Robots of Gotham
Win One of Ten Copies of Todd McAulty's The Robots of Gotham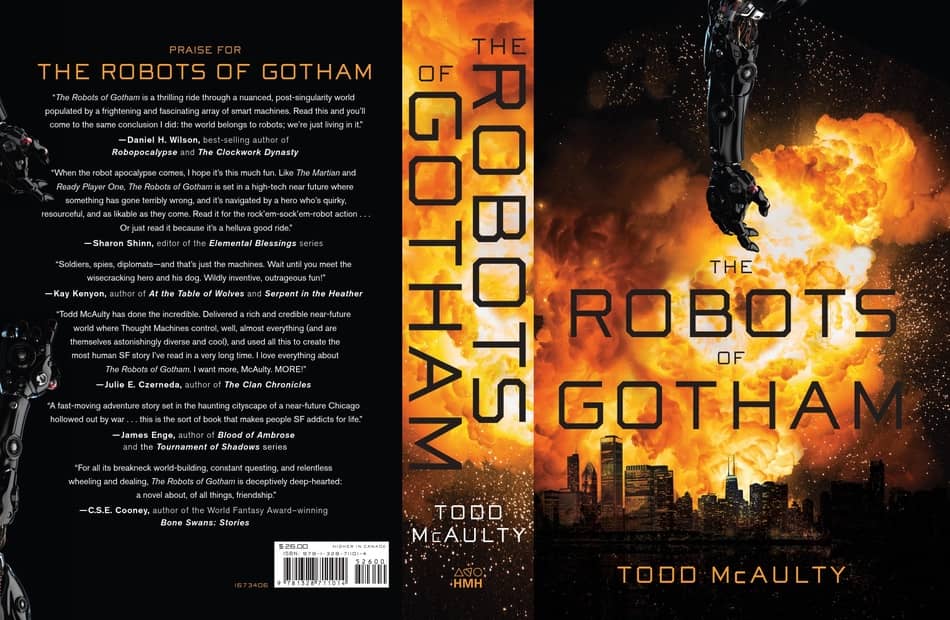 Todd McAulty was the most popular writer to appear in the print version of Black Gate magazine. Locus said "Todd McAulty is Black Gate's great discovery," and in their wrap-up of our entire 15-issue run, Free SF Reader wrote: "McAulty appears to be world class… If I was crazy enough to want to be an editor, I'd be trying to poach him, or wheedle work out of him, or kidnap him and have him chained up and guarded by a woman with blunt weaponry."
We've been waiting for a long time for a full-length novel from Mr. McAulty, and at long last the wait is almost over. His massive debut The Robots of Gotham, a fast-paced thriller set in a world on the verge of total subjugation by machines, will be published next month by Houghton Mifflin Harcourt. Early buzz has been mounting fast — Julie E. Czerneda calls it "Incredible," Publishers Weekly says it "maintains breathless momentum throughout," James Enge says it's "The sort of book that makes people SF addicts for life," and bestselling author Daniel H. Wilson calls it "A thrilling ride." Early reviews from the public have been breathless as well — Joe Crowe was the very first to rate it at Goodreads, saying,
The whole story is a thrilling action flick in book form, with cool robots and conspiracies and things blowing up. Read it while walking in slow-motion away from an explosion.
You'll have to wait until June 19th to buy the hardcover…. or if you can't wait, jump over to The Barnes & Noble Sci-Fi and Fantasy Blog, where they're giving away 10 advance copies! You'll need a Twitter account to be eligible, but how hard can that be? Easier than surviving the coming robot apocalypse, that's for sure. While you're contemplating, click the image above to see the beautiful 'splosiony cover in full detail, with the end flap text and all those cool blurbs.
The Robots of Gotham will be published by Houghton Mifflin Harcourt/John Joseph Adams Books on June 19, 2018. It is 688 pages, priced at $26 in hardcover and $12.99 for the digital version. The cover was designed by Mark R. Robinson. Get all the details here.