Win a copy of Terror in the House: The Early Kuttner, Volume One
Win a copy of Terror in the House: The Early Kuttner, Volume One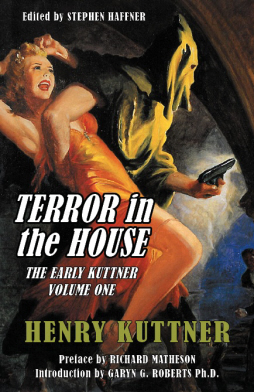 Haffner Press has released the first volume of their new series The Early Kuttner, titled Terror in the House, and we have no less than three copies to give away.
Haffner's archival-quality hardcovers  — including the legendary Kaldar: World of Antares by Edmond Hamilton, copies of which now sell for $2,000 and up — are some of the most collectible books in the genre, and Terror in the House promises to be popular indeed. Here's the book description:
Henry Kuttner was a frequent contributor to the pulp magazines that specialized in the weird, supernatural, horror, and science fiction genre. Beginning in 1936, with the minor classic "The Graveyard Rats," Kuttner launched a steady stream of short stories aimed at Weird Tales, Mystery Tales, Thrilling Wonder Stories, and others… Kuttner set several stories in Lovecraft's "Cthulhu Mythos" and several are presented in Terror in the House including: "The Secret of Kralitz," "The Eater of Souls," "The Salem Horror," The Jest of Droom-Avista," "The Frog," "The Invaders," and "The Bells of Horror."

He contributed reams of copy to the weird-menace (a sub-genre of horror where a seemingly supernatural plot is resolved with a pedestrian ending) pulps, Thrilling Mystery and Spice Mystery… Terror in the House is the first volume in a set collecting many of Kuttner's earliest stories, most of which have never been reprinted.
Terror in the House is 712 pages in hardcover, with a preface by Richard Matheson and introduction by Garyn G. Roberts, Ph.D. It is edited by Stephen Haffner and illustrated by Harry V. Parkhurst, and has a retail price of $40.
How do you win a copy? Easy! Just send an e-mail to john@blackgate.com with the title "Kuttner Contest," with a one-sentence review of your favorite Henry Kuttner short story. Three winners will be drawn at random from all qualifying entries, and we'll publish the best reviews here on the Black Gate blog.
All entries become the property of New Epoch Press. No purchase necessary. Must be 12 or older. Decisions of the judges (capricious as they may be) are final. Not valid where prohibited by law. Or anywhere postage for a hefty hardcover is more than, like, 10 bucks. Seriously, these things are heavy and we're on a budget.