And the Winners of the All-Authors-Signed A Sinister Quartet Are…
And the Winners of the All-Authors-Signed A Sinister Quartet Are…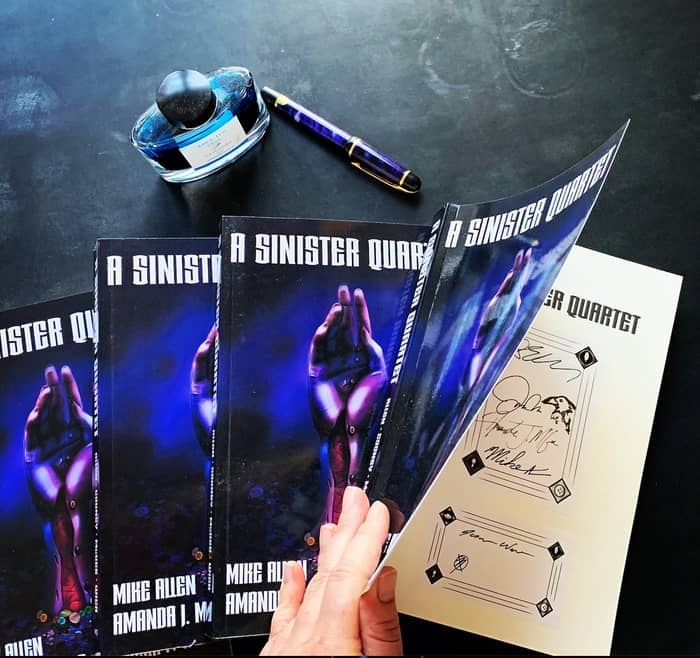 Dear Black Gate Readers,
Five days ago, we launched our Great Big Giveaway for four copies of all authors/all artists-signed A Sinister Quartet, out this year from Mythic Delirium. In addition, we promised four new postcards with original art by Paula Arwen Owen!
We asked you to comment at the initial link, or send your comments privately to Mike Allen at Mythic Delirium. We were delighted by the response!
This morning, I drew the lucky four from a virtual randomizer "hat!"
J9VAUGHN
I couldn't comprehend what had happened to her in the time it took for two songs to play on a turntable.
Blood and spit dripped from needle-like teeth that filled the monster's mouth.

– Kenesha Williams, Blood Debt
EUGENE R.
Death doesn't exist. It never did, it never will. But we've drawn so many pictures of it, so many years, trying to pin it down, comprehend it, we've got to thinking of it as an entity, strangely alive and greedy. All it is, however, is a stopped watch, a loss, an end, a darkness. Nothing.

– Ray Bradbury, Something Wicked This Way Comes
HYSOP M.
Shut me up in a dark closet and I will observe after a while, that some places in it are darker than others.

– Henry James, The Ghostly Rental
RANDEE M.
You wouldn't maintain a house like that –  you'd feed it and water it. You'd have to give it nourishment and love it to keep it alive and healthy.

– Anne Rivers Siddons, The House Next Door
***
CONGRATULATIONS, EVERYONE! THANKS SO MUCH FOR PLAYING!
Emails have already been sent to the winners. If you see this first, please check your email (it will be from C. S. E. Cooney) and respond with your snail-mail addresses, so I can get you your books as soon as possible!
Please remember, there is A HALLOWEEN HORROR SALE going on at Mythic Delirium!
All e-book editions of their principle horror titles — our Shirley Jackson Award- and This Is Horror Award-nominated bestseller Unseaming, their newest anthology A Sinister Quartet, and their newest collection Aftermath of an Industrial Accident — have been discounted to 99¢!