The Beauty in Horror and Sadness: An Interview with Darrell Schweitzer
The Beauty in Horror and Sadness: An Interview with Darrell Schweitzer
Cover by Stephen Fabian
Intro
It is not intuitive to seek beauty in art deemed grotesque/weird, but most authors who produce horror/fantasy actually are usually (a) serious about their craft, and (b) driven my strange muses. This interview series engages contemporary authors & artists on the theme of "Art & Beauty in Weird/Fantasy Fiction." Previously we cornered weird fantasy authors like John Fultz, Janeen Webb, Aliya Whiteley, and Richard Lee Byers.
Today we hear from the legendary author and editor of weird fiction, Darrell Schweitzer!
Darrell Schweitzer is an American writer, editor, and essayist in the field of speculative fiction. Much of his focus has been on dark fantasy and horror, although he does also work in science fiction and fantasy. Schweitzer is also a prolific writer of literary criticism and editor of collections of essays on various writers within his preferred genres. Together with his editorial colleagues Schweitzer won the 1992 World Fantasy Award special award in the professional category for Weird Tales. His poem Remembering the Future won the 2006 Asimov's Science Fiction's Readers' Award for best poem. His novels include The White Isle, The Shattered Goddess, The Mask of the Sorcerer, and The Dragon House. His most recent story collection is the explicitly Lovecraftian Awaiting Strange Gods published by Fedogan & Bremer. He has also been known to lead the choir at Cthulhu Prayer Breakfasts, where his The Innsmouth Tabernacle Choir is used. He has published books about H.P. Lovecraft, Robert E. Howard, and Lord Dunsany.
[Click the images for bigger versions.]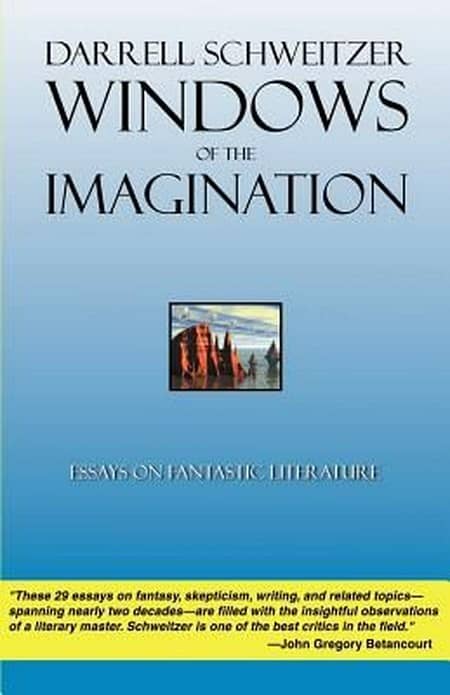 What Beauty is There in Horror and Sadness?
SEL: Edgar Allen Poe subscribed to evoking melancholy to stimulate 'Beauty.' In his 1846 "Philosophy of Composition," Poe revealed his views on experiential beauty by detailing the deliberate construction of his poem The Raven:
Regarding then, Beauty as my province, my next question referred to the tone of its highest manifestation — and all experience has shown that this tone is one of sadness. Beauty of whatever kind in its supreme development invariably excites the sensitive soul to tears. Melancholy is thus the most legitimate of all the poetical tones.
In Windows of the Imagination you interview Poe, through dubious means. So we must turn the tables. Paraphrasing from you, "Which do you prefer writing [poems for Beauty, or tales for Terror]?" More broadly, how do you define Beauty in art/fiction that appears to be repulsive (weird/horror/melancholy)?
DS: If I am to make a guess in the case of Poe (who, being dead, was not as entirely revealing as you might want in my interview with him), the beauty of horror does indeed have to do with sadness and loss. It is a reflection on the inevitable passing away of all things. Poe was the guy who said that the most poetical subject in the world is the death of a beautiful woman, and I don't think he was into necrophilia. You can see this in his life. He knew his wife was dying. Various other beloved figures in his life kept dying on him. He knew that his own stay on this mortal coil was always tenuous.
Do you find beauty in your weird fiction? Dissect an example.
This seems a little pretentious. It is a "look how great I am" question. The time-loops & their links to innocence and youth in "The Sorcerer Evoragdu"? The dancing resurrected goddess at the end of The Shattered Goddess? The strange redemption at the end of "On the Last Night of the Festival of the Dead"?
What scares you? Is it beautiful?
I think we are all scared of death and the loss of identity or mental acuity. In real life, it is NOT beautiful. There is no "City of the Singing Flame" in the mundane world.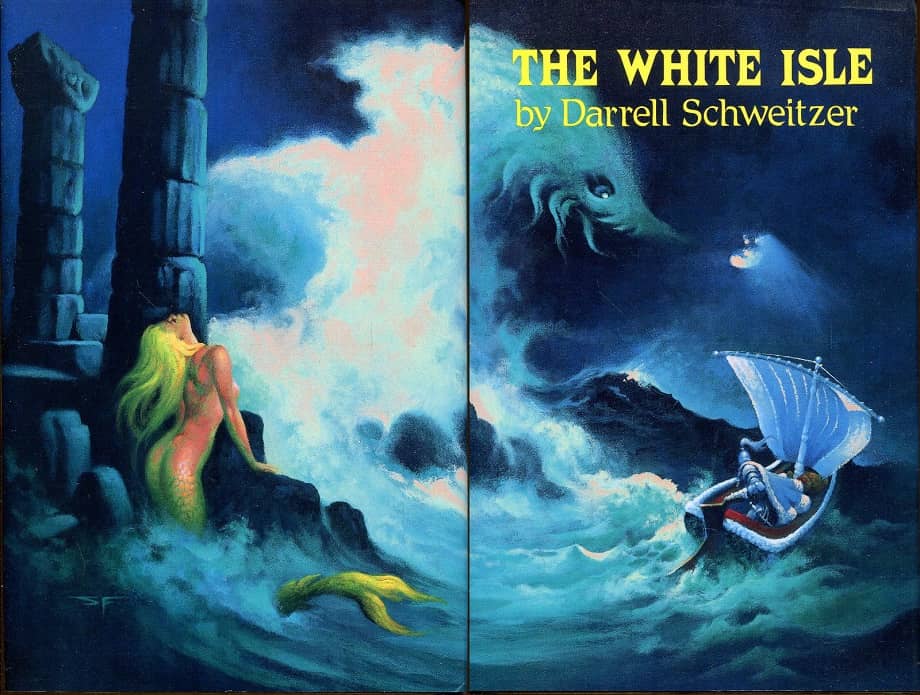 Cover by Stephen Fabian
Art vs. the Artist
Is there a character that you most empathize with or reflects you (i.e., Julian the Apostate or Sekenre the Sorcerer)?
I am neither of these persons. Julian the Apostate (the knight, not the emperor) is a lost soul precisely because he still has his faith. If you do not believe in God and the Devil, you do not fear them. Sekenre the sorcerer is the kid that never grows up, and always feels left out of normal society. There are some advantages to this, such as long life, but I think his existence involves much loneliness and suffering. I think of him as a cross between Joseph Curwen and Peter Pan. His agenda, however, is not, unlike Curwen's, evil. He has expressed an intention to survive until the end of time and demand of the gods the reason for the world's pain.
Have I ever written myself into a story? Not really. I can see how, if I had not somehow managed to face the world, I could have ended up like the character in "Jason, Come Home," but he is a very sad and unfulfilled fellow, is he not? There is a little of me in the comic artist in "Pennies from Hell," but this is caricature. Also, that other guy draws better than I do. I do pick up pennies off the street, but not for purposes of occult divination. After a certain age you do it because you STILL CAN. Also, I am superstitious. I believe it is bad luck to leave money lying around when I could have it.
Regarding Other, Dark Arts
Clark Ashton Smith, whose soul or muses seem to have corrupted your own, was a poet, illustrator, and sculptor. Do you practice other arts? If so can we share them (i.e., images of fine or graphic art) or mp3s/videos (of music). Likewise, can you discuss how art can from one medium can inform/inspire another?
I have been known to draw cartoons. I suppose with some art training I could be mediocre. There is some talent there, but I think that as a cartoonist I am a pretty good gag writer. See attached. [Sidebar: Wilbur Whateley is a character in Lovecraft's 1923 "The Dunwich Horror."]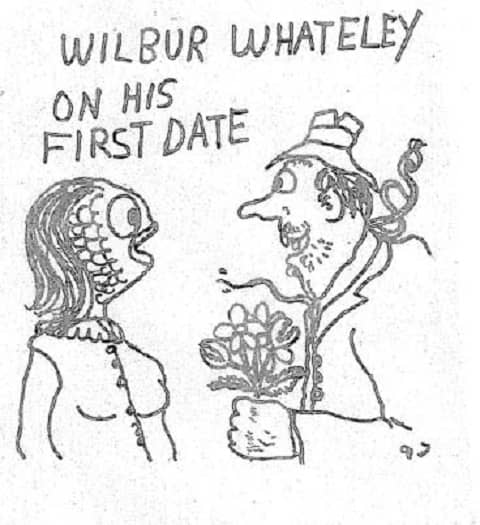 Cadence in fiction
In a 1930 letter to Lovecraft, Clark Ashton Smith described his strategy of using aesthetics to heighten the reading experience of his weird works:
My own conscious ideal has been to delude the reader into accepting an impossibility, or series of impossibilities, by means of a sort of verbal black magic, in the achievement of which I make use of prose-rhythm, metaphor, simile, tone-color, counter-point, and other stylistic resources, like a sort of incantation. You attain a black magic, perhaps unconsciously, in your pursuit of corroborative detail and verisimilitude. But I fear that I don't always attain verisimilitude in my pursuit of magic! However, I sometimes suspect that the wholly unconscious elements in writing (or other art) are by far the most important.
What tips or tricks can you reveal about delivering the right cadence to affect beauty or horror?
I have a theory that some of the best and most "poetic" prose writers – Lovecraft or Dunsany for instance – have the impulse to write poetry but not quite enough talent. So it is sublimated into their prose. Lovecraft held that the rhythm or cadence was the most important aspect of prose. Indeed, prose is for the ear, to be read aloud. The ultimate example may be the last few lines of Poe's "The Masque of the Red Death," which is both hideous and exquisite at the same time. Poe of course had the full poetic talent, but also could do it in prose.
Cover by Stephen E. Fabian
Unpublished Conan and Inspiration
What Makes A Genuine Muse (inspired by your essay "My Career As A Hack Writer" in the collection Windows of the Imagination)? Many do not know that you wrote Conan the Deliverer (not a midwife, but perhaps a milkman you jest in your essay) which was never published. It was to be the "definitive Stygian novel." I'm not sure of the chronology, but you certainly wrote some beautiful-weird-adventure with Egyptian (a.k.a. Stygian) influences (Mask of the Sorcerer and Sekenre) and proved yourself capable of damn good heroic tales (We Are All Legends). On the surface, having you script Conan the Deliverer sounds awesome. But you reveal that the script was perfect, and it was because of the artistic inspiration (or lack thereof). Please explain more. What makes a quality muse?
A quality muse is one that inspires you to create works of genius all the time. One can only wish to have one… The Mask of the Sorcerer was indeed written on the rebound from the failed Conan novel. I simply let go of all the restrictions of trying to write a Conan novel, the first of which was to dispense with the character of Conan or anyone like him. My Conan novel did indeed deal with a descent into the Stygian afterworld, but the details are very different. I have to admit that this many years later, I do not remember Conan the Deliverer very clearly. That may be a sign that it was not, ultimately, very successful. Tor Books still owns it. They paid for it. They could publish it if they like. It used to be that about every five or ten years I would mention this to someone from Tor and they would say, "Oh, I never knew this existed," and I would send a copy to them, and then they would lose it again and a few years later the subject would come up again. The last time this happened, I photocopied it for them and they did not bother to reply.
You have a B.S. in geography and an M.A. in English; has the geography ever served your writing? If not your degree, then perhaps the geography of your person [I was honored to listen to you read "Girl in the attic" the World Fantasy Convention 2016, a story that was published in Black Wings VI, edited by S. T. Joshi. I recall the imagery of the Pocono ridge lines pretty well.] Was this inspired by time spent in PA? Actually, this line of interrogation reminds me of my favorite CAS tale, "Genius Loci." How does "place" affect one's art?
It does make me a little more aware of other places, but then so does collecting stamps. I am not one of those Americans who has only heard of a country when we have gone to war with it. I know where Kazakhstan is. Otherwise my getting a degree in Geography was a naïve attempt to do something practical so I could make a living while writing. But as with all the sciences, I could not proceed very far because I couldn't do the math.
The Pocono ridge lines in the stories are inspired by long drives to Niagara Falls. I used to be a regular at Eeriecon, and I drove up that way alone many times after my wife stopped doing. You do notice on such trips how the familiar and safe world is only along the roadway, and eldritch rites or hideous murders could be taking place a half a mile away into the forest and no one might ever know. That whole landscape has inspired the Chorazin series of stories, of which "The Girl in the Attic," and also my YA novel The Dragon House. Chorazin is located in the "flyover" part of north, central Pennsylvania, which is pretty blank on the map. Go to the Poconos, turn left, and go beyond any of the towns or resorts, and there is … what? Any large state in America holds such mystery. It is quite different from Europe, particularly Britain, where if there is a clump of more than two or three trees, it probably has a name, a hereditary forester, and a record in the Domesday Book. We have a lot of empty land.
The landscape of Arizona and the area around the Grand Canyon inspired my "Howling in the Dark." So, yes, I do respond to landscapes. In the southwest there is vastness of both landscape and sky, and the realization that everything around you is also mutable. An Arizona landscape may be dry, but it is shaped almost entirely by water. You can also look out over the Grand Canyon and realize that among those hundreds of spires you can see are places where, very likely, no human being has ever been, so if Lovecraft's Great Race of Yith is still hiding on one of them, as long as they don't shoot off fireworks or play their boom boxes too loudly, we might never know.
Cover art uncredited
Any current or future endeavor we can pitch?
Latest novel is The Dragon House (Wildside). Latest collection is Awaiting Strange Gods (Fedogan & Bremer). PS Publishing will publish a Best of DS in two volumes next year. I am also working on two anthologies for them, The Mountains of Madness Revealed and Shadows Out of Time. My most recent anthology (for PS) was Tales from the Miskatonic University Library co-edited with John Ashmead.
Any new callings from the Church of Dagon?
Funny you should ask. The spirit moved me to testify at the last Cthulhu Prayer Breakfast at Necronomicon 2017. I spoke briefly on the fact that the Esoteric Order of Dagon is the only nihilistic doomsday cult with a positive message. The text of my remarks was published in The Audient Void magazine recently (No. 5), and will be used as a kind of preface for the second volume of The Innsmouth Tabernacle Choir Hymnal.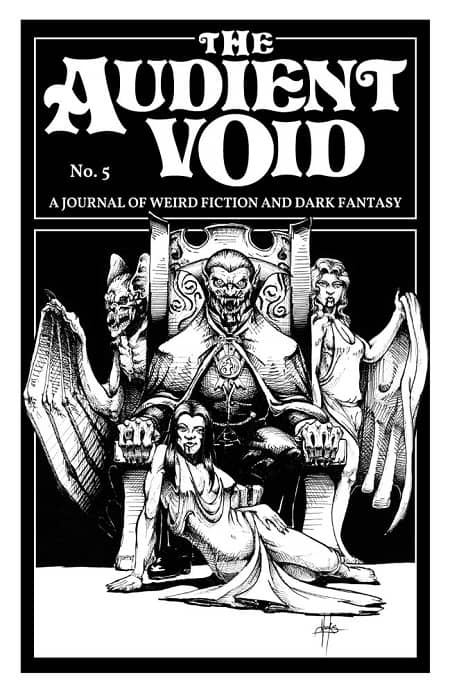 The Audient Void, issue 5. Cover by Brad Hicks
I write a new hymn for every prayer breakfast. Last time it was "Great Old Ones" to the tune of "Kumbaya." There are now four uncollected hymns. I need to write three or four more, and I can have another booklet. I don't just want to do a revised, expanded version, because that would render the old one obsolete and I want to go on selling it too. It is good cultist relations too. No one wants to be told that what I sold you last year is now out of date, so you have to buy a new one. I want your money, but I'd rather let you keep the value of your previous investment while I empty your wallet with the new one. So, I hope to have Volume II available at Necronomicon 2019. Come and sing along!
Partly squamously, partly rugosely,
Darrell Schweitzer (a.k.a. "Brother Darrell" in the Esoteric Order of Dagon).
---
S.E. Lindberg resides near Cincinnati, Ohio working as a microscopist, employing scientific and artistic skills to understand the manufacturing of products analogous to medieval paints. Two decades of practicing chemistry, combined with a passion for dark fantasy, spurs him to write graphic adventure fictionalizing the alchemical humors (primarily under the banner "Dyscrasia Fiction"). With Perseid Press, he writes weird tales infused with history and alchemy (Heroika: Dragon Eaters, Pirates in Hell). He co-moderates the Sword & Sorcery group on Goodreads.com, and invites all to participate, and regularly interviews authors on the topic of Beauty in Weird Fiction. His last article for Black Gate was "Dorgo's Dozen Questions: Getting Grilled by Joe Bonadonna."