The Public Life of Sherlock Holmes: Massey's 'The Speckled Band'
The Public Life of Sherlock Holmes: Massey's 'The Speckled Band'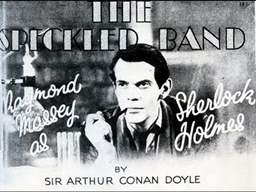 I've posted about the stage play that Sir Arthur Conan Doyle wrote, based on his Holmes short story, "The Speckled Band." In 1931, it was brought to the screen (though it had been filmed a few times before), with Canadian actor Raymond Massey in his first credited role.
Band was only the third Holmes "talkie," following Clive Brook's The Return of Sherlock Holmes (1929) and Arthur Wontner's The Sleeping Cardinal (also 1931).
The film incorporates several of the play's variations, including the name changes (Roylott to Rylott; Julia to Violet), the inquest, adding an Indian manservant, etc. One significant change from the original story is that Watson is a friend of the girl's dead mother and is the one who brings the case to Holmes. This gives Athole (yep: that's really his first name) Stewart's Watson a meatier part in the story.
Stewart plays a more Doyle-like Watson, as compared to Ian Fleming, who played a doofus Doctor in Wontner's Cardinal: the type of portrayal that, sadly, would be all to common in the coming decades. It's nice to see a black and white era Watson who wasn't there for comic relief.
It's Elementary – In 1927, Doyle himself cited "The Speckled Band" as his own favorite Holmes story.
Perhaps the most distinguishing characteristic of this film (At the time, at least) was its attempts to update Holmes. The outer room at 107 Baker Street (what???) is a modern-looking office, with typists clacking away and a machine that functions as some kind of 1930's GPS/online database combo. While in Holmes' own inner office, there's a box that is both an intercom and a recording system.
Regarding these changes, Massey later wrote, "I could not avoid a sense of guilt at my participation in this travesty of a classic."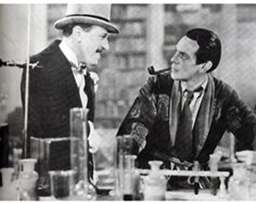 And Picturegoer Weekly took the movie to task: "To try and modernize a famous character of fiction like Sherlock Holmes is asking for trouble. You cannot divorce Holmes from the period of hansoms and a Baker Street that is long past."
The producers originally approached British stage star Sir Gerarld du Maurier, but he declined and recommended his young friend. Massey has got to be the biggest-eared Holmes in screen history. He plays an earnest but unexciting Holmes. It's not a bad portrayal, but neither is it very memorable. All in all, it's a bit dull.
Personally, I think that, given a few more opportunities, he might have added in a touch of humor and become a more worthy Holmes. And it's always fun to see Holmes in disguise (a prominent activity in the Canon), and Massey gets to do so as a workman at Stoke Manor.
It's Elementary – Massey had a long career in film and television. He took the Boris Karloff role in Cary Grant's hilarious Arsenic and Old Lace and co-starred with Humphrey Bogart in Action in the North Atlantic and Chain Lightning.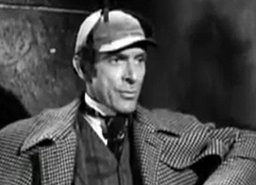 Harding, a master of the melodramatic style of acting popular at the time, seems to have toned it down a bit from his over-the-top approach for the play. There's a little of the 'hand-rubbing/evil laugh' villain stuff, but not much. Though it's definitely present in the famous fireplace poker visit (which is cut far too short in my copy: even eliminating the poker part itself). Harding is prominently discussed in my post on the play version.
The original film was 90 minutes long. It fell into the public domain and poor quality versions floated around on VHS, then on youtube and DVDs. They were heavily edited and I myself have not seen the original, full length-version: only the commonly found 49 minute cut.
There have been some bad Holmes efforts that you just wouldn't want to watch a second time. Massey's film isn't in that category. However, there's nothing so good about it that it pulls you back in for repeated viewings. It's out there, and it's worth a viewing just for the story alone, but while it's largely forgotten, it's not under appreciated.
"The Speckled Band" is one of the best-known short stories in the Canon and has been filmed many times; with Georges Treville (1912), Eille Norwood (1923), Alan Napier (1949), Douglas Wilmer (1964), Geoffrey Whitehead (1979) and Jeremy Brett (1984) have having donned the deerstalker to take on the case.
So far, the Holmes on screen posts we've tackled have looked at Massey, Arthur Wontner, William Gillette, Reginald Owens, John Barrymore, James Bragington, Christopher Plummer, Peter Cushing, Tom Baker, Eille Norwood, Ian Richardson and Christopher Lee. With mini-looks at Johnny Lee Miller and Benedict Cumberbatch. That ain't bad; and there are more coming!
---
You can read Bob Byrne's 'The Public Life of Sherlock Holmes' column here at Black Gate every Monday morning.
He founded www.SolarPons.com, the only website dedicated to the 'Sherlock Holmes of Praed Street' and blogs about Holmes and other mystery matters at Almost Holmes.