A (Black) Gat in the Hand: Hardboiled Fantasy – Garrett, PI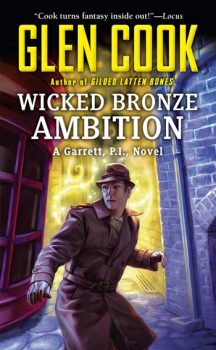 "You're the second guy I've met within hours who seems to think a gat in the hand means a world by the tail." – Phillip Marlowe in Raymond Chandler's The Big Sleep
(Gat — Prohibition Era term for a gun. Shortened version of Gatling Gun)
The extremely talented Glen Cook is best known for his excellent dark fantasy series about a mercenary group, The Black Company. In 2018, Fletcher Vredenburgh wrote a FOURTEEN-part deep dive into the series. If I ever write anything even half as impressive here at Black Gate, I'm going to ask them to actually pay me. I love The Black Company series, and cannot recommend it enough.
Cook has written several other fantasy and sci-fi series' – none of which I have read. They are all well-regarded. But the other one I have read from start to finish – more than once – is his Garrett, PI series. I think that every Writer (or in my instance, lower case 'w' writer) has that ONE series they wish they had come up with and written. For me, it's the Garrett books.
They are light years away in tone and style of The Black Company. And also from what I understand of The Dream Empire and The Instrumentalties of the Night series.' However, they are identical to the Black Company in regards to quality of writing. Garrett is the ore-eminent fantasy PI (private investigator).
Cook has written a series of books that appeals to fans of the hardboiled PI, notably practiced by Raymond Chandler; fans of the humorous fantasy world best typified by Terry Pratchett's Discworld and to those who have read Rex Stout's Nero Wolfe mysteries. The fact that Cook has masterfully combined all three of these elements is admirable in the extreme. And the reason I wish I had come up with something like this.