A (Black) Gat in the Hand: Johnny O'Clock (Powell)
A (Black) Gat in the Hand: Johnny O'Clock (Powell)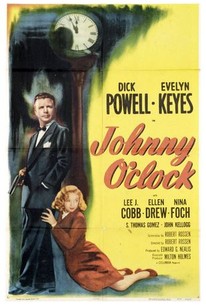 "You're the second guy I've met within hours who seems to think a gat in the hand means a world by the tail." – Phillip Marlowe in Raymond Chandler's The Big Sleep
(Gat — Prohibition Era term for a gun. Shortened version of Gatling Gun)
And for the third year in a row, A (Black) Gat in the Hand makes a hardboiled reservation for Monday mornings. It's a limited run, but for the month of June, I'll look at some hardboiled/noir on screen efforts: Ones that you might not be quite as familiar with. Not totally off the beaten path, but not the big names, either. And we kick things off with Dick Powell's follow up to Murder My Sweet, Johnny, O'Clock.
When you think of the hardboiled movie, or book, it's usually a private eye that comes to mind. There's Sam Spade, and Philip Marlowe, and Mike Hammer. Of course, there were also cops in movies, like Glenn Ford's Dave Bannion in The Big Heat; and Frederick Nebel's MacBride in print. Those stories were changed into seven Torchy Blaine movies, and quite different from Nebel's hardboiled stories about MacBride, unfortunately.
Other occupations were covered, including reporters, and lawyers. Ex-soldiers of various stripes, like Alan Ladd in The Blue Dahlia, were popular. A movie that I really like in this genre starred a gambler. Like Humphrey Bogart's Dead Reckoning, this film doesn't appear on any top ten lists, but it doesn't feature a private eye, and it's a 'could have been really good' film.
Like James Cagney and George Raft, Dick Powell was a successful song and dance man in Hollywood. Then, he was surprisingly cast as Raymond Chandler's world-weary Phililp Marlowe in Murder My Sweet, and he nailed the part. That 1944 effort was the first of four hardboiled films he made in a five-movie span, of which Johnny O'Clock was the third.
Picking Iron (trivia) – This new side of Powell made him perfect for the singing, funny, tough radio PI, Richard Diamond (I love that series).
Powell plays the title character, and he's manager of a fancy (and legal) gambling joint in NYC. He dresses well, knows lots of people, and lives in a fancy apartment with an ex-con named Charlie, who is his jack of all trades assistant.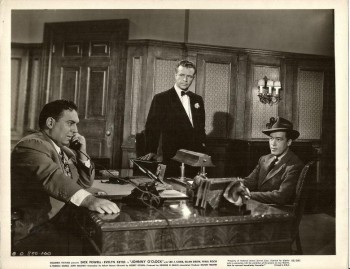 Powell is 'Pierce Brosnan as James Bond' smooth. But his tough talk is a bit too heavy-handed. It feels like he's trying too hard. And it's a consistent flaw throughout the movie. He never backs off of it. And he should have, at least a little. The wise-guy quips never seem to end.
Johnny is friends with a crooked detective named Blayden, and Blayden's current girlfriend is Harriet Hobson, a hat check girl in Johnny's casino. She's young, innocent, and turns to Johnny for advice. Blayden is abusive, and he tosses Harriet aside without any concern for her at all.
Blayden is played by Jim Bannon, who starred in the Red Ryder series, along with several other westerns. He's not on-screen a lot in this movie, but I like the way Bannon plays the shady cop.
Picking Iron – Previously, Bannon had appeared in a Columbia mystery series as detective Jack Packard. His costar in the first one was Nina Foch, who plays his Harriet in this one.
Lee J. Cobb plays Koch, an honest but cop, trying to take down Blayden. Cobb was an underappreciated actor, and I've seen him be solid in quite a few films. I like him in this one. He stays after Blayden, and then, goes after Johnny's boss, Marchettis. Of course, he pops up in Johnny's day on a regular basis.
Picking Iron – Cobb played a Chinese warlord in one of Humphrey Bogart's last movies, The Left Hand of God. Gene Tierney (Laura) was struggling with mental health issues at the time, and Bogart insisted she be cast as the female lead to help her out.
Harriet is a lost, confused young woman, and when Koch goes to talk to her about Blayden, he smells gas inside the apartment. He breaks open the door, smashing a window to get fresh air, but it's too late – she's dead. Foch costarred with George Raft in the noir, Johnny Allegro. Evelyn Keyes, playing her sister, is about to come in and replace her for the remainder of this film.
Guido Marchettis is played by Thomas Gomez. He would make a bigger splash the following year as the somewhat friendly gangster, Curly, in Key Largo. Here, he's a mobster and the owner of the gambling club.
Picking Iron – In 1951, there was a Harlem Globetrotters movie: a drama with a plot – it wasn't a documentary or 'game film.' Gomez played Abe Saperstein, the founder, owner, and first coach of the team.
One problem with this movie is that Powell, Cobb, and Gomez all give low-key performances; though Powell does get a little worked up here and there. And they're not bad performances. But coming from all three of them, the movie lacks some needed excitement.
Marchettis' femme fatale wife, Neena, is played by Ellen Drew. She and Johnny are having an affair, which is certainly a case of playing with fire. She isn't particularly sneaky about it, but Marchettis is blind to events: Until he's not. Drew had earlier costarred with Powell in Christmas in July.
Evelyn Keyes, who never broke out of the 'B Star' mode, plays Harriet's sister, Nancy. She's an aspiring actress who flies in when she hears of her sister's death, and ties up with Johnny. She's also answering Koch's questions, and grieving for her sister, so she's got a lot going on inside.
Koch tells Johnny that Harriet was murdered. She was poisoned, and then her killer took her to her apartment and staged it as a suicide. Braden was also murdered that same night and dumped in the river. So, somebody killed both of them.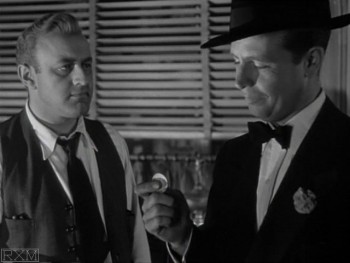 Things get moving now. And the pace picks up. Koch works on pitting Johnny and Marchettis against each other. With both men in his office, he reveals something that puts Marchettis onto Johnny and Neena. The mobster gives Johnny a hard look as he leaves alone.
Koch finally loses his patience with Johnny and calls him a cheap hood, and stupid. The gambler keeps cracking wise as Koch shows him the trouble he's in and the chances he has passed up. Johnny realizes that he's in trouble but he keeps talking tough. At one point, he cracks wise to Koch, who says "I've yet to hear a man make a joke in the electric chair."
Turns out Charlie is reporting to Marchettis. Johnny realizes that Nancy is in danger and takes her to the airport. Before she goes inside, some mobsters do a drive-by, shooting up Johnny's car but not hitting him. She runs over to the wreck, says she's all in for him and they embrace as her plane flies away.
Marchettis confronts Neena about her affair with Johnny and he sends her packing, with nothing. But she begs him to let her stay and we see shortly that he relents.
Picking Iron – Ellen Drew was working at an ice cream parlor and was noticed by customer William Demarest (Uncle Charley on My Three Sons). He worked to get her a contract at Paramount, starting her career.
Johnny confronts Charlie and beats him into talking. Charlie wasn't there when Harriet was killed, but he was for Braden's death. The ex-con was tired of being Johnny's boy: Getting his unwanted dress shirts, always being hassled by the cops while Johnny skated. And once he was involved in Braden's murder, he knew that if Machettis tossed him to the cops, he'd go up for life as a three time loser.
Johnny goes to confront Marchettis and get a money stake for his flight with Nancy. Koch shows up and has some uniformed cops called to the scene, but he stays outside.
Marchettis is hosting a poker game, which Johnny walks into. He wants the thousand dollars that Guido owes him. They go upstairs to the big safe, which Johnny opens, then takes his share from.
Neena follows them up to the door and watches, totally frazzled. Marchettis draws a gun on Johnny as he walks away with the money. He's going to gun him down because he knows that Neena still wants Johnny.
Braden had been pushing Marchettis for a partnership, and the gangster ordered him killed. But Harriet had been alone in Braden's apartment when the executioners arrived, so they killed her and staged the suicide, taking her back to her apartment (that seems far-fetched to me). They also killed Braden and dumped his body in the river.
Johnny has figured it all out and isn't going to let Marchettis kill him. He pulls a gun, gets shot, and Johnny gets off about six shots, killing the mobster.
Nell tries to keep Johnny, saying she'll say it was all Marchettis and the two of them can be together. They can rule in the dead man's place. He refuses and she says she'll blame him if he leaves her. He staggers out, alone.
Neena is true to her word and tells Koch that Johnny held up Marchettis, who refused to pay. Then, Johnny gunned down her husband in cold blood. She's a real treat.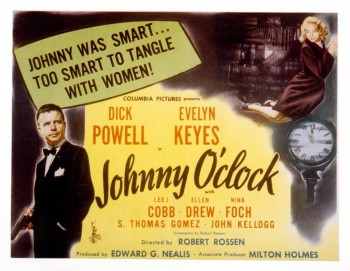 Johnny goes out the back way and sneaks back into the office, badly wounded. Koch comes in, gun drawn. Johnny works his way back into the club, where the poker game was being held, and Nancy finds him there. Koch walks in and Johnny puts the gun on him. Nancy begs him to give himself up. Johnny talks tough to the end, insisting to Koch and Nancy that nobody will believe him.
She gives a sarcastic, bitter speech that convinces Johnny to give himself up, and Koch takes him in. The men exchange a gambling joke, softening the finish.
I've seen this movie at least a half-dozen times, and I thought that the plot was a bit too convoluted the first few times. Especially figuring out exactly what went on with Braden. His on-screen time isn't very much, but his role is central to Koch's involvement and Marchettis' actions. The movie makes more sense with repeated viewings.
As I mentioned, Powell, Cobb, and Gomez were all well cast. I like Bannon's performance and I would watch him play a similar character in another hardboiled film. Keyes looks a bit like Joy Page, Annina in Casablanca, to me. She's fine, but she's no Lauren Bacall or Ann Sheridan. Drew's job is to be loose and fast, and she does it well. Fochs isn't in the film very long, but she does the innocent just right. It's a cast that works.
Even though there are a lot of scenes shot during the day in the gambling club, and a hotel lobby, there are still lots of shadows, which is a key element of black and white, hardboiled cinematography.
So, it's a solid cast, a decent plot that is easier to understand with repeated viewings, and nice camera work. But the staid performances of the three male leads, along with the unclear plot, handicaps the film. Johnny O'Clock is not your standard PI flick, and it's definitely worth a watch or two.
Powell, Raymond Burr, and Lisabeth Scott would star the next year in another noir, Pitfall. It's a better film than Johnny O'Clock (though I'm not as crazy about Scott as a lot of people are).
You can watch Johnny O'Clock on the Movies! TV Network  in June (check their website for your local cable provider):
Thu 6/4 – 3:55 PM EST; Fri 6/12 – 3:45 AM; Thu 6/18 – 9:05 AM; Thu 6/25 – 5:45 PM.
I'm confident it's a MUCH better print than the one I found on Youtube.
Prior posts in A (Black) Gat in the Hand – 2020 Series
A (Black) Gat in the Hand: Hardboiled May on TCM
A (Black) Gat in the Hand: Some Hardboiled streaming options
A (Black) Gat in the Hand – 2019 Series (15)
Back Deck Pulp Returns
A (Black) Gat in the Hand Returns
A (Black) Gat in the Hand: Will Murray on Doc Savage
A (Black) Gat in the Hand: Hugh B. Cave's Peter Kane
A (Black) Gat in the Hand: Paul Bishop on Lance Spearman
A (Black) Gat in the Hand: A Man Called Spade
A (Black) Gat in the Hand: Hard Boiled Holmes
A (Black) Gat in the Hand: Duane Spurlock on T.T. Flynn
A (Black) Gat in the Hand: Andrew Salmon on Montreal Noir
A (Black) Gat in the Hand: Frank Schildiner on The Bad Guys of Pulp
A (Black) Gat in the Hand: Steve Scott on John D. MacDonald's 'Park Falkner'
A (Black) Gat in the Hand: William Patrick Murray on The Spider
A (Black) Gat in the Hand: John D. MacDonald & Mickey Spillane
A (Black Gat in the Hand: Norbert Davis goes West(ern)
A (Black) Gat in the Hand: Bill Crider on The Brass Cupcake
A (Black) Gat in the Hand – 2018 Series (31)
With a (Black) Gat: George Harmon Coxe
With a (Black) Gat: Raoul Whitfield
With a (Black) Gat: Some Hard Boiled Anthologies
With a (Black) Gat: Frederick Nebel's Donahue
A (Black) Gat in the Hand: Thomas Walsh
A (Black) Gat in the Hand: Black Mask – January, 1935
A (Black) Gat in the hand: Norbert Davis' Ben Shaley
A (Black) Gat in the Hand: D.L. Champion's Rex Sackler
A (Black) Gat in the Hand: Dime Detective – August, 1939
A (Black) Gat in the Hand: Back Deck Pulp #1
A (Black) Gat in the Hand: W.T. Ballard's Bill Lennox
A (Black) Gat in the Hand: Day Keene
A (Black) Gat in the Hand: Black Mask – October, 1933
A (Black) Gat in the Hand: Back Deck Pulp #2
A (Black) Gat in the Hand: Black Mask – Spring, 2017
A (Black) Gat in the Hand: Frank Schildiner's 'Max Allen Collins & The Hard Boiled Hero'
A (Black) Gat in the Hand: William Campbell Gault
A (Black) Gat in the Hand: More Cool & Lam From Hard Case Crime
A (Black) Gat in the Hand: MORE Cool & Lam!!!!
A (Black) Gat in the Hand: Thomas Parker's 'They Shoot Horses, Don't They?'
A (Black) Gat in the Hand: Joe Bonadonna's 'Hardboiled Film Noir' (Part One)
A (Black) Gat in the Hand: Joe Bonadonna's 'Hardboiled Film Noir' (Part Two)
A (Black) Gat in the Hand: William Patrick Maynard's 'The Yellow Peril'
A (Black) Gat in the Hand: Andrew P Salmon's 'Frederick C. Davis'
A (Black) Gat in the Hand: Rory Gallagher's 'Continental Op'
A (Black) Gat in the Hand: Back Deck Pulp #3
A (Black) Gat in the Hand: Back Deck Pulp #4
A (Black) Gat in the Hand: Back Deck Pulp #5
A (Black) Gat in the Hand: Joe 'Cap' Shaw on Writing
A (Black) Gat in Hand: Back Deck Pulp #6
A (Black) Gat in the Hand: The Black Mask Dinner
---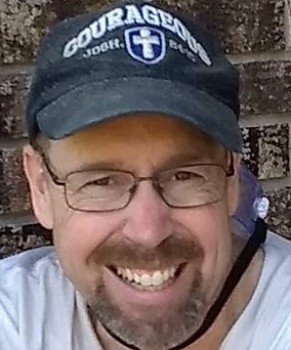 Bob Byrne's 'A (Black) Gat in the Hand' was a regular Monday morning hardboiled pulp column from May through December, 2018 and again from August through December, 2019. It returned in June of 2020.

His 'The Public Life of Sherlock Holmes' column ran every Monday morning at Black Gate  from March, 2014 through March, 2017 (still making an occasional return appearance!).
He organized 'Hither Came Conan,' as well as Black Gate's award-nominated 'Discovering Robert E. Howard' series.
He is a member of the Praed Street Irregulars, founded www.SolarPons.com (the only website dedicated to the 'Sherlock Holmes of Praed Street') and blogs about Holmes and other mystery matters at Almost Holmes.
He has contributed stories to The MX Book of New Sherlock Holmes Stories – Parts III, IV,  V, VI and XXI.