New Treasures: The Mermaid, the Witch, and the Sea by Maggie Tokuda-Hall
New Treasures: The Mermaid, the Witch, and the Sea by Maggie Tokuda-Hall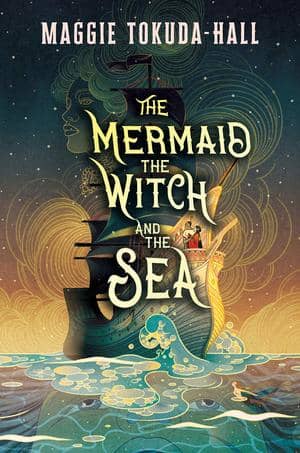 May was a tough month for new releases.  Many were pushed to the fall as a result of bookstore closure across the country — and the fact that Amazon dramatically slowed down shipping on all non-essential items.
But a few brave publishers stuck to the schedule, and virtual bookstore shelves weren't empty last month. I think it's all the more important to celebrate those books, and especially the ones that deserve special attention. Maggie Tokuda-Hall's debut novel The Mermaid, the Witch, and the Sea is definitely one of them. Kirkus calls it "Absolutely enthralling," and Alex Brown at Tor.com says "Every single character is as deeply compelling as the world they live in… a remarkable novel and hands down one of the best of the year." Here's the description.
In a world divided by colonialism and threaded with magic, a desperate orphan turned pirate and a rebellious imperial lady find a connection on the high seas.

The pirate Florian, born Flora, has always done whatever it takes to survive — including sailing under false flag on the Dove as a marauder, thief, and worse. Lady Evelyn Hasegawa, a highborn Imperial daughter, is on board as well — accompanied by her own casket. But Evelyn's one-way voyage to an arranged marriage in the Floating Islands is interrupted when the captain and crew show their true colors and enslave their wealthy passengers.

Both Florian and Evelyn have lived their lives by the rules, and whims, of others. But when they fall in love, they decide to take fate into their own hands — no matter the cost.

Maggie Tokuda-Hall's sweeping fantasy debut, full of stolen memories, illicit mermaid's blood, double agents, and haunting mythical creatures conjures an extraordinary cast of characters and the unforgettable story of a couple striving to stay together in the face of myriad forces wishing to control their identities and destinies.
The Mermaid, the Witch, and the Sea was published by Candlewick Press on May 5, 2020. It is 371 pages, priced at $18.99 in hardcover and $5 in digital formats.
See all our latest New Releases here.