The Public Life of Sherlock Holmes: Post Index #2
The Public Life of Sherlock Holmes: Post Index #2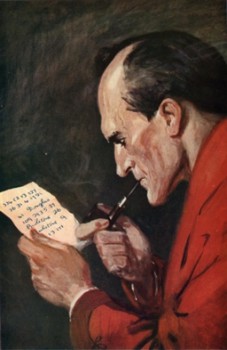 Back on September 29th of last year, I created a linked index of all The Public Life of Sherlock Holmes posts up to that date, plus a few extras that I'd written here at Black Gate. Well, since this column debuted on March 10, 2014 (yep, a year ago tomorrow!), I figured I'd create an index of all the posts written since that first index.
As the past year has shown, I'm not just about Holmes. I've looked at other mystery topics, including my love of hard boiled private eyes. And I've touched on fantasy, science fiction, true crime and gaming.
There's lots more to come (Robert E. Howard's Steve Harrison is currently in the research stage). Hopefully you'll keep checking in on Monday mornings. Thanks!
Sherlock Holmes/Arthur Conan Doyle
William Gillette – The first great Holmes on stage or screen.
The List of Seven – Mark Frost's Conan Doyle pastiche.
Elementary – America's modern-day version of Holmes returns to televisions.
The Abbey Grange Examined – Did Holmes get played in this story?
Solar Pons – The greatest Holmes successor and pastiche of them all.
Holmes For Christmas – Holmes for the Holidays.
The Science Fictional Solar Pons – Pons had some fantastical adventures.
Frank Thomas – My first 'favorite' pastiche author.
Watson's Christmas Trick – My own Holmes mini-pastiche for Christmas.
Arthur Wontner – The third great Sherlock Holmes.
The Crime Doctor – Watson investigates on his own better than Holmes credits him for.
Hard Boiled Holmes – Spade, Marlowe, et al came from the Holmes school.
The Speckled Band – Raymond Massey's 1931 film.
The Case of George Edalji – Conan Doyle played a huge role in exposing this unjust conviction.
New Holmes Story by Doyle Found – Actually, I don't think it's by Doyle at all.
Non-Holmes Posts
Michael Stone's Streeter – one of my favorite 'modern' hard boiled PI series'.
The Lost Lands – a new Pathfinder RPG campaign world.
Judges Guild – Premium Editions of their classic products.
Modular: Warlords of the Accordlands – An under-appreciated d20 campaign world.
Munchkin – A fun, competitive themed card game.
Talisman – Excellent app of the popular fantasy board game.
Ya Gotta Ask – You can create your own opportunities as a writer.
Cohen the Barbarian – A look at Terry Pratchett's Conan satire.
Boy's Life – Best novel I've read.
The Lords of Dus – Lawrence Watt Evans' fantasy series from the eighties.
---
You can read Bob Byrne's 'The Public Life of Sherlock Holmes' column here at Black Gate every Monday morning.
He founded www.SolarPons.com, the only website dedicated to the 'Sherlock Holmes of Praed Street' and blogs about Holmes and other mystery matters at Almost Holmes.