The Public Life of Sherlock Holmes: Frank Thomas and Holmes
The Public Life of Sherlock Holmes: Frank Thomas and Holmes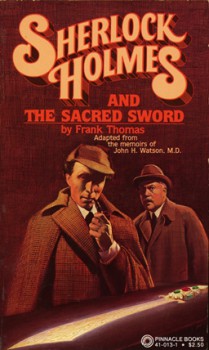 In the nineteen fifties, thousands of American boys thrilled to the television adventures of Tom Corbett, Space Cadet. Frankie Thomas, Jr, offspring of acting parents, had been in the business for two decades when he starred in the adaptation of a popular comic strip.
It was a hit, spawning comics, books, a radio show, toys, et al. As with all shows, it ran its course and came to an end. Thomas went on to become one of America's foremost bridge experts. That's the card game, not the things that span waterways. His Sherlock Holmes, Bridge Detective, was a popular book on the subject (as was its sequel).
When I started branching out beyond Sir Arthur Conan Doyle's original stories, I think that Thomas was the very first Holmes pastiche writer that I read.
Keep in mind that around 1980, pastiches were relatively uncommon. You bought Holmes books at actual bookstores: no Amazon. Indie-press Holmes stories were rather rare and hard to find. There wasn't a self-publishing industry to speak of. So, avid Holmes fans gobbled up paperbacks by L.B. Greenwood, Richard Boyer, and Frank Thomas. Yep: same guy.
In 1979, Sherlock Holmes and the Golden Bird came out, followed the next year by Sherlock Holmes and the Sacred Sword.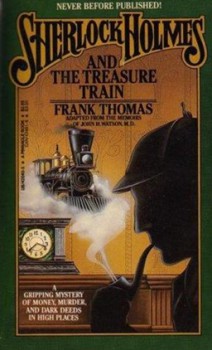 From what I can tell, several more books were published in Germany and possibly other countries, but not released in the United States due to some problem with the publisher. They eventually were made available in America.
In all, Thomas wrote seven Holmes novels and one collection of short stories. I've read the first three novels, with two more waiting patiently on the shelves for their turn.
I read Sacred Sword before Golden Bird. The sword of Mohammed has been found and, as you can imagine, is in great demand. Meanwhile, as you can guess from the title, Golden Bird has a Maltese Falcon feel to it, with even a little of The Big Sleep tossed in.
Those two books are more in the style of old pulp adventure stories than Conan Doyle originals. Think Doc Savage and Sax Rohmer. As such, they haven't really aged as well as other Holmes pastiches. On the other hand, the enduring appeal of the adventure yarn lends them a different kind of shelf life. The story isn't so much about the solving of the mystery, it's about the trail that gets you there. I think this characteristic is the key in assessing Thomas's books.
Sherlock Holmes and the Treasure Train is a more traditional Holmes story, though there's no shortage of action. Doyle himself wrote a story about a missing train, The Lost Special. Some Sherlockians have argued (tongue in cheek, I believe) that the unnamed letter writer in that story is Holmes himself.
One of my favorite Solar Pons stories, The Adventure of the Lost Locomotive, is a rail mystery. An engine, steaming down the tracks, just says, English mystery. And speaking of Pons…
As far as I know, Frank Thomas and I are the only people to write a Solar Pons parody. Thomas wrote "The Adventure of the Swedenborg Strangler," starring Molar Vons, which appeared in the 1977 issue of The Pontine Dossier.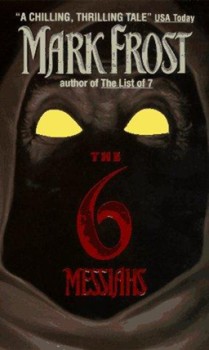 The 6 Messiahs
Back in October, I wrote a post on The List of 7: Mark Frost's Sherlock Holmes-like adventure starring Sir Arthur Conan Doyle. Frost wrote a sequel, picking things up a few years later. Doyle is now an international success, though constantly pestered to bring Holmes back from his misstep at the Reichenbach Falls. Jack Sparks and Eileen Temple had vanished from his life.
Doyle, accompanied by his younger brother, Innes, is off to America for a speaking tour. Shenanigans on shipboard (like that little turn of phrase?) draw Doyle into a plot to steal great religious texts as part of an evil plot. Really, Doyle can't turn around without coming up against some great evil trying to take over the world.
Turns out five folks have had dreams of a great black tower rising out of the desert and events bring heroes and villains together for an epic showdown. "Five," you say? Yep, you'll have to guess who the sixth messiah is.
Unlike List, Messiahs is very much an American/Old West adventure. And there's a Mormon feel to the religious commune. It doesn't feel as action packed as its predecessor. This one moves forward at a more leisurely pace. I think it's in part because there's much less a sense of imminent danger for Doyle this time around.
Anyone who enjoyed List should certainly read Messiahs, though I think it is markedly the lesser of the two. Nothing wrong with it, just not as good a book.
---
You can read Bob Byrne's 'The Public Life of Sherlock Holmes' column here at Black Gate every Monday morning.
He founded www.SolarPons.com, the only website dedicated to the 'Sherlock Holmes of Praed Street' and blogs about Holmes and other mystery matters at Almost Holmes.