The Public Life of Sherlock Holmes: The List of 7 by Mark Frost
The Public Life of Sherlock Holmes: The List of 7 by Mark Frost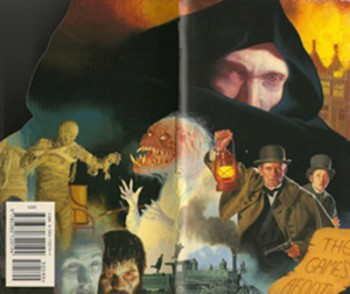 Mark Frost made the news not too long ago with the announcement that he and David Lynch will be making a new Twin Peaks series for Showtime. Yay! Twin Peaks came to an abrupt end in 1991: just after its second season. Frost apparently wasn't one to let grass grow under his feet, as only two years later, The List of 7 hit bookshelves.
John O'Neill wrote about (mostly the cover…) this book last year.
Frost is absolutely a fan of Sherlock Holmes. Not only is the novel's protagonist none other than Arthur Conan Doyle and bits of his life are scattered throughout, but there are Holmes-isms aplenty. Thus, this book is a type of pastiche, though darker than any straight Holmes tale I've read.
A struggling young doctor who hasn't yet created Holmes, Doyle receives a mysterious summons to what turns out to be a séance. Really creepy stuff happens, people die, a mysterious rescuer appears, and Doyle spends the rest of the book on the run from a dark conspiracy. Turns out that his completely fictional novel submission, The Dark Brotherhood, exactly mirrors a real group. And as you can guess by the name, it's a really evil secret organization. Man, don't you hate it when that happens!
Doyle's rescuer, Jack Sparks, clearly has a lot of Sherlock Holmes in him, with some James Bond thrown in. And the main villain certainly brings to mind a ruthless Moriarty. Doyle is a pretty good version of, well, himself.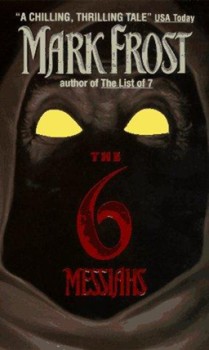 This is a pulp style horror yarn: More Clark Ashton Smith than Arthur Conan Doyle. It's lathered in supernatural like a cheap medium in fake ectoplasm. Four hundred pages long, it rollicks along at a breathtaking pace: another pulp characteristic. Though, Frost is an over-writer. He uses lots and lots of words. I don't particularly mind his style, but it certainly feels a bit wordy.
I read very little horror, but I am a great fan of Robert R. McCammon. The protagonist brought to mind the villain from his novel, Baal. And that ain't nice. There is some unpleasant stuff in this book: there's just no way around it. This secret group is evil.
Now, along with Doyle, we meet Bram Stoker, Prince Edward Albert, and a slightly renamed Sir William Gull (the latter two figuring prominently in the Royal Conspiracy theories of Jack the Ripper).
But you can't finish a chapter without running into something Sherlockian, which is fun. Sparks has a place on Montague Street, he uses cocaine, he's brilliant, he has a brilliant brother: you get the idea. The story also nicely dovetails into Doyle's actual life.
After the main problem has been resolved, there are still a couple of nice little surprises left. If you don't mind a supernatural edge to your Holmes-like story, this is a pretty good read. Frost really does keep things moving forward at a brisk pace.
Frost followed up with a sequel, The 6 Messiahs, in 1995. The setting moves to America and Doyle takes on the Holmes-ish role, with his younger brother Innes his Watson. I haven't finished my re-read of that one yet, but may do a post on it as well.
---
You can read Bob Byrne's 'The Public Life of Sherlock Holmes' column here at Black Gate every Monday morning.
He founded www.SolarPons.com, the only website dedicated to the 'Sherlock Holmes of Praed Street' and blogs about Holmes and other mystery matters at Almost Holmes.