Vintage Treasures: The List of 7 by Mark Frost
Vintage Treasures: The List of 7 by Mark Frost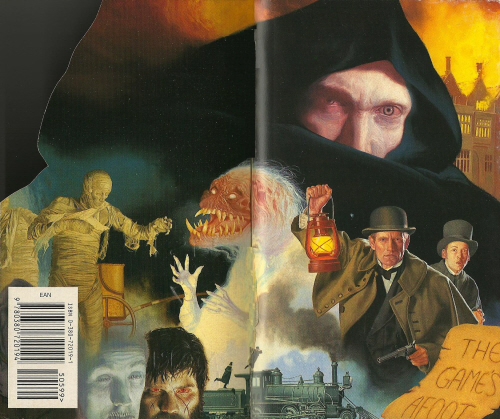 I love buying paperback collections. Like this one, which I  found online last week. Just look at at all those gorgeous vintage paperbacks. Seriously, click on that link and look at them. I'll wait.
Twenty-eight volumes in terrific shape, for less than twenty bucks. Including four early volumes from Neal Barrett, Jr; three vintage Lovecraft collections (one of them The Dream Quest of Unknown Kadath); both Ballantine volumes of William Hope Hodgson's The Night Land; one of Lin Carter's better fantasy collections, Imaginary Worlds; A. Merritt's The Moon Pool; a smattering of Ursula K. LeGuin, plus C.S. Lewis, Clark Ashton Smith, Ray Bradbury, Edgar Rice Burroughs, John Bellairs, and half a dozen more. There's even a beautiful copy of Sherlock Holmes Through Time and Space, which I've lusted after ever since Violette Malan teased me with the cover in her article on science fiction mysteries last month.
Man, I could just lay these babies down on the floor and roll around in 'em. Except that would probably dog ear the covers.
They finally arrived today, carefully packed in tightly wrapped plastic, and I gently unwrapped them and settled in to examine my new treasures. Many clamored for attention, but the one that practically jumped into my hands was The List of 7, by Mark Frost. That's the inside front cover above, complete with mummies, gruesome spectres, ghosts, a train chase, and — speaking of Sherlock Holmes — the words "The Game's Afoot" scrawled on parchment (click for a bigger version).
It's more inviting than the usual collection of blurbs on the inside cover, you have to admit (although those are here too).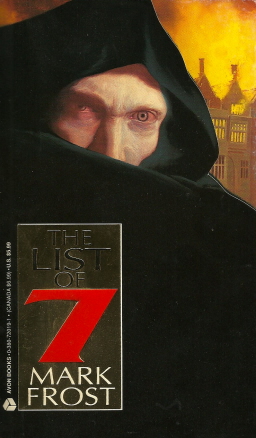 Don D'Ammassa called The List of 7 the best book of the year in his review column in Science Fiction Chronicle back in 1993, and that was enough to get me to order a copy of the hardcover twenty years ago. The hardcover — simple and black, with a plain number 7 emblazoned on the cover — doesn't have spectres, mummies, or train chases on the cover, and I eventually lost interest and filed it away two decades ago.
The paperback, though… that's a different story. I'm keeping this one in ready reach.
Here's the lurid early 90s back cover copy:
Out of the mists of Victoria's England, a diabolical evil has emerged with only one purpose — vengeance.

Following a bloody London seance and in the aftermath of a terrifying supernatural contact, a good doctor finds himself the target of a malevolence born of the darkest nightmares. But with stalwart companions by his side — including an extraordinarily intrepid investigator — he seeks to expose a dastardly band of nefarious criminals and a chilling conspiracy aimed at the heart of England's future… and instead unearths a crime far more horrible than murder and experiences an adventure beyond the limits of imagination.
Despite appearances, the book doesn't actually feature Sherlock Holmes. The protagonist is none other than a young Arthur Conan Doyle who — together with his inspiration for Sherlock Holmes, the brilliant and resourceful Jack Sparks — is drawn into a desperate struggle against a powerful and secretive group of Satanists in Victorian London.
Mark Frost was a writer for Hill Street Blues, but he's probably most well known for co-creating Twin Peaks with David Lynch. He's written four other novels, including a sequel to The List of 7, The Six Messiahs (released in 1995), and two volumes of The Paladin Prophecy.
The List of 7 was published in paperback by Avon in September 1994. It is 401 pages, with an original price of $5.99, and is still in print. A digital version is available for $6.99. The brilliant cover is by Daniel Horne.
See all of our recent Vintage Treasures here.