The Public Life of Sherlock Holmes: Arthur Wontner, the Third Great Holmes
The Public Life of Sherlock Holmes: Arthur Wontner, the Third Great Holmes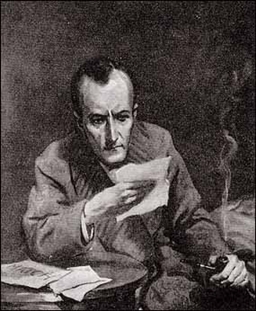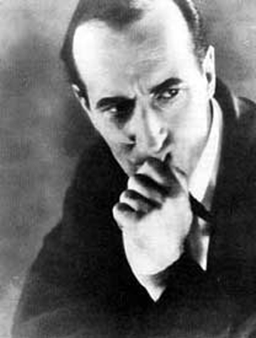 With his turn-of-the century stage play, William Gillette was the first great Sherlock Holmes. Eille Norwood was the second, making a series of popular silent film adaptations of Doyle's stories in the early twenties. The third great Sherlock Holmes, Arthur Wontner, is one of my personal favorites.
Britain's Twickenham Film Studios snagged Wontner after his successful performance as Sexton Blake (a detective hero of British schoolboys) and signed him to play the world's foremost private consulting detective. The Sleeping Cardinal was a hit in England, with Wontner's performance praised widely. Picturegoer Weekly wrote: "Wontner's rendering of Sherlock Holmes is wholly convincing, even to the smallest mannerisms."
Retitled The Fatal Hour to better appeal to action-oriented American audiences, it played for over a month on Broadway, which was unheard of at the time for a British film. In those pre-Oscar days, it even won the New York Critics' Cinema Prize as the best mystery drama.
The story included elements of "The Empty House" and "The Final Problem," though Colonel Moran only plays a minor part and Moriarty himself shoots at the bust of Holmes! Norman McKinnel's Moriarty is one of the more under-appreciated portrayals of the Professor.
Wontner, who bore a strong resemblance to Sidney Paget's drawings, received rave reviews. A few years later, the famous American Sherlockian Vincent Starrett wrote, "No better Sherlock Holmes than Arthur Wontner is likely to be seen and heard in pictures in our time…his detective is the veritable fathomer of Baker Street in person."
Watson was played by Ian Fleming (no, not the creator of James Bond), who was no David Burke. He was to play the part in four of Wontner's five Holmes films. Fleming comes across as rather harmless and lightweight. His portrayal feels more proper for a Thin Man film than as the good doctor. He does not provide the comic relief seen when Nigel Bruce took on the role, but neither does he contribute much on-screen.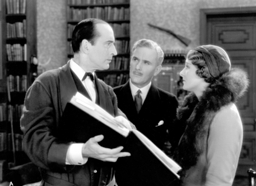 The Missing Rembrandt – Realizing that they had a hot property, Twickenham quickly filmed a second Wontner project, The Missing Rembrandt. The script was based on one of my favorite stories, "Charles Augustus Milverton." The villain, however, is named Baron von Guntermann, and he is not only a blackmailer, but also an art thief (thus, the title).
Presumably the plot was expanded because the original short story didn't provide enough substance for an extended length film. The Granada folks would discover this problem a half century later while filming the Jeremy Brett series.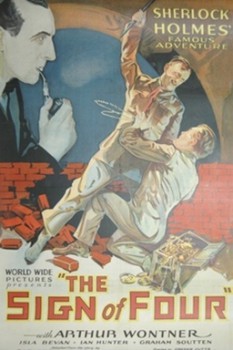 Like its predecessor, the film (and Wontner) received positive reviews. But sadly, there is no known surviving print and it is the great 'lost Sherlock Holmes film.'
The Sign of Four – Oddly enough, Twickenham did not have Wontner under contract or exclusive rights to Holmes, so even before the actor had begun shooting Rembrandt, he had signed a contract to make a version of The Sign of Four for Associated Radio Pictures. A soon as he finished his Twickenham film, Wontner began shooting Sign, which was shot in England, but with an American producer, Rowland V. Lee. Lee had a superhero conception of Holmes:
"He was a MAN! Humorous – what sense of comedy; strong – look how fought the great Moriarty; athletic – remember how he ran after the Hound of the Baskervilles? What a MAN!"
This was the only Holmes film that Wontner was to make with a reasonable budget. It was also the one in which he was most physically active. Gone was the introspective pipe smoker. The boat chase upon the Thames has quite a different ending; more like something from the 1960's Batman television show. Basil Rathbone fans can trace a bit of their energetic favorite back to this Wontner film.
Ian Hunter replaced Ian Fleming as Watson, the producers feeling that a more romantic man was needed to woo Mary Morstan. Hunter played a goofy, love-addled sidekick and served as a preview of Nigel Bruce. Fortunately he would not be cast again as Watson.
Picturegoer Magazine said of Wontner, "Arthur Wontner, is as usual, a perfect Holmes."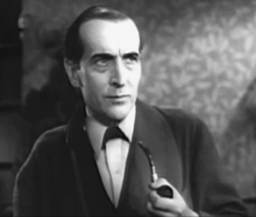 The Triumph of Sherlock Holmes  – The next film, The Triumph of Sherlock Holmes, came in 1934, from Real Art Productions, which was just Twickenham under a new name. Wontner returned to his more sedate impersonation in a film that was a reasonably faithful adaptation of The Valley of Fear.
Reviews of Wontner's work were still positive, as reflected in this one from The Monthly Bulletin: "Arthur Wontner is the only Sherlock Holmes. His playing throughout is in perfect character and he seems to have walked straight out of the Sidney Paget illustrations which made Sherlock Holmes universally recognizable."
A notable improvement occurs at the beginning of the movie. Holmes is retiring and 221B Baker Street is in a state of disarray, although the thought of that esteemed address being nothing more than Watson's medical office seems wrong. Moriarty (played by Lyn Harding) is still at large and pays a visit to the great detective. The filmmakers then give us a recreation of the classic exchange from "The Final Problem." It is a wonderful scene. Of course, it had also been used, almost exactly alike, in The Sleeping Cardinal! Why mess with what works?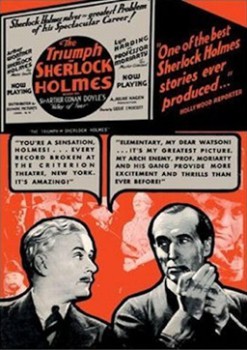 Like A Study in Scarlet, Holmes is absent for much of The Valley of Fear because of long flashback sequences set in America. However, Triumph does not seem to suffer from Birdie Edwards' carrying a significant part of the narration. There is a major deviation from the original novel when Moriarty rushes to Birlstone Manor, flees up a ruined tower to escape and is shot by Holmes, after which he plunges to his death. Except of course, he appears in the next movie!
Lyn Harding made his first of two appearances as Moriarty. I wrote a post about him here.
For folks who haven't seen a Wontner, film, I think this quote from Monthly Film Bulletin is pretty good: "Arthur Wontner is the only Sherlock Holmes. His playing throughout is in perfect character and he seems to have walked straight out of the Sidney Paget illustrations."
The Silver Blaze – Wontner made The Silver Blaze, his fifth and final film as Sherlock Holmes in 1937. Perhaps again feeling that there simply wasn't enough source material in the original short story, a few liberties are taken. Sir Henry Baskerville is introduced, and things take a radical turn after Holmes finds the missing horse.
Moriarty has Moran use his air gun to kill the horse just before the finish of the race. Watson follows one of the henchmen and finds Moriarty. However, he is captured. Holmes arrives to save him just as Watson is about to be thrown down an empty elevator shaft in a melodramatic finale.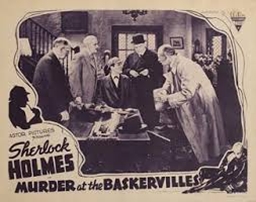 The film did not do particularly well, and it was not even released in America. Wontner was 62 and perhaps without a strong script, not as able to carry the load as in previous films. The movie did have a second life, however. Basil Rathbone scored big in 1939 with his authentic Hound of the Baskervilles and 1940's The Adventures of Sherlock Holmes also did well.
Twickenham, with a Sherlock Holmes film never seen in America sitting in a can on the shelf, decided to get a little more mileage out of Silver Blaze. They misleadingly titled it Murder at the Baskervilles and released it in America. Few noticed.
Wontner would revisit the role one more time in 1942, when he starred in a BBC radio production of The Boscombe Valley Mystery, with Carleton Hobbes as Watson.
One of the Best – Twickenham, which made four of the five films, operated on a small budget. Wontner recalled:
"The studio wasn't much more than a big tin shed, really; not like film studios today. We used to start filming early in the morning and continued until pretty late at night, with very few breaks. Of course, we had to stop shooting quite often when a train went by, because of the noise. But we couldn't afford much time for retakes, and there were no elaborate rehearsals or anything like that."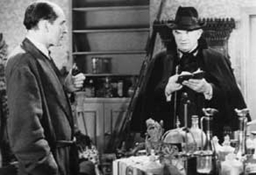 However, Wontner's performances stand up well over a half-century later. He followed William Gillette and Eille Norwood and preceded Basil Rathbone by two years. Alongside those three and Jeremy Brett, Wontner is one of the five great Sherlock Holmes'.
His solemn delivery sometimes feels plodding and languid. This is not unreasonable from a man who was in his mid-fifties when he made his first Holmes film. However, he certainly sounds like Holmes when he speaks, and no actor before or since has resembled Sidney Paget's illustrations so closely.
Perhaps had there been more of an on-screen chemistry between Wontner and Ian Fleming, his performance would have seemed more lively. There is very little sense of the underlying bond between the two men that Doyle created.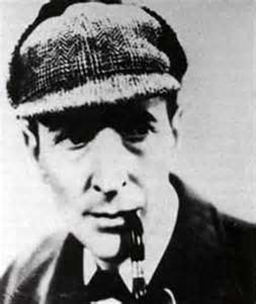 But when the camera shows Wontner sitting in his chair, smoking a pipe, we feel that we are seeing exactly the man that Sir Arthur Conan Doyle pictured. Elements of Wontner's portrayal can be seen in the Granada production. Jeremy Brett combined Wontner's intellectual Holmes with Rathbone's energetic Sherlock.
It is unfortunate that Wontner was never given the opportunity to make a Holmes film set in the Victorian era with a good-sized budget and a solid script. It is likely he would have turned in a definitive performance. Unfortunately his legacy has not been as lasting for non-Holmes devotees. Sherlockian Michael Pointer relates being at the 1951 Sherlock Holmes Exhibition opening with Wontner. The organizer informed the audience that the actor had appeared in five Sherlock Holmes films. A reporter next to Pointer said to Wontner, "Oh, yes, and what part did you play?"
In 1933, famous Sherlockian Vincent Starrett said, "The great Sherlock Holmes picture has not as yet been made…But Mr. Arthur Wontner is still available. Will not someone send a special, fast steamer for Mr. Arthur Wontner?"
About which Wontner himself later commented, "Well, they never did, you know, they never did."
While the films themselves have not aged as well as the Rathbone efforts, Arthur Wontner was a definitive Holmes.
---
You can read Bob Byrne's 'The Public Life of Sherlock Holmes' column here at Black Gate every Monday morning.
He founded www.SolarPons.com, the only website dedicated to the 'Sherlock Holmes of Praed Street' and blogs about Holmes and other mystery matters at Almost Holmes.