Doc Savage Meets… The Grinch Who Stole Christmas
Doc Savage Meets… The Grinch Who Stole Christmas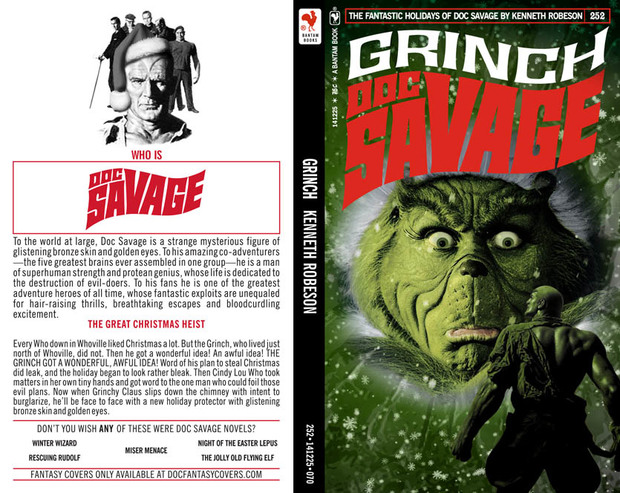 Kez Wilson has been publishing Doc Savage fantasy covers at his website for years, and they get more and more creative as the months go by. His December entry this year (#252) sees Doc Savage face off against a diabolical agent of Christmas evil. Here's his Doctor Seuss-inspired back cover copy:
Every Who down in Whoville liked Christmas a lot. But the Grinch, who lived just north of Whoville, did not. Then he got a wonderful idea! An awful idea! THE GRINCH GOT A WONDERFUL, AWFUL IDEA! Word of his plan to steal Christmas did leak, and the holiday began to look rather bleak. Then Cindy Lou Who took matters in her own tiny hands and got word to the one man who could foil those evil plans. Now when Grinchy Claus slips down the chimney with intent to burglarize, he'll be face to face with a new holiday protector with glistening bronze skin and golden eyes.
Wilson's pastiche covers are based on the brilliant work of James Bama and Bob Larkin, who illustrated the original Doc Savage paperbacks from Bantam. Check out his marvelous Doc Savage Fantasy Cover Gallery to see the Man of Bronze face off against Buffy, Ming the Merciless, Cthulhu, 007, The Thing, the Terminator, Sharknado, the Hardy Boys, Barbarella, Doctor Who, Kirk and Spock, and many others.