Clashing Blades, Hairbreadth Escapes, and Daring Rescues: The Big Book of Swashbuckling Adventure, edited by Lawrence Ellsworth
Clashing Blades, Hairbreadth Escapes, and Daring Rescues: The Big Book of Swashbuckling Adventure, edited by Lawrence Ellsworth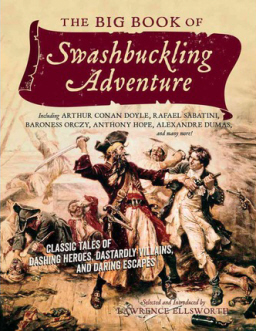 Back in May, BG blogger Lawrence Schick (who also writes as Lawrence Ellsworth) told us about his huge upcoming anthology The Big Book of Swashbuckling Adventure: Classic Tales of Dashing Heroes, Dastardly Villains, and Daring Escapes. Now the book has arrived, and it looks very appetizing indeed. If you enjoy tales of adventure, this one looks like it would make a splendid late Christmas present to yourself.
The word "swashbuckler" conjures up an indelible image: a hero who's a bit of a rogue but has his own code of honor, an adventurer with laughter on his lips and a flashing sword in his hand. This larger-than-life figure is regularly declared passé, but the swashbuckler is too appealing to ever really die. Who wouldn't want to face deadly danger with confidence and élan? Who can deny the thrill of clashing blades, hairbreadth escapes, and daring rescues, of facing vile treachery with dauntless courage and passionate devotion?

The swashbuckler tradition was born out of legends like those of the Knights of the Round Table and of Robin Hood, revived in the early 19th century by Romantic movement authors such as Sir Walter Scott. The genre caught hold with the publication of Alexandre Dumas' The Three Musketeers in 1844, and for the next century it was arguably the world's leading form of adventure fiction.

Featuring selections by twenty hugely popular writers from the last century including Rafael Sabatini; Johnston Mcculley (creator of the Zorro character); Alexandre Dumas: Arthur Conan Doyle; and Pierce Egan (author of Robin Hood), this anthology is dedicated to the swashbuckler's roots: historical adventures by the masters of the genre. Most of these stories have been out of print for decades; some have never before been collected in book form. All are top-notch entertainment.
The Big Book of Swashbuckling Adventure was published by Pegasus on December 15, 2014. It is 604 pages, priced at $24.95 in paperback or $20.08 for the digital edition.