Hilary Mantel and Beyond Black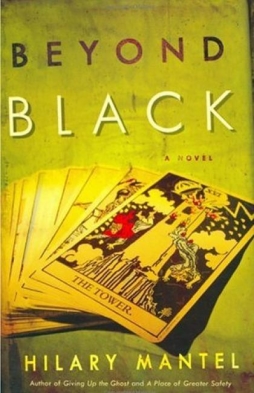 Hilary Mantel's two novels of Tudor-era statesman Thomas Cromwell, 2009's Wolf Hall and 2012's Bring Up the Bodies, have both won the Man Booker prize; a third, The Mirror and the Light, will complete the trilogy, but has not yet been scheduled for publication. I want to write here not about those books, but about 2005's Beyond Black, the last book Mantel published before embarking on the Cromwell trilogy. Her ninth novel, it was shortlisted for the Commonwealth Writers Prize and the Orange Prize. It's a novel of the fantastic, in the broadest sense, and can be approached as fantasy, as horror, even as noir; but may be best understood simply as a thing in itself.
It's the story of a medium, Alison Hart (born Cheetham, who changed her name for obvious PR reasons), and the business manager she hires, Colette. It follows their relationship, as well as Alison's half-hearted attempt to recover memories of her abusive childhood. It's also the story of their relationship with the ghosts who follow Alison, but remain invisible and imperceptible to Colette. One of these is Alison's principal spirit guide, Morris, and you will find few characters living or dead nastier than he and his friends. Morris is one of a group of thugs from Alison's past and understanding their background — what Alison did as a girl and what was done to her — becomes the key to the novel.
Or, at least, a key. The book's notably plotless, in the sense of being defined by actions in sequence that necessitate one another. Things happen, characters change and are revealed, but there's no tight narrative. The book's held together by character, by imagery, by tone, and by the fantastic conceit at its heart: the validity of ghosts and psychic experience. To me, that makes it not just a fantasy, but one that's worth looking at because the fantasy does something unusual — it's part of the structure of the book in an interesting way.