The Top 20 Black Gate Fiction Posts in July
The Top 20 Black Gate Fiction Posts in July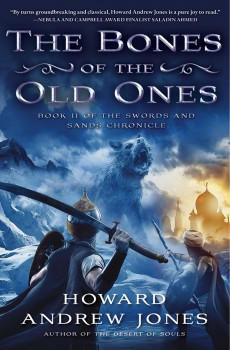 A bit of a shake-up at the top of the fiction charts this month, as our exclusive excerpt from Howard Andrew Jones' second Dabir and Asim novel, The Bones of the Old Ones, reclaimed the top spot from Martha Wells' Nebula nominee The Death of the Necromancer. Coming up close behind were Joe Bonadonna's perennially popular sword & sorcery tale "The Moonstones of Sor Lunarum," and E.E. Knight's thrilling Blue Pilgrim story, "The Terror in the Vale."
Three of Aaron Bradford Starr's Gallery Hunter tales made the list this month, including the epic 35,000-word novella "The Sealord's Successor," which Tangent Online called "The real deal…  It put me in mind of Fritz Leiber's Fafhrd and Gray Mouser."
Also making the list were exciting stories by Jamie McEwan, Judith Berman, Ryan Harvey, David C. Smith and Joe Bonadonna, Vera Nazarian, Jason E. Thummel, Gregory Bierly, Robert Rhodes, Emily Mah, Michael Penkas, Mary Catelli, and Vaughn Heppner.
If you haven't sampled the adventure fantasy stories offered through our new Black Gate Online Fiction line, you're missing out. Every week, we present an original short story or novella from the best writers in the industry, all completely free. Here are the Top Twenty most-read stories in July:
The complete catalog of Black Gate Online Fiction, including stories by Mike Allen, Paul Abbamondi, Mark Rigney, Nina Kiriki Hoffman, C.S.E. Cooney, John R. Fultz, Harry Connolly, Sean McLachlan, David Evan Harris, Donald S. Crankshaw, and many others, is here. The Top fiction from June is here.
We've got plenty more in the coming months, including new fiction from Ryan Harvey, Peadar O'Guilin, Vaughn Heppner and many others — so stay tuned!