Black Gate Online Fiction: "The Pit Slave" by Vaughn Heppner
Black Gate Online Fiction: "The Pit Slave" by Vaughn Heppner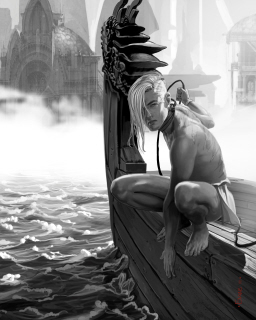 The young warrior Lod, hero of "The Oracle of Gog" (from Black Gate 15), returns in an epic tale of death and treachery in the gladiatorial arena.
"Look at me," the Games Master said.

Lod's head felt heavy. He turned in what seemed like slow motion.

"If you win," the Games Master said, "I'll buy you. I'll turn you into a champion."

Someone shoved Lod from behind. He stumbled up the wooden ramp into warmer air. A trumpet blared. Lod twisted in surprise.

The stadium was gargantuan, built from cyclopean marble blocks. There were giants in the stands, the Nephilim sons of the First Born. Those were arrogant and lordly, and mostly they wore military attire, leather tunics and bear-furs.

He gripped his sword. "Give me strength, O Elohim," he whispered. "Let me die today like a man."
Vaughn Heppner has written a number of Amazon best sellers, including Star Soldier, Invasion: Alaska and People of the Ark. His last articles for us were "The E-book Revolution" and "A Look behind Lod's World, or How to Strike Gold." Read an excerpt from his novel Star Soldier here.
"The Pit Slave" is the sequel to "The Oracle of Gog" (from Black Gate 15), and part of Lost Civilizations, a six-book series: Giants, Leviathan, The Tree of Life, Gog, Behemoth and The Lod Saga. A slightly different version of "The Pit Slave" appears in The Lod Saga, available now at Amazon.com and Barnes & Noble.com.
The complete catalog of Black Gate Online Fiction, including stories by E.E. Knight, Jason E. Thummel, Gregory Bierly, Mark Rigney, C.S.E. Cooney, Judith Berman, Howard Andrew Jones, Dave Gross, Harry Connolly, and others, is here.
"The Pit Slave" is a complete 7,000-word sword & sorcery tale offered at no cost. Art for "The Oracle of Gog" by Mark Evans.
Read the complete story here.