Black Gate Online Fiction: "The Sealord's Successor," Part I, by Aaron Bradford Starr
Black Gate Online Fiction: "The Sealord's Successor," Part I, by Aaron Bradford Starr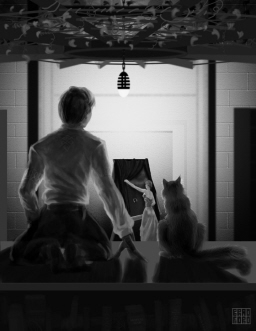 Gallery Hunters Gloren Avericci and Yr Neh, last seen in "The Tea-Maker's Task" (published here on December 30th) and "The Daughter's Dowry" (October 14), find themselves drawn into a deadly conspiracy involving a powerful kingdom, ancient secrets… and a very peculiar painting.
The group gathered around it. There were few people present. Hallmaster Terring, whom Gloren, Yr Neh and I secretly knew to be an Eidnine Knight and possible successor, was present, as was Garder Jho and his houseboy, Peppin. In addition, there were ten courtiers of various rank.

Terring stood slightly behind the painting. He swept the drape aside.

Masterfully done, the painting showed little but a small patch of sun-washed beach. In the sand lay a cut stone of shocking red. The flat, dark expanse of beach was marred only by rows of runes drawn in the wet sand.

It was instantly mysterious, this image. Who had drawn these symbols? What did they mean? The stark image would have been interesting enough. But as we stared, the painting moved. A sheet of water swept over the sand… When it was done the jewel lay in a new place, and new runes again covered the image, cut into the sand.

Terring spoke from where he stood just beyond the painting. "Is this indeed the Succession Painting of the Etherbis?"

They all nodded, muttering agreement.
Of "The Daughter's Dowry," Tangent Online said, "A story such as this deserves a world of its own and more adventures from its hero," and it called "The Tea-Maker's Task" "an entertaining, tongue-in-cheek fantasy… I wanted more." We're more than happy to oblige with this third exciting installment of the adventures of Gallery Hunter Gloren and his cat companion, Yr Neh.
The complete catalog of Black Gate Online Fiction, including stories by Mark Rigney, C.S.E. Cooney, Vaughn Heppner, E.E. Knight, Jason E. Thummel, Judith Berman, Howard Andrew Jones, Dave Gross, Harry Connolly, and others, is here.
"The Sealord's Successor"  is a complete 35,000-word novella of fantasy mystery presented in two parts, with original art by Aaron Bradford Starr. Part II will be presented next week; both parts are offered at no cost.
Read Part I here.