Black Gate Online Fiction: "The Highwater Harbor," Part One, by Aaron Bradford Starr
Black Gate Online Fiction: "The Highwater Harbor," Part One, by Aaron Bradford Starr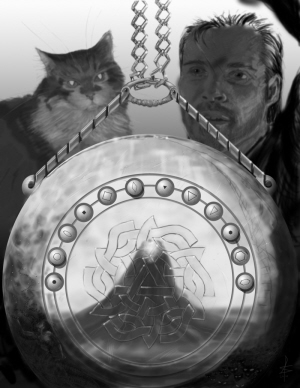 Gallery Hunters Gloren Avericci and Yr Neh, last seen in "The Sealord's Successor" (published here on March 3rd), "The Tea-Maker's Task" (December 30th),  and "The Daughter's Dowry" (October 14), find themselves tasked with unraveling the secrets of a mysterious artifact… as the death toll mounts around them.
"The Cipher Key," he said. "Is it a code? A secret writing system?"

"A means to unlock the ships themselves?" the large man asked. His words revealed his interests, and I knew him then to be a martial man of the sea, perhaps a freebooter captain.

"A mapping coordinate system," offered Lady Armeline at the same time. "A secret route to one of the most powerful southern fortresses of the Old Kingdom."

Gloren chuckled, sitting back and looking at the eager trio. He glanced at Yr Neh, and then at me. "It is a puzzle," he offered. "We'll need a second crew, if you're thinking of recovering a ship from the Harbor. And someone you can trust to lead them."

"I've got just the man," said the Captain.
Louis West at Tangent Online called "The Sealord's Successor" a "gripping tale of fantasy, mystery, murder and intrigue. A must read," and "The Tea-Maker's Task" "an entertaining, tongue-in-cheek fantasy… I wanted more." We're more than happy to oblige with this fourth exciting installment of the adventures of Gallery Hunter Gloren and his cat companion, Yr Neh.
The complete catalog of Black Gate Online Fiction, including stories by Jamie McEwan, Martha Wells, Mary Catelli, Michael Penkas, Vera Nazarian, Ryan Harvey, Nina Kiriki Hoffman, E.E. Knight, C.S.E. Cooney, Howard Andrew Jones, Harry Connolly, and many others, is here.
"The Highwater Harbor"  is a 35,000-word novella of fantasy mystery presented in three parts, with original art by Aaron Bradford Starr. Part II will be presented next week; all three parts are offered at no cost.
Read Part I here.