"A Gripping Tale of Fantasy, Mystery, Murder and Intrigue. A Must Read": Tangent Online on "The Sealord's Successor"
"A Gripping Tale of Fantasy, Mystery, Murder and Intrigue. A Must Read": Tangent Online on "The Sealord's Successor"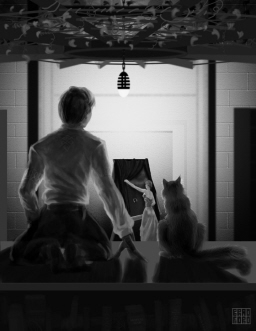 Louis West at Tangent Online weighs in on Aaron Bradford Starr's epic fantasy novella "The Sealord's Successor," published here in two parts on Sunday, March 3 and March 10:
A deliciously complicated tale. Once again we follow the adventures of Gallery Hunter Gloren Avericci and his ever-present feline companion, Lord Yr Neh… Rich with quirky and mysterious characters, rife with political intrigue, Yr Neh silently laughing at all human folly and Aven tripping over himself trying to appear self-important, [this was] an exceptional tapestry I just could not put down.

The Lordship succession of the Otrock Line is in question. However, this ancient island kingdom has a unique rite of selection by which a new Lord is chosen, one which has always prevented bloodshed. All with a claim to the title gather for a viewing of The Painting, an ancient, arcane creation of the greatest practitioner of the Hundred Visible Mysteries, Dhend Attren Aon. Somehow this painting conveys its choice to the viewers with such certainty that the decision for the throne has always been immediately accepted by all…

Chases thru the twisty, dangerous walkways of the cities of Landing Port and Rockface, constantly shifting allegiances, escape from imprisonment thru the deep passages of the mysterious, ancient Pre-Rain Underhold, revelations about who Velice and her Countess really are, all lead to a final encounter… A gripping tale of fantasy, mystery, murder and intrigue. A must read.
This is the third tale featuring Gloren Avericci and Yr Neh. The first was "The Tea-Maker's Task" (published here on December 30th), which Tangent praised by saying "A story such as this deserves a world of its own and more adventures from its hero." The second was "The Daughter's Dowry" (October 14), which Tangent called "an entertaining, tongue-in-cheek fantasy." You can read Louis's complete review (warning: Spoilers! And lots of them) here.
The complete catalog of Black Gate Online Fiction, including stories by Mark Rigney, C.S.E. Cooney, Vaughn Heppner, E.E. Knight, Jason E. Thummel, Judith Berman, Howard Andrew Jones, Dave Gross, Harry Connolly, and others, is here.
"The Sealord's Successor"  is a complete 35,000-word novella of fantasy mystery presented in two parts, with original art by Aaron Bradford Starr. It is offered at no cost. Read it here.