C.S.E. Cooney's How to Flirt in Faerieland & Other Wild Rhymes On Sale
C.S.E. Cooney's How to Flirt in Faerieland & Other Wild Rhymes On Sale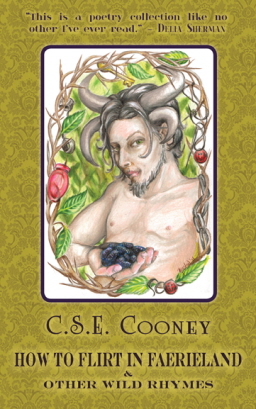 The multi-talented C.S.E. Cooney — poet, editor, web mistress, bookseller, performer, author, spiritual leader and world renowned zombie wrangler — has just released a new poetry collection, How to Flirt in Faerieland & Other Wild Rhymes. You need a copy.
I'm not kidding. This book is your path back to a meaningful life. It will teach you how to love poetry again. You need it because your soul is dead, you don't even know it, and this book will resuscitate it. It's a compact, 2,000-volt defib unit for your very soul. Here's the description:
Do you know how to flirt in Faerieland? C.S.E. Cooney does. In this collection of seventeen poems — four never before published — you'll find goblins, crones, robber brides, coyotes, and even a sea king. Cooney draws from folklore and myth to create something entirely her own, something glimpsed only in Faerie. From the raucous and bawdy to the sorrowful dirge, these poems will work upon you like a spell. Inside you'll find seven original illustrations by artist/tattooist Rebecca Huston, who also provided the artwork used on the cover.
Here's some advice, for after you get the book: Read it out loud to someone you love. Or someone you hate, I don't care. Just climb up on a chair and start belting it out. You'll feel your life start to change right then and there. You can thank me later.
Our last C.S.E. Cooney news was the release of the Jack o' the Hills audiobook, her interview with Aesthetically Speaking, and that time she won the Rhysling Award for her poetry. She's busy, C.S.E. Cooney.
How to Flirt in Faerieland & Other Wild Rhymes is 86 pages in paperback, published by Papaveria Press. It includes an introduction by Amal El-Mohtar. Read more details — including blurbs from Delia Sherman, Jane Yolen, S.J. Tucker, Pamela Dean, Nicole Kornher-Stace and Sharon Shinn — at the Papaveria Press website. It sells for $10 and is available from Amazon.com and other fine booksellers.