Part I of C.S.E. Cooney's Jack o' the Hills Audiobook now Available
Part I of C.S.E. Cooney's Jack o' the Hills Audiobook now Available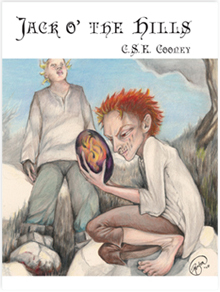 You know that here at Black Gate we toil day and night to bring you the latest news, reviews and opinion on the vast and varied field of modern fantasy. Some of us, however, are not content with merely reporting on great fantasy — we must create it ourselves. When that happens, we celebrate it here with joy and fellowship.
Some of us, mind you, aren't content with merely creating. No no no. There are those among us who, once they've finished creating, skip right along to organizing mass readings, commissioning cover art, and even making an audiobook. Which they read themselves. These folks we don't so much celebrate as stand around and gawk at in awe.
Of course, I'm talking about the mighty C.S.E. Cooney, Website Editor here at Black Gate, who published the much-praised Jack o' the Hills, a collection of two linked short stories, in trade paperback just last year through Papaveria Press. Now comes word that C.S.E. has released the first part of Jack o' the Hills as an audiobook:
Jack Yap is "his Marm's good boy, maple-syrup mouth, toffee-tongue, such sweetness" — or is he? He's a rascal, a rapscallion, a downright ragamuffin, and he's one of the most memorable characters I've ever read. It is therefore with great delight that I announce the release of the audiobook of "Stone Shoes," the first of the two tales that make up Jack o' the Hills, read by author C.S.E. Cooney and arranged by Jeremy Cooney. Many thanks go out to Jeremy, who also helped with "this GarageBand mumbojumbo." The audiobook can be purchased exclusively from Papaveria for the outrageously low cost of £1.69 — that's approximately $2.99 for our American friends.
To celebrate the release of the audio, Papaveria Press has also made the paperback more widely available. You can now purchase Jack at Amazon.com for $9.99 — or just 99 cents for the Kindle version!
Papaveria Press promises to get the audio version of the second half of Jack o' the Hills, "Oubliette's Egg," produced soon.