Goth Chick News: New Indy Horror 36 Saints and Interview with Star Frank Gonzalez — Plus Free Swag
Goth Chick News: New Indy Horror 36 Saints and Interview with Star Frank Gonzalez — Plus Free Swag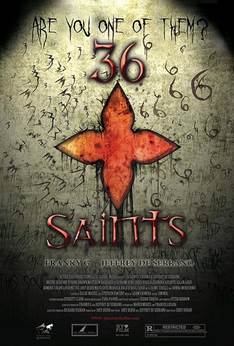 As always, this year's Chicago Comic Con had no shortage of material and believe me, it was difficult to know where to look first. But the best discovery is when I meet up with the creators of indy films – twice as nice when the films are in my favorite genre.
Indy film folks are hungry and passionate without all the Hollywood jadedness that eventually comes with one or two big box office hits. They put love into every detail of their creations and their enthusiasm is infectious, so I was particularly excited to meet Joey Dedio; actor and producer of the soon-to-be-released horror thriller 36 Saints.
As he explains the premise, you can tell Dedio is psyched about every aspect of this film and his excitement is palpable.
According to the kabbalah teaching, at any given time there are at least 36 holy persons in the world. These holy people are hidden; nobody knows who they are and they themselves are not aware of their role. For the sake of these 36 hidden saints, God preserves the world even if the rest of humanity has degenerated to the level of total barbarism.
36 Saints is like if the movie Seven met The Da Vinci Code. New York's Police Headquarters is confronted with the horror of a serial murderer whose targets appear to be group of students. Weaving myth, legend and Biblical stories together, this film is filled with suspense while officials try to find the killer before it is too late and more people are killed.
As enthusiastic as Dedio is about the film, he's clearly thrilled with one of the film's stars, Frank Gonzales (aka "Franky G"). So when it came time to find out more about 36 Saints, Dedio deferred to Gonzales, which was fine with me considering Gonzales's horror cred was pretty substantial.
So everyone, meet Franky G – Franky G, this is everyone.
GC:  What made you decide to get into acting?
FG:  I did a school play and was intrigued ever since. I didn't take it seriously until later on.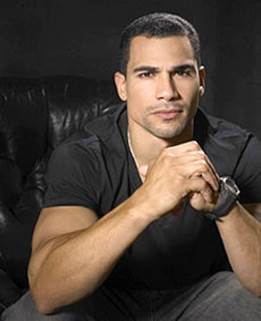 You've been a professional body builder, a semi-professional football player, a security guard and a construction worker – was acting always your ultimate goal?
No. It was something I did on my spare time. I would have preferred to be a professional athlete.
You have an impressive resume of live theater roles – having done both theater and film. Do you have a preference and why?
I love doing both. They are both challenging and I like that.
I read that the role of Wrench, who you played in The Italian Job back in 2003, was added at the last minute to get you your first exposure in a commercial picture.  How did you feel going off to work on your first big-budget film?
It was very exciting, but I felt at home.
You played Xavier in Saw II – what was most fun about appearing in a hard-core horror movie?
The blood.  LOL!
Is it difficult to get into the horror of a particular scene when you're surrounded by lights and cameramen?
No, when I am focused on the scene, I don't see anyone, I block everything out.
What is your favorite personal story about working on Saw II?
Meeting the doll of Saw.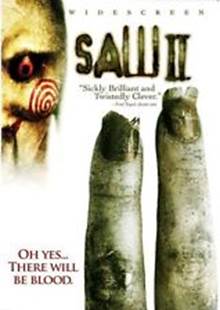 Tell us a bit about 36 Saints – can you give us a taste of the storyline?
I am searching for a serial killer on the loose that is vandalizing churches and committing several murders throughout the city.
You play a detective with a very saintly namesake which follows a rather impressive list of past law enforcement roles. Do you think this is a pattern that started with you studying criminal law during your university days?
I don't think so; that is just the roles I get offered, I guess.
You're also an associate producer on 36 Saints; can you tell us some of the challenges of playing a dual role like this in a film?
Wearing a double hat is always better than wearing one.  More variety, more of a challenge.  It was great.
36 Saints opens on September 6th – what do you hope your opening-weekend audiences say about the film?
I hope they like it and tell their friends to come see it. And also leave with a deeper sense of spirituality.
Your own feature film script has recently been optioned; The Streets Are Watching – what is the premise and when can we expect to see it?
It is about the life of cops in the streets of NYC and the pressures that surround them.  I hope to have it shot within the upcoming year.
Besides 36 Saints, where else can we expect to see you in the future?
I always stay active whether it is acting, writing, producing and just being a good husband and father. I say stay tuned. (GC: Look for Gonzalez in the upcoming indy crime drama Blowtorch, hitting theaters in November)
Take a gander at the trailer below, then follow 36 Saints on Facebook and have a look at the official web site of the movie – it's interactive and highly entertaining.
And now for the free swag – post a comment to be entered into a random drawing for an official 36 Saints movie poster signed by Franky G himself.  And huge thanks to Joey Dedio and Frank Gonzalez for their generosity.