New Treasures: The Black Fire Concerto by Mike Allen
New Treasures: The Black Fire Concerto by Mike Allen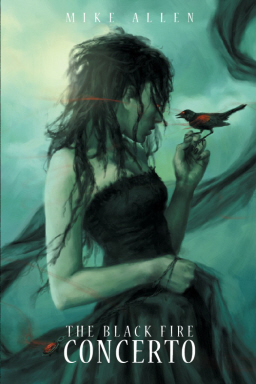 Mike Allen is scary talented.
After ten years of editing Black Gate magazine, I respect anyone who grapples with the logistical nightmare of producing a nationally-distributed print journal, and does it on a semi-regular schedule. Mike edits two and he makes it look easy: the acclaimed fantasy anthology series Clockwork Phoenix (four volumes so far) and the fabulous poetry journal Mythic Delirium.
Mike is also a very talented writer in his own right, with a Nebula nomination under his belt for his 2009 short story "The Button Bin" and his first collection of short fiction, The Button Bin And Other Horrors, forthcoming from Dagan Books. Long time BG readers will also remember his massive three-part Monstrous Post on Monsters, one of the most popular blog series we've run in the past few years.
See what I mean about talent? If Mike admitted he also plays bass for The Civil Wars on weekends, I wouldn't be at all surprised.
Which is why we were so intrigued when we heard that Mike was working on his first dark fantasy novel. The book was edited by our own C.S.E. Cooney, who demonstrated an unerring ability to spot talent as Website Editor for Black Gate from 2010 to 2012 — and whose own rare writing gifts are on display in her recent books, How to Flirt in Faerieland & Other Wild Rhymes and Jack o' the Hills.
I read Mike's book in draft last year and was wowed. He has created a singular feat of the imagination, a world of shape-shifters, ghouls, and worse things, where two young women with a very unique form of magic may be the only hope against a sorceress of untold power.
But don't just take my word for it. Here's what Seven Kings author John R. Fultz had to say:
What a lovely darkness Mike Allen has wrought for us to enjoy. The Black Fire Concerto is Horror. It's Magic. It's a post-apocalyptic melody played on strings of Terror and Sorcery. A dark fantasy with poetic ambition, it is also a journey into a haunted wonderland alive with secrets and strangeness.
And the legendary Tanith Lee called the novel:
A true departure from Mike Allen – Two unusual female heroes, a deceptively musical quest, and some very black magic indeed, should make this a prize for the multitude of fans who relish strong Grand Guignol with their sword and sorcery.
We were very proud to present an exclusive excerpt from the novel last Sunday. You can also hear C.S.E. Cooney read the entire first chapter here.
Here's the complete book description:
The Red Empress is the only home Erzelle has known since the day her family was lured aboard and murdered, victims of a grisly ritual meant to make the elite immortal. Erzelle plays her harp for the diners inside this ghoul-infested riverboat, knowing her own death looms, escaping through the music that's all she has left of her parents. Her nightmare's upended in the space of a day by the arrival of Olyssa, a fellow musician, but so much more. Erzelle is swept up in Olyssa's quest to find her ensorcelled sister Lilla, a journey across a mutated landscape that leads them to an enemy responsible for the deaths of millions. To stop the slaughter of countless more, the pair has no choice but to draw on the deadly magics that reshaped the world… a power that's as dangerous to its wielders as it is to its foes, one that's killing Erzelle even as she fights to control it.
The Black Fire Concerto was published July 15 by Haunted Stars Publishing. It is a 202-page trade paperback available for $15.95 and $8.95 for the Kindle version.
The striking cover is by Lauren K Cannon. Learn more at Haunted Stars.