Celebrate the Sword & Sorcery Tradition of David Gemmell with Legends
Celebrate the Sword & Sorcery Tradition of David Gemmell with Legends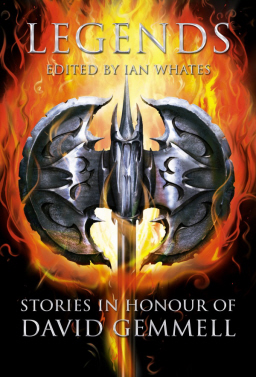 We've been reporting on the David Gemmell Legend Award for the past four summers. It's usually awarded in July and last year it went to The Wise Man's Fear by Patrick Rothfuss.
There have been some changes this year, however. The big one is that the award has been moved to be part of the World Fantasy Convention, which happens every Halloween.
More interesting to heroic fantasy fans, however, is the impending release of Legends: Stories in Honour of David Gemmell, a new tribute anthology to be be launched October 31st, during the Gemmell Awards Ceremony at WFC.
Legends is being produced partly as a fund-raiser for the awards and is an anthology of original stories written in the tradition of David Gemmell. It is edited by Ian Whates, who proved his editorial acumen with the fine SF anthologies, Solaris Rising and Solaris Rising 2, and will be published by NewCon Press in the UK.
Determined warriors, hideous creatures, wicked sorceries, tricksy villains and cunning lovers abound as fantasy's finest imaginations do their best… and their worst. James Barclay reveals the origins of The Raven, Adrian Tchaikovsky unveils new aspects of the realm of the Apt, Tanith Lee, Joe Abercrombie, Storm Constantine, Stan Nicholls, Juliet E McKenna and more weave their magic as only they can.

Steel yourself, throw caution to the wind, and dare to enter the realm of Legends.
Here's the complete contents.
Table of Contents
Introduction – Stan Nicholls
Or So Legend has It – James Barclay
A Blade to the Heart – Gaie Sebold
Return to Arden Falls – Ian Whates
The Drake Lords of Kyla – Storm Constantine
A Tower of Arkrondurl – Tanith Lee
Who Walks With Death – Jonathan Green
Skipping Town – Joe Abercrombie
Land of the Eagle – Juliet E McKenna
All Hail to the Oak – Anne Nicholls
Swords and Circle – Adrian Tchaikovsky
Fairyland – Jan Siegel
Mountain Tea – Sandra Unerman
The League of Resolve – Stan Nicholls
About the Authors
I'm not familiar with NewCon Press, but a glance at their website reveals they're not exactly newcomers to the business. Their catalog, in fact, is extremely impressive and includes Tony Ballantyne's collection Stories from the Northern Road; Mercurio D. Rivera's Across the Event Horizon; and collections from Stephen Baxter, Lisa Tuttle, Ian Watson.
The David Gemmell Legend Award has a rich history for such a new award. Two years ago, it went to Brandon Sanderson's The Way of Kings; and in 2010, the winner was Graham McNeill's Empire.
Legends: Stories in Honour of David Gemmell will be published by NewCon Press on October 31st. It will be released as a trade paperback for £11.99, and a numbered, limited edition hardback for £29.99. More detail here.
Thanks to SF Signal for the tip.