Graham McNeill's Empire wins the David Gemmell Legend Award
Graham McNeill's Empire wins the David Gemmell Legend Award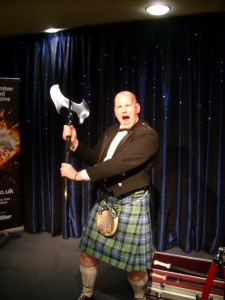 Graham McNeill's novel Empire: The Legend of Sigmar (Black Library) is this year's winner of the David Gemmell Legend Award for Best Fantasy Novel of 2009.
The list of nominees, including Brandon Sanderson, Joe Abercrombie, and Robert Jordan, was announced April 7.
The David Gemmell Legend Award  is a fan-voted award administered by the DGLA. The Legend Award for Best Fantasy Novel was first granted in 2009, to Andrzej Sapkowski's Blood of Elves.
As winner, McNeill received a replica of the mighty Snaga, the axe wielded by Druss in David Gemmell's novel Legend.
I think George Mann, publisher of Black Library, captured my thoughts nicely when he said:
'We are delighted for Graham – not only is this a wonderful acknowledgement of a fine writer, but it is an important victory for franchise fiction, which is often overlooked by the wider genre community.'
The Ravensheart Award, for best Fantasy Book Jacket/artist, went to Best Served Cold – art and design by Didier Graffet, Dave Senior and Laura Brett.
The Morningstar Award for Best Fantasy Newcomer/debut went to Pierre Pevel's The Cardinal's Blades.
Black Library editor Nick Kyme has a lengthy blog entry on the awards ceremony here.