Alana Joli Abbott Reviews Libriomancer
Alana Joli Abbott Reviews Libriomancer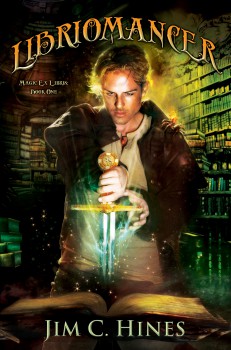 Lirbriomancer
Jim C. Hines
DAW (320 pgs, $24.95, hardcover August 2012)
Reviewed by Alana Joli Abbott
We have met this protagonist, and he is us.
Whenever I open a Jim Hines novel, I expect to have a good time – humor mixed with some soul pondering, deep character development, fast action, and snappy dialogue. So I was unsurprised that Libriomancer had all of these things in spades, plus a unique use of magic and a fractured and cobbled together cosmology that makes complete sense as a whole. What I didn't expect was to see myself in the pages. With Isaac Vainio, Hines has created a protagonist who not only knows and loves the same geek pop culture that I do, but who has a passion for books as deep as my own. In Isaac's case, this passion, the shared belief in the worlds that inhabit the pages of real-world books, allows him to reach inside those pages and draw objects into the real world.
When the book begins, Isaac has been forbidden from using his magic. He knows about a world populated by magical creatures – both indigenous to the real world and brought into it through the worlds of books – but he's unable to access it. He's an incredibly strong libriomancer – a magic user who uses books as both, as Isaac says, a church and an armory – but his rash decisions in the field have relegated him to desk work at a library. (As a former library worker myself, Isaac's clear love of and appreciation for libraries resonates almost as deeply as his love of created worlds.) When he is attacked by vampires, and rescued by a curvy and kick-ass dryad named Lena, he has no choice but to give in to his longing to return to practicing magic. And it's a good thing he does: the Porters, the guild of libriomancers dedicated to protecting the world from supernatural dangers, are facing an all out war, with their leader, Johannes Gutenberg, missing.
While the plot provides the momentum for the story, and the relationships between the characters (whether as potential lovers, enemies, or mentor and student) drive the conflict, it's Isaac at the heart. Even in the middle of combat, he can't help but wonder how things are put together or puzzle about how to duplicate the magical feats he witnesses. His quirky personality is so well drawn that, even though Isaac is well acquainted with the world readers are being introduced to, he makes a perfect guide. And the world, full of references to books that run the gamut from Twilight to The Adventures of Sherlock Holmes to The Odyssey, is one I am delighted to believe in.
*Notice: a review copy of this novel was provided by the publisher.
__________
Alana Joli Abbott is a novelist, comic book writer, and contributor of role playing articles to Dungeons and Dragons Insider and short stories to anthologies including Haunted: 11 Tales of Ghostly Terror. Her
interactive novel Choice of Kung Fu is available from ChoiceofGames.com. She serves as a book reviewer for Publishers Weekly, School Library Journal, Flames Rising, and Kirkus Reviews. You can follow her latest adventures in writing and mythology chasing at www.virgilandbeatrice.com.