Blogging Sax Rohmer's Daughter of Fu Manchu
Blogging Sax Rohmer's Daughter of Fu Manchu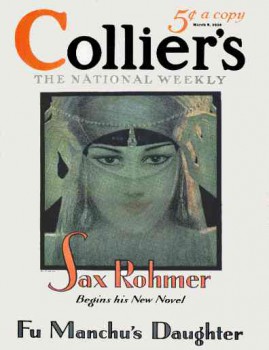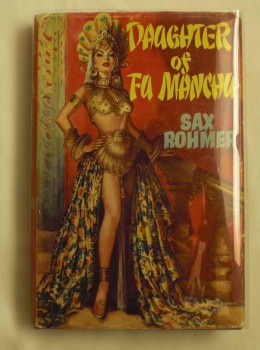 Sax Rohmer's Daughter of Fu Manchu was originally serialized as Fu Manchu's Daughter in twelve weekly installments of Collier's from March 8 to May 24, 1930. It was published in book form the following year by Cassell in the UK and Doubleday in the US. Rohmer divides the novel into four sections comprising three chapters each. This week we examine the first part.
It had been over a dozen years since Rohmer had finished the Fu Manchu series. Since that time, both The Yellow Claw (1915) and his three Fu Manchu titles had been filmed by Stoll. In the late 1920s, with the advent of sound, Paramount announced a new series of Fu Manchu films starring Warner Oland as the Devil Doctor. Collier's was eager to capitalize on the character's renewed popularity and the author signed a contract to revive the series.
His first attempt was to write a contemporary thriller involving American protagonists opposing a self-styled Emperor of Crime, to be revealed at the story's conclusion as Fu Manchu's daughter. After several installments of the serialized adventure for Collier's, Rohmer's editor determined that the author had failed to capture the flavor of the original series and both parties reluctantly agreed to let him alter the story's conclusion to remove all trace of Fu Manchu. The delayed serial, The Emperor of America resumed after a hiatus of several months in 1928 and was published in book form the following year. A minor work, it is most notable for serving as the template for the Sumuru series, another ersatz Fu Manchu, many years later.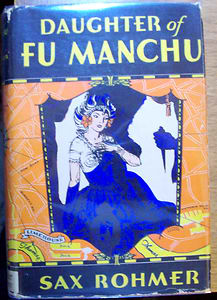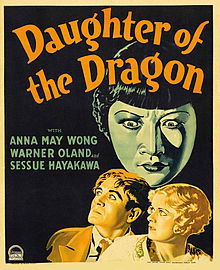 When he did turn his mind back to the Devil Doctor, revisiting many of the old familiar characters to satisfy his publishers' desire for a sense of continuity, Rohmer made the interesting choice to let his characters age in real time. Daughter of Fu Manchu is not narrated by Dr. Petrie as one might presume, but rather by Shan Greville, a half-caste who heads Sir Lionel Barton's latest Egyptian expedition to LaFleur's Tomb. Greville is also engaged to Sir Lionel's niece, Rima, a new character created as a variation on Greba Eltham from the original series.
Almost immediately, the reader learns of the now aging Nayland Smith. Having retired from his colonial post, Smith has long since been knighted for his services to the crown and is henceforth known by his previously unrevealed Christian name as Sir Denis. Currently holding the position of Assistant Commissioner of Scotland Yard, Smith's old friends, the Petries, have settled in Cairo, where Inspector Weymouth, having left the CID many years before, now serves as Police Superintendant.
Half the fun of these early chapters is catching up with old friends after so many years. By making his narrator a new and youthful character, Rohmer allowed new readers to pick up the plot threads of the past without being encumbered with an otherwise incomprehensible back story. Likewise, the character's interaction with cast members from the original series was rewarding to longtime fans, sure to delight in finding the familiar faces had aged along with their own.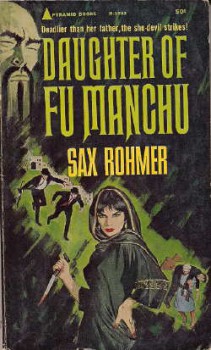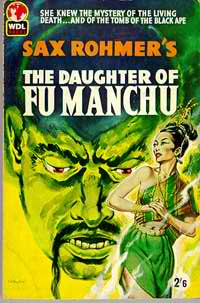 Shan Greville starts the narrative out with the requisite xenophobic paranoia that marked Yellow Peril fiction as he arrives at Dr. Petrie's home convinced he has been followed by a menacing Asian. Greville's introduction to Petrie is far from joyous as he brings tragic news that their mutual friend, Sir Lionel, has just died of heart failure in his sleep. Petrie confronts his new acquaintance with an unsigned telegram informing the doctor to bring his catalepsy antidote to Sir Lionel, when suddenly a call of a dacoit is heard from the courtyard below. Petrie's wife is convinced that not only is Sir Lionel still alive, but that he has fallen into the clutches of Dr. Fu Manchu, a man she and her husband both hoped was dead.
Longtime readers will of course surmise that the man who sent the mysterious telegram is Nayland Smith, but  Dr. Petrie and later Superintendant Weymouth are both clueless as to the identity of the telegram's sender and the mystery is left unresolved in this first section of the book. Of course, the reader's mind is soon diverted by the alarming news that Sir Lionel's corpse has disappeared from its tent. Once Petrie and Weymouth learn from Greville of Barton's attachment to a mysterious green-eyed beauty of indeterminate nationality known only as Madame Ingomar, their suspicions are further aroused.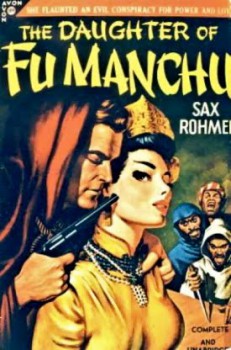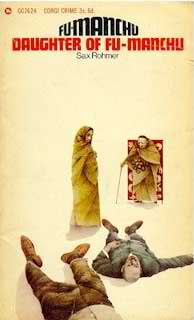 Their fear that Dr. Fu Manchu has returned grows more concrete when Rima Barton shows Shan a photograph she inadvertently snapped of Madame Ingomar and he recognizes the menacing Asian who was following him as her companion. This is followed by a dramatic visit to the site of the expedition, LaFleur's Tomb, better known as the Tomb of the Black Ape. After a perilous journey down into the heart of the dig, they open an ancient sarcophagus, only to discover Sir Lionel's body inside!
Rohmer's eye for detail and love of Egypt lend these chapters tremendous strength and hold the reader's attention rapt while awaiting confirmation of Nayland Smith and Fu Manchu's involvement in the mysterious events. Those familiar with the series will suspect that the mysterious Madame Ingomar is Fu Manchu's unnamed teenage daughter, all grown up, from the moment she is first mentioned. Rohmer's decision to incorporate a real life friend, Captain Jameson Hunter of Imperial Airways, into the text of the story only adds to the reader's willingness to suspend disbelief and plunge into the narrative headlong.
Unlike the original series, Daughter of Fu Manchu is not a fix-up, but rather a tightly-woven novel of pulp thrills and suspense. Rohmer's writing is more polished and assured than in the first three books in the series. He was nearing the peak of his abilities as an author and storyteller and the novel marks a triumphant return indeed, even if the Devil Doctor himself is only a specter haunting the proceedings. Readers were eager to learn what would happen when the next installment of Fu Manchu's Daughter saw print in Collier's.
---
William Patrick Maynard was authorized to continue Sax Rohmer's Fu Manchu thrillers beginning with The Terror of Fu Manchu (2009; Black Coat Press). A sequel, The Destiny of Fu Manchu was published earlier this year by Black Coat Press. Next up is a collection of short stories featuring an Edwardian detective, The Occult Case Book of Shankar Hardwicke and a hardboiled detective novel, Lawhead. To see additional articles by William, visit his blog at SetiSays.blogspot.com