Blogging Marvel's Master of Kung Fu, Part Nine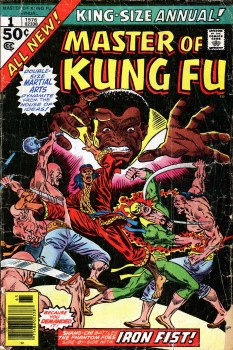 Master of Kung Fu Annual #1 was a reworking of what would have been Giant-Size Master of Kung Fu #5 had Marvel's short-lived line of quarterly publications not been prematurely discontinued. As it stands it was the only King-Size Annual Marvel published for the series. Marvel Annuals were generally a mixed bag and this is no exception. A few select ones offered truly special longer stories which were a delight for loyal readers, but most were either hurriedly produced or generally disappointing tryouts for aspiring Marvel writers and artists to demonstrate their handling of established properties. Master of Kung Fu Annual fell in the former category with Doug Moench and Keith Pollard tossing off Shang-Chi's first encounter with Iron Fist.
The story itself isn't terrible, but Shang-Chi is almost a guest star in what is essentially an Iron Fist story that is centered on the character's origins. The visit to the otherworldly dimension that Iron Fist calls home to take on an invasion force led by a sorcerer really seems to be more of a martial arts spin on Doctor Strange. The artwork utilizes some of Steve Ditko's interdimensional concepts, but without any of his sense of abstract wonder. I was not acquainted with Iron Fist having a mystical background and the story did nothing to make me care much either way as it was clearly knocked off quickly by the overworked Doug Moench. Like the companion magazine, Deadly Hands of Kung Fu, this seemed largely a wasted opportunity. Fans of the character may be interested that there is a brief continuity reference to an ongoing storyline involving Daughters of the Dragon in the companion magazine which one suspects might have made for a more engaging crossover for Shang-Chi, although based on their crossovers in the magazine, perhaps it would have fared no better.