New Treasures: Wizards of the Coast Releases Dungeon Command
New Treasures: Wizards of the Coast Releases Dungeon Command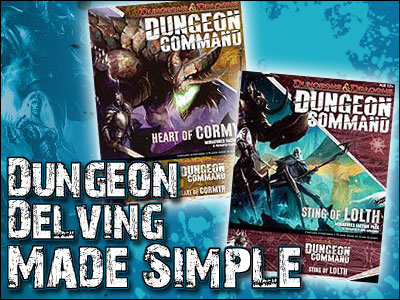 I've been relieved and gratified to see the resurgence in fantasy board gaming over the last decade.
With the demise of the great board game companies of my youth — SPI, Yaquinto, Avalon Hill, FASA, GDW, Metagaming, Task Force, and many others — it looked like the hobby that fired my imagination and gave me such pleasure for decades was headed for extinction. But Fantasy Flight, Wizards of the Coast, Days of Wonder, and a handful of other companies have turned that around in the last few years, releasing terrific titles that have rejuvenated the entire genre, like RoboRally, Small World, Ikusa, and the epic Conquest of Nerath.
It hasn't happened in a vacuum. Part of the credit goes to the explosion of interest in miniatures. Games Workshop's Warhammer, Privateer Press's WarMachine and Iron Kingdoms, Wizkids's HeroClix, and collectible miniature games from Wizards of the Coast and many others, have made table top gaming cool again, getting young gamers to put down their game controllers and pick up dice.
Wizards of the Coast has really been at the forefront of fantasy board gaming, especially recently. Just in the past few years they've released a surprising number of innovative and successful titles, including Lords of Waterdeep, The Legend of Drizzt, Castle Ravenloft, and many others.
Now they're at it again with a major new launch: Dungeon Command, a head-to-head miniatures skirmish game designed for two or more players.
It looks like a lot of fun. And best of all, the components of Dungeon Command are 100% compatible with other popular Wizards of the Coast games: the miniatures and dungeon tiles can be used with the D&D RPG, and the unique cards provided with each miniature can be used with D&D Adventure System board games like Castle Ravenloft, Wrath of Ashardalon, and The Legend of Drizzt.
Dungeon Command features themed miniature factions designed to play as unified war bands — meaning each player takes charge of a separate faction made up of potent individuals with distinct powers, magical abilities, strengths, and weaknesses.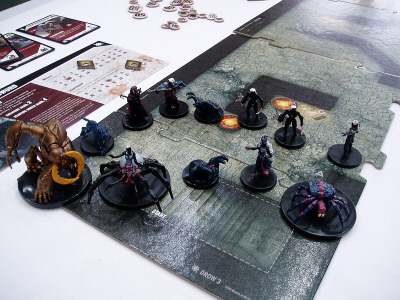 The game was designed to eliminate luck-driven mechanics in favor of player-driven skill, creativity, and quick thinking.
Each Dungeon Command faction comes in its own box. The boxes are densely packed, with twelve miniatures, a set of unique cards, dungeon tiles, and the game rules.
Like all great fantasy games, it's a thrill just to open the box and fondle the contents. If you've enjoyed any of the compatible games — the D&D Adventure System board games (or you've used miniatures or Dungeon Tiles for your D&D game) — the possibilities are immediately apparent.
While each faction is meant to be played by a single player — meaning the game was designed to pit faction against faction, and each player needs her own box — WotC also provides quick-start rules that allow two players to engage in a shortened version of the game using only one box.
Two Faction Packs have already been released: Heart of Comyr, including human ranger, halfling sneak, dragon knight, dwarven defenders, and copper dragon, and the Sting of Lolth, which includes the drow assassin, priestess, wizard, spiders, and umber hulk.
Upcoming factions include Tyranny of Goblins (release date: 09/18/2012) and Curse of Undeath (release date: 11/20/2012).
Heart of Comyr and the Sting of Lolth were released on July 17. Both retail for $39.99 ($47.99 Canadian). Learn more at the Wizards of the Coast website.