Lords of Waterdeep: D&D's Newest Board Game Is a Hit
Lords of Waterdeep: D&D's Newest Board Game Is a Hit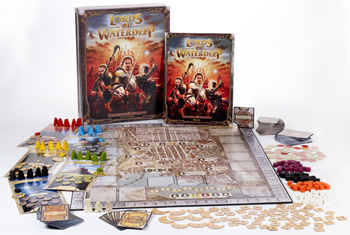 Lords of Waterdeep (Amazon)
Wizards of the Coast ($49.99, March 2012)
2-5 players
Ages 12+
Approximate Play Time: 1 hour
Note: As I write this, Saturday March 17, there's a 37% discount on the game's pre-order over at Amazon.
Let's get this out of the way: Of all of the fantasy board games I've ever forced my wife to play for review purposes (or any other purpose for that matter), this is by far her favorite. In her words, "I felt completely engaged throughout the whole game. Usually there's some strategy here and there, but I had to plan out each and every move in this game."
So, it's a keeper!
With that spoiler out of the way, on to the review…
Lords of Waterdeep is a board game based around the intrigues of Waterdeep, the political hub of the Forgotten Realms. Instead of playing Adventurers caught up in these intrigues, you are one of the Lords of Waterdeep, gathering adventurers to your cause and sending them out on quests to advance your agenda. The game lasts 8 rounds and, at the end, the player who has amassed the most Victory Points (VPs) wins.
Based on the number of players, you get a set number of "Agents" who are working for you. In each round, you take turns in order as long as players continue to have unused Agents left. On each turn, you place one of the Agents in one of the various buildings on the board. In addition to static building locations, you can purchase buildings throughout game play. Each building has a unique power, so the specific layout of the board and game options is different each time you play.
The powers of the buildings mostly focus on a handful of things:
The Builder's Hall allows you to purchase more buildings (represented by a stack of cardboard tile game pieces)
Waterdeep Harbor allows you to play an Intrigue card.
Gain Adventurers or Gold.
Gain Intrigue and/or Quest cards.
I'm sure this list isn't exhaustive, but it gives the broad outline of options. The Intrigue cards either give you a benefit, hinder an opponent, or both.
The main mechanic for gaining VPs is by completing Quests. Quests require a specific combination of Adventurers, sometimes with gold costs as well. There are four types of Adventurers: Fighters, Wizards, Rogues, and Clerics. These Adventurers are represented by different-colored wooden cubes. (This, presumably, is how they were able to keep the cost of this game below 50 bucks.)
The strategy my wife discussed comes into play because you have to plan ahead to figure out the best way to gather Adventurers to complete quests. The way the static game board buildings are set up, Rogues and Fighters are about twice as abundant as Wizards and Clerics, for example, but if you're getting added bonuses for completing Piety Quests, you've got to try to outmaneuver your opponents to get as many Clerics as you can if you want to have a chance of winning.
Another strategy example: I had one Plot Quest card (a Quest that provides a continuing game effect when completed) which allowed me to pick an Adventurer of any type I wanted at the beginning of each round. If I could have figured out a way to complete this Quest early in the game, it would have provided a huge benefit over several rounds. Instead, when I reached round 6 and hadn't yet completed it, I realized that I should give up on it in favor of completing others Quests that had higher VP rewards.
The game has several elements in common with the previously-reviewed game Small World, not least of which is the abundance of pieces (and the cool storage tray). Here's the full component list, so you can see what you get:
Game Board
Rulebook
Storage tray (with schematic in the Rulebook)
5 player mats (one for each faction)

City Guard
Knights of the Shield
Harpers
Red Sashes
Silverstars

100 Adventurer cubes:

25 Clerics (white)
25 Fighters (orange)
25 Rogues (black)
25 Wizards (purple)

33 wooden pieces:

5 score markers
25 Agents (5 of each faction)
1 Ambassador
1 Lieutenant
1 First Player marker

121 cards:

11 Lord of Waterdeep cards
50 Intrigue cards
60 Quest cards

170 die-cut pieces:

24 Building tiles
45 Building control markers (9 of each faction)
60 Gold tokens:

50 1-piece tokens
10 5-piece tokens

36 Victory Point tokens
5 100-VP tokens
My one complaint about the game comes in a lack of clarity in some of the rules. Some aspects of the sequence of play (such as how to determine who gets the First Player marker) are not clear in the full rules, though they are laid out fairly clearly on the "Rules Reference" sheet on the last page of the Rulebook.
The method of tracking VPs, however, is a bit unclear throughout. There are two different mechanics in place for VPs: an outer track where players move their scoring marker and VP tokens. The way the VP tokens are used in the rules, there's only a need for 24 of them. This leaves 12 VP tokens with no clear purpose. The rules give no real indication of when in the course of the round the movement along the track should be made, so we initially played by handing out VP tokens when VPs were earned … but ran out of them so quickly that we had to begin moving along the track.
Despite this little hiccup, my wife and I both enjoyed the game tremendously.
Wizards of the Coast does have plans for an expansion, as the game board is designed with a position specifically reserved for a sixth faction's piece. My guess (Note: pure speculation) is that it'll be some sort of evil-aligned faction. If so, it would be interesting to see a variant of play where the 5 good factions have to coordinate their efforts against a more powerful evil foe.
Regardless of what they come up with, the folks over at Dungeons & Dragons have definitely come up with a quality product in Lords of Waterdeep. After years of being an Adventurer caught in the intrigues of others, it's nice to assume the role of puppet master.
Other Game Reviews:
---
Disclaimer: A copy of the games was provided by the publisher at no charge for review purposes.
Andrew Zimmerman Jones is a writer of fiction and non-fiction. He has been a finalist in the Writers of the Future contest and received Honorable Mention in the 2011 Writer's Digest Science Fiction/Fantasy Competition. In addition to being a contributing editor to Black Gate magazine, Andrew is the About.com Physics Guide and author of String Theory For Dummies. You can follow his exploits on Facebook, Twitter, and even Google+.