Have Fun Storming the Chaostle
Have Fun Storming the Chaostle
Chaostle (Amazon)
Chivalry Games ($69.99, May 2011)
Reviewed by Andrew Zimmerman Jones
Many fantasy board games have you performing some sort of dungeon crawl, but the approach in Chaostle is a bit different. Instead of crawling through the bowels of a castle's lower levels, you are instead moving through various levels, leaping from floor to floor in an effort to make it through the castle as quickly as possible. There are a variety of different paths to take and these choices are as significant as any others that you make in the game.
Designed for 2 to 8 players (ages 10 and up), the goal of Chaostle is to beat the other groups of adventurers through the castle. Once you enter the Sanctuary in the center of the castle, you still haven't won until you are able to beat the castle itself, meaning that the other players do have an opportunity to catch up and sweep in for victory at the last minute.
The game has a fairly sophisticated style of play, so it's not for the feint of heart. If you are an experienced fantasy gamer, then this will be  fun game, but be warned:
Do not use this game as a means to get your kids, girlfriend, spouse, or other non-gamer involved in the genre.
If you've already got a solid group of gamer friends available to you, though, Chaostle can provides hours of entertainment with combat and surprises aplenty.
A quick glance at the myriad game components provides the first hint at why this game may not be suitable for the starting gamer:
1 Game Board
23 Castle Sections
1 Red Die (6-sided)
2 White Dice (6-sided)
1 Card of Doom (Fate Card)
1 Card of Happiness (Fate Card)
1 Card of Doom Reference Sheet
1 Card of Happiness Reference Sheet
1 Game Instructions
16 Characters (Molded plastic figurines)
16 Character Battle Cards
1 Castle Battle Card
100 Battle Card Pegs
40 Snap-On Character Bases (5 of each color)
Note: The game manual describes a total of 24 characters, with 8 of them identified as "Add-on Characters." Presumably there are expansions planned that would allow you to get Character figures and Battle Cars for them, but I have been unable to locate these expansions online, so I assume they aren't out yet.
For many gamers, a lot of pieces is a sign of a potentially fun game, but it is also a sign of an almost-certainly complex game, and Chaostle absolutely falls in this latter category.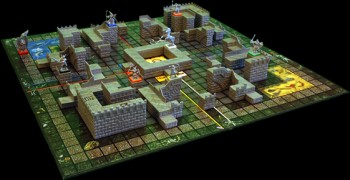 The goal of the game is to move your team of adventurers around a game board, to reach a doorway into a chamber (the Sanctuary) at the center of the castle. Once there, you then attack the castle's heart itself, in order to win the game.
You can use stairways to move up and down between the castle's three levels, exchanging distance for ease of movement. The upper levels are shorter, but have a lot of gaps that require high movement rates to leap across and if you roll too low, you're stuck standing on the ledge with nowhere to go until the next turn. The lowest level, though longer, guarantees continuous movement.
The characters in the game are divided into four factions: Good, Magic, Chaos, and Neutral. However, as near as I can tell, these factions don't have any hard and fast role in the mechanics of the game. When you select the four characters for your group, you seem to be able to select from any faction, mixing Good & Chaos characters as you wish.  So, if you wished, you could have a Chaos Skeleton Archer on the same team as a Paladin (unless you invoke a house rule to forbid such an abomination, of course).
The characters are fairly balanced, though selection does matter. When my wife chose the Dragon, I instantly chose the Dragon Slayer, whose powers are allow him to both take less damage from and deal more damage to the Dragon than anyone else. With its movement and power, she relied too much on the Dragon to take the vanguard of her assault, until he came up against my Dragon Slayer. He hounded her Dragon through the entire game, essentially neutralizing the effectiveness of the character with the most raw power, leaving it to the Minotaur and Sorcereress to sneak along the upper levels past her defenses.
As you proceed through the game, characters are able to upgrade their various powers and abilities as they win battles. (This is the purpose of the Battle Card Pegs which are moved to track the current stat level on the Battle Card.)
The movement also contains elements of randomness to it. As you roll the 6-sided die for movement, you get the following options:
1 or 2: Bring a new character into play or move existing character that many spaces.
3: Move a character 3 spaces then take another turn.
4: May move a character 4 spaces or stay where they are.
5: Move a character 5 spaces and make a Fate roll
6: Move a character 6 spaces.
The Fate roll involves rolling for a result on either the Card of Doom or Card of Happiness. The possible outcomes of the Fate roll range from power upgrades and additional dice on your next turn to being thrown into a shark pit or losing control of your characters to an opponent for one turn. This provides a great storytelling aspect to the game, as you try to describe the adventures of your poor troops. It's one of my favorite features.
Chaostle definitely has a learning curve and you're really full of questions during the first game as you try to figure everything out. I found the 38-page game manual to be a little more obtuse than was really necessary, but that's in part because of the inherent complexity of the game. There are 24 pages of rules and mechanics with 14 pages of setting information and fluff, so flipping around for exactly what you want can be tiring on the first game.  Once you get through the game a time or two, you begin to pick up how the game goes. I definitely recommend playing at least once in a mock game by yourself before introducing the game to a larger group. Diving into the game with a bunch of people around will probably result mostly in confusion and frustration.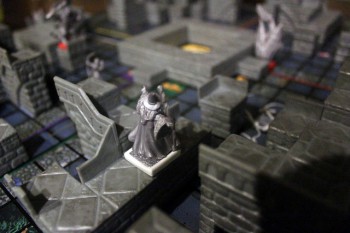 While the game itself is fun, the premise and mechanics do strain credibility in a variety of ways. Credibility may certainly be the last thing on your mind when looking at a game like this, but I enjoy these sort of games as an extension of fantasy storytelling. There still has to be an internal logic for them to really work for me.
For example, the door that you're aiming for is right next to the starting point where your adventurers spawn. Sort of like in the game Trouble, you're forced to move around the entire game board to reach this goal. You're have to move in a clockwise or counterclockwise direction, based upon your starting location. There's a colored line through the board next to your starting location, which your group is unable to cross, but others are able to cross it with no problem. Every time I brought a new character into the game, I found myself thinking, "The goal's right there! Why can't my Minotaur just take a step over to it? There's not even a wall there!"
The combat mechanics also suffer from a lack of realism when it comes to choosing an attack. Each character has 6 weapons, with various ranges. When attacking, you roll a 6-sided die to determine which weapon is being used. The combat continues, back and forth, until someone is unable to complete their attack because it's out of range (or the person being attacked chooses to retreat). This results in situations where an Elven archer walks up to within bow range of an enemy, goes to attack, but accidentally pulls a sword instead … and the attack fails.
Despite the realism problems, the mechanics themselves work well. If you (unlike me) can silent that nagging voice in your head that says, "Why would they do this?" then it's really not much of a drawback at all.
I recommend Chaostle, but it's a qualified recommendation. Overall, I found it to be a fun fantasy adventure game … for those who already enjoy such games. It's just complicated enough that it's not a good introduction to the genre for non-gamers or young gamers.
Other Game Reviews:
---
Disclaimer: A review copy of this game was provided by the publisher at no charge.
Andrew Zimmerman Jones is a writer of fiction and non-fiction. He has been a finalist in the Writers of the Future contest and received Honorable Mention in the 2011 Writer's Digest Science Fiction/Fantasy Competition. In addition to being a contributing editor to Black Gate magazine, Andrew is the About.com Physics Guide and author of String Theory For Dummies. You can follow his exploits on Facebook, Twitter, and even Google+.