New Treasures: The Legend of Drizzt
New Treasures: The Legend of Drizzt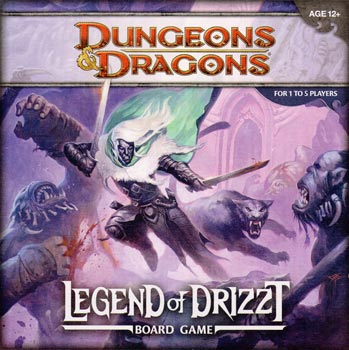 I love board games. But after collectible card games and computer games pretty much swept the market clean of them in the mid-90s, it seemed the era of the board game was over.  I put away my copies of Dragon Pass and Divine Right, and pretty much accepted the fact that I'd be explaining the quaint concept of "board games" to my grandkids. Assuming I could get them to put down their Xbox controllers long enough.
Then an interesting thing happened in the middle of the last decade: The board game experienced something that almost looked like a resurgence. Enticed by Settlers of Catan and a series of popular titles from Fantasy Flight, gamers began to cautiously put down their controllers and cluster curiously around kitchen tables again.
Wizards of the Coast took notice and tossed their hat in the arena with several very well received games, including Ikusa and the epic Conquest of Nerath, both of which Scott Taylor reviewed for us here.
With just a few titles, WotC has become a heavyweight in fantasy board games — and they show no signs of slowing down.
Earlier this month a box landed on my doorstep (with a resounding thud) containing a review copy of their latest entry: The Legend of Drizzt, a massive 7-pound contender that has every appearance of being another winner.
Based on the adventures of the Drow ranger Drizzt Do'Urden, who has appeared in 18 best selling Forgotten Realms novels by R.A. Salvatore — including the latest, Neverwinter, released just last month — The Legend of Drizzt is the third installment in the D&D Adventure System cooperative board games, following Castle Ravenloft and Wrath of Ashardalon.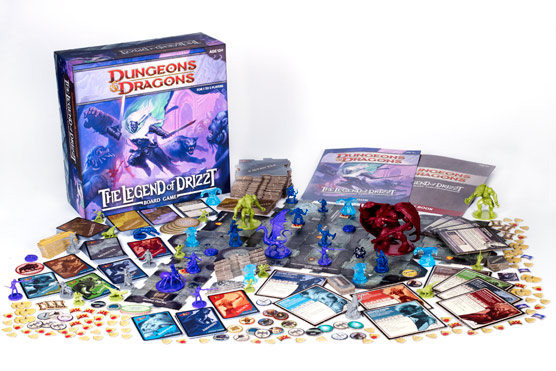 The games are fairly similar, and if you've played and enjoyed them, you're certainly enjoy Drizzt. The games can even be combined for a new experience, although I haven't delved deeply enough into the rules to figure out just how yet.
The most exciting feature of these games is that they can be played solitaire, or cooperatively with a group of friends — in effect, they provide a fast-paced bit dungeon excitement without requiring knowledge of the 4th Edition D&D rules (or any other rules, for that matter).
It's a perfect way to introduce your non-gaming friends to the genre, or to get in a bit of dungeoneering on those nights when your dungeon master it too hung over to make it.
The heart of the game is the Adventure Book, which contains around 15 different adventures based on Drizzt's literary exploits. Each player chooses one of five pre-made heroes or villains, including Drizzt, Entreri, Jarlaxle, and Athrogate. The board consists of 58 interlocking tiles which are randomized before the adventure, and the game also includes 40 plastic miniatures, 12 illustrated hero and villain tiles, 200 cards depicting encounters, monsters and treasure, and more goodies.
Here's the copy on the back of the box:
Play the legendary drow ranger or one of his powerful companions as you battle monsters and explore fantastic locations such as Neverwinter, Mithral Hall, and the mysterious Gauntlgrym….  The Legend of Drizzt features exciting quests designed for a single player or a cooperative group of 2-5 players, as well as team adventures and quests that pit players against each other.  Each adventure can be played in an hour or less.
It's too early for me to pass judgement, but I've been deeply intrigued by it so far — especially the promise of a wider adventure when coupled with Castle Ravenloft and Wrath of Ashardalon. It's a great concept, and an ambitious one.
The Legend of Drizzt was released by Wizards of the Coast on October 18. It retails for $64.99, but Amazon is selling it for just $40.43. Check it out — it's not too early to put it on your Christmas list.