Fiction Review: Neverwinter by R.A. Salvatore
Fiction Review: Neverwinter by R.A. Salvatore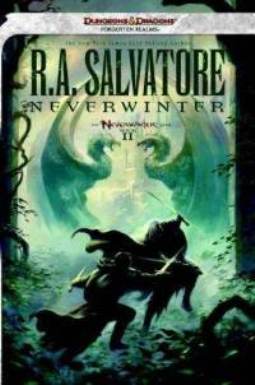 Long ago, in a time known a college I read my first R.A. Salvatore novel, The Crystal Shard. At that point a great portion of my life was wrapped up in The Forgotten Realms where the novel took place.
Little did I know as I flipped through the very fun, and incredibly D&D-like novel, that a periphery character named Drizzt D'Urdin would go on to be perhaps the most famous D&D character of all time.
So powerful were these books that they actually changed the map of the Forgotten Realms campaign world. My copy, a 1st print, has a map in which Drizzt's exiled home, Icewind Dale, doesn't even appear, Salvatore choosing a place beyond the current mythos of the realm.
I finished the Icewind Dale Trilogy and was greatly pleased with all things inside those pages. It was a true D&D adventure and had the makings of something so much larger. I was also taken with the fact that the trilogy was the only one I've ever seen in print to feature Larry Elmore, Clyde Caldwell, and Jeff Easley as cover artists in a series.
Still, as my college days waned, so did my love affair with The Forgotten Realms and I drifted back to more mundane fantasy. Years passed and Salvatore continued to write about Drizzt, the Drow's legend growing until it was something so far beyond what I knew him to be I couldn't imagine going back.
Eventually all his volumes were recovered by the extraordinary talents of artist Todd Lockwood and I thought on more than one occasion of once again giving the series a try because the unification of the style gave solidity to the series.
In a bit of serendipity, I got to see a beautiful copy of Lockwood's Neverwinter cover art while at the San Diego Comic Convention and when the book actually appeared I knew it was time to delve back into the legend of Drizzt.
So came my time with Neverwinter, the 2nd novel in the, yes you guessed it, Neverwinter Saga [The 1st being Gauntlgrym]. I have to say I was pleasantly surprised with the read. Salvatore's skill as a story-telling has grown with great leaps and bounds in the past twenty years [gads, can it really be that long?].
I'm also happy to report to any of those that may find themselves intimidated by diving into a series so late in its creation, the book actually stands well in its own right as a fine adventure fantasy.
Although certainly missing some insider information, I didn't ever feel lost or overwhelmed, the ride creating a simple pleasure with each turned page. As a gamer, it was fun to return to my roots, the various aspects of the game I so dearly love are also played out here which brought about a true bit of nostalgia. In some ways it's nice to know that not everything has to be rethought and that the common elements of adventure fantasy can still retain orcs, elves, magic-users, and the like.
To all those looking for a fun and fast read, I highly recommend Neverwinter. May your days with the most famous of the dark elves be as thrilling as ever!