Unbound: Flipping the Pages of Reality
Unbound: Flipping the Pages of Reality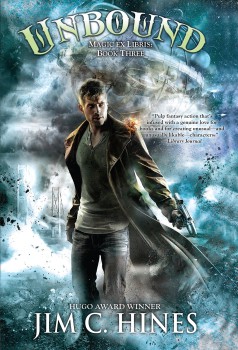 For those of us who love books, they are often like windows into their own vibrant, living worlds. The idea that these stories contain a magical power to transport the reader to a new world, not merely figuratively but also literally, has shown up before, perhaps most prominently in The Neverending Story. In recent years, the idea of storybook worlds being tied to our own have become the driving force behind the popular television series Once Upon a Time. And, of course, many magical systems throughout fantasy literature have involved words of power.
Jim C. Hines has contributed one of the most intriguing interpretations on this theme in his Magic Ex Libris series. The first two books, Libriomancer and Codex Born, have been previously reviewed by our very own Alana Joli Abbott, but here's the quick recap:
Isaac Vainio is a libriomancer, a magician with the ability to tap into the magic of books, drawing objects from them into the real world. His particular interest is science fiction and fantasy, allowing him to manifest anything from a lightsaber to a laser assault rifle to healing potions.

Magic has its limits, though. Isaac, with more skill and tenacity than common sense, has pushed beyond those limits more than most other libriomancers. So much so that he has come directly into contact with a dark presence that exists within books, a consciousness called the devourers, which has existed on the periphery of magic for centuries.
The third book, Unbound (Amazon), brings this conflict between the libriomancers and the devourers to a head. Isaac begins the book at about the lowest point imaginable. Not to give away too many spoilers from the end of Codex Born, but Isaac has no access to his magic and has been ostracized from the Porters, the magical society founded and led by the near-immortal sorcerer Johannes Gutenberg. (Yes, that Johannes Gutenberg. Like John O'Neill, reading keeps him young.) But this doesn't prevent him from trying to hunt down more information about the devourers.
I've read Hines' previous series, Jig the Goblin and the Princess novels (and even reviewed The Mermaid's Madness, from his Princess novels, back in Black Gate #15), but the Magic Ex Libris series is the first that I would classify as a "must read." His Jig the Goblin series and Princess novels are engaging, but they wouldn't appeal to everyone. My wife, for example, would have no interest in reading about Jig the Goblin… but she loves the Magic Ex Libris books.
Here are just three indications of how great these books are:
At the start of my wife's final semester working on her master's degree, Unbound was the only fiction book she wanted to read for fun.
In the weeks leading up to the release of Unbound, I actually took the time to reread Libriomancer and Codex Born. (I virtually never re-read books.)
I think each novel contains a suggestion that Firefly needs to be brought back, as well as multiple Doctor Who references.
You certainly can't go wrong with a series of books that contain a subversive campaign to resurrect Firefly.
Unbound has a satisfying resolution, but leaves open the possibility for future books. And, in fact, Hines began writing the fourth book back in September. However, for those who are looking for their next Hines fix, they don't have to wait for the next book in this series, because in August Fable: Blood of Heroes will come out. It is a novel set in the universe of the Fable video game series.
---
Andrew Zimmerman Jones is a writer of fiction and non-fiction. In addition to being a contributing editor to Black Gate magazine, Andrew is the About.com Physics Expert and author of String Theory For Dummies. You can follow his exploits on Facebook, Twitter, and even Google+.