Unbound: Flipping the Pages of Reality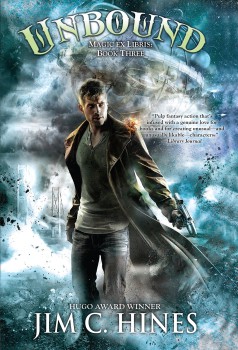 For those of us who love books, they are often like windows into their own vibrant, living worlds. The idea that these stories contain a magical power to transport the reader to a new world, not merely figuratively but also literally, has shown up before, perhaps most prominently in The Neverending Story. In recent years, the idea of storybook worlds being tied to our own have become the driving force behind the popular television series Once Upon a Time. And, of course, many magical systems throughout fantasy literature have involved words of power.
Jim C. Hines has contributed one of the most intriguing interpretations on this theme in his Magic Ex Libris series. The first two books, Libriomancer and Codex Born, have been previously reviewed by our very own Alana Joli Abbott, but here's the quick recap:
Isaac Vainio is a libriomancer, a magician with the ability to tap into the magic of books, drawing objects from them into the real world. His particular interest is science fiction and fantasy, allowing him to manifest anything from a lightsaber to a laser assault rifle to healing potions.

Magic has its limits, though. Isaac, with more skill and tenacity than common sense, has pushed beyond those limits more than most other libriomancers. So much so that he has come directly into contact with a dark presence that exists within books, a consciousness called the devourers, which has existed on the periphery of magic for centuries.
The third book, Unbound (Amazon), brings this conflict between the libriomancers and the devourers to a head. Isaac begins the book at about the lowest point imaginable. Not to give away too many spoilers from the end of Codex Born, but Isaac has no access to his magic and has been ostracized from the Porters, the magical society founded and led by the near-immortal sorcerer Johannes Gutenberg. (Yes, that Johannes Gutenberg. Like John O'Neill, reading keeps him young.) But this doesn't prevent him from trying to hunt down more information about the devourers.